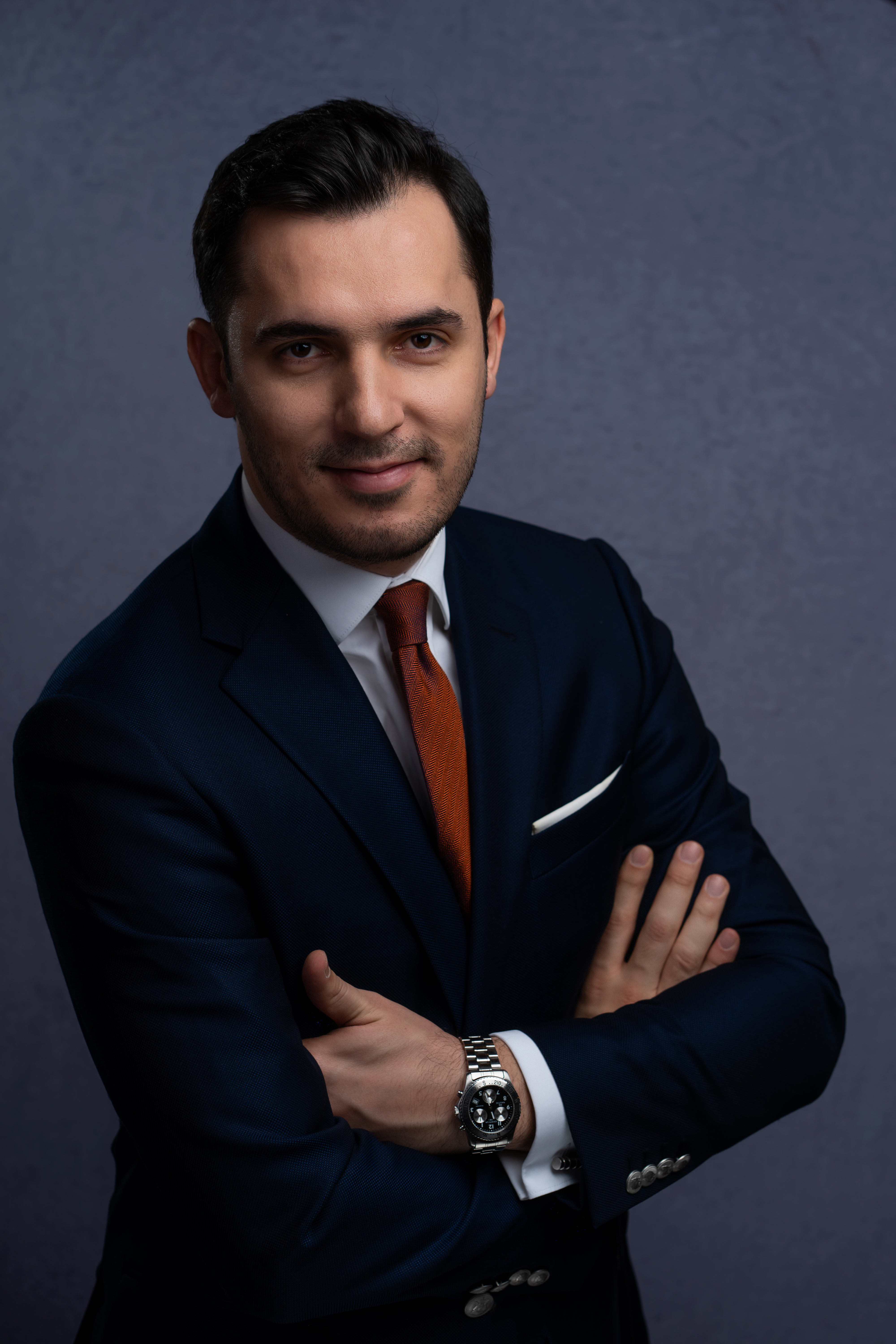 David

Canta
Principal, Romania & Czech Rep.


Industrial

Investment

Office Leasing
73-81 Sos. Bucuresti-Ploiesti
Building 4, 4th Floor, Sector 1

Bucharest, 013685 Romania
David Canta is currently Principal at Avison Young in Romania & Czech Republic and part of the firm's European Committee. He has recently coordinated the company's newest office opening in the Czech Republic and has been very involved in Avison Young's broader expansion in the CEE region.
He is also a partner in a number of complementary businesses with activity in the coworking, facility management and project management sector. The combined team of the group is over 170 people.
In 2017, Canta co-founded Commons, a company developing coworking offices curated to spark collaboration, offering entrepreneurs and growth-stage companies a flexible, affordable place to scale their business. Canta strongly believes in the company's growth potential, which already has three spaces in Bucharest.
In 2018, he acquired Facilitec, a facility and property management platform offering a full range of services for office, industrial and residential projects. The company is investing heavily in technology and proprietary tools to develop integrated best in class solutions for asset owners as well as for occupiers.
In 2020, a natural step was to venture into the design and construction management business. He partnered up with Optim, the market leader in project management in SEE.
David is one of the most regarded advisors in the market, and during his career, he led several landmark mandates in the office and industrial property sectors. While developing his practice, he has helped facilitate transactions on behalf of leading FMCG companies as well as IT, advertising, finance, retail, outsourcing and logistics firms.
David Canta holds a Bachelor of Business Administration degree from the Griffiths School of Management, where he graduated first in his class. He also attended the executive course in Corporate and Strategic Management at London School of Economics.
He also spent eight years studying classical music and plays piano and guitar.
Outside of work, David Canta is very passionate about sports, having received a basketball scholarship to play in the USA.
Nowadays, he spends his free time following international politics, finance and most recent innovations in the market, business, startups and technology.
David is married to Corina and together they have 2 daughters and a son.
---
Properties
CTFlex Timisoara East

Timisoara East

Timisoara, Timis

Industrial
For Lease
CTFlex Bucharest North

Bucharest North

Bucharest, Ilfov

Industrial
For Lease
CTFlex Oradea

Oradea South

Oradea, Oradea

Industrial
For Lease
CTFlex Bucharest West

Bucharest West

Bucharest, Ilfov

Industrial
For Lease
CTFlex Arad

Arad West

Arad, Arad

Industrial
For Lease
CTFlex Sibiu

Sibiu West

Sibiu, Sibiu

Industrial
For Lease
WDP Agigea

Agigea

Agigea, Constanta

Industrial
For Lease
Apollo

Bucharest

Popesti-Leordeni, Ilfov

Industrial
For Lease
NGB Distribution Center

Bucharest

Bragadiru, Ilfov

Industrial
For Lease
Olympian Park Popesti

Bucharest

Popesti-Leordeni, Ilfov

Industrial
For Lease
WDP Stefanesti

Bucharest

Stefanesti, Ilfov

Industrial
For Lease
CTPark Bucharest II (Phoenix)

Bucharest

Dragomiresti, Ilfov

Industrial
For Lease
Logicor Bucharest II (NELP)

Bucharest

Pantelimon, Ilfov

Industrial
For Lease
Logicor Bucharest I (Mogosoaia)

Bucharest

Mogosoaia, Ilfov

Industrial
For Lease
P3 Bucharest A1

Bucharest

Chiajna, Ilfov

Industrial
For Lease
CTPark Bucharest – West

Bucharest

Bolintin Deal, Giurgiu

Industrial
For Lease
CTPark Bucharest I

Bucharest

Dragomiresti, Ilfov

Industrial
For Lease
VGP Park Brasov

Brasov

Brasov, Brasov

Industrial
For Lease
WDP Codlea

Brasov

Codlea, Brasov

Industrial
For Lease
Olympian Park Brasov

Brasov

Cristian, Brasov

Industrial
For Lease
WDP Braila

Braila

Braila, Braila

Industrial
For Lease
CTPark Arad II

Arad

Arad, Arad

Industrial
For Lease
CTPark Arad I

Arad

Arad, Arad

Industrial
For Lease
TRC Park Bacau

Bacau

Sarata, Bacau

Industrial
For Lease
Border Industrial Park

Arad

Arad, Arad

Industrial
For Lease
WDP Dragomiresti

Bucharest

Dragomiresti, Ilfov

Industrial
For Lease
P3 Dragomiresti

Bucharest

Dragomiresti, Ilfov

Industrial
For Lease
MLP Bucharest West

Bucharest

Chitila, Ilfov

Industrial
For Lease
CTPark Bucharest - Chitila

Bucharest

Chitila, Ilfov

Industrial
For Lease
Chitila Logistics Hub

Bucharest

Chitila, Ilfov

Industrial
For Lease
ELI Park Bucharest

Bucharest

Chitila, Ilfov

Industrial
For Lease
WDP Buzau

Buzau

Buzau, Buzau

Industrial
For Lease
CTPark Cluj

Cluj

Floresti, Cluj

Industrial
For Lease
CTPark Turda

Cluj

Turda, Cluj

Industrial
For Lease
Olympian Park Cluj

Cluj

Jucu, Cluj

Industrial
For Lease
TRC Park Transilvania

Cluj

Cluj-Napoca, Cluj

Industrial
For Lease
WDP Cluj

Cluj

Cluj-Napoca, Cluj

Industrial
For Lease
TRC Park Cluj

Cluj

Jucu, Cluj

Industrial
For Lease
WDP Mihail Kogalniceanu

Constanta

Mihail Kogalniceanu, Constanta

Industrial
For Lease
Constanta Business Park

Constanta

Constanta, Constanta

Industrial
For Lease
ELI Park Constanta

Constanta

Constanta, Constanta

Industrial
For Lease
ELI Park Craiova

Craiova

Carcea, Dolj

Industrial
For Lease
Arc Parc Dej

Dej

Dej, Cluj

Industrial
For Lease
CTPark Deva II

Deva

Deva, Hundedoara

Industrial
For Lease
CTPark Deva I

Deva

Bacia, Hundedoara

Industrial
For Lease
CTPark Salonta

Oradea

Salonta, Bihor

Industrial
For Lease
WDP Oradea

Oradea

Oradea, Bihor

Industrial
For Lease
CTPark Pitesti

Pitesti

Cateasca, Arges

Industrial
For Lease
WDP Oarja

Pitesti

Oarja, Arges

Industrial
For Lease
ML Logistic Park Pitesti

Pitesti

Bascov, Arges

Industrial
For Lease
Logicor Ploiesti

Ploiesti

Aricestii Rahtivani, Prahova

Industrial
For Lease
WDP Aricesti

Ploiesti

Aricestii Rahtivani, Prahova

Industrial
For Lease
Ploiesti West Park

Ploiesti

Aricestii Rahtivani, Prahova

Industrial
For Lease
WDP Valcea

Ramnicu Valcea

Budesti, Valcea

Industrial
For Lease
WDP Roman

Roman

Roman, Neamt

Industrial
For Lease
CTPark Sibiu

Sibiu

Sibiu, Sibiu

Industrial
For Lease
WDP Sibiu

Sibiu

Sibiu, Sibiu

Industrial
For Lease
CTPark Timisoara

Timisoara

Ghiroda, Timis

Industrial
For Lease
Logicor Timisoara

Timisoara

Remetea Mare, Timis

Industrial
For Lease
Timisoara Airport Park

Timisoara

Giarmata, Timis

Industrial
For Lease
VGP Park Timisoara

Timisoara

Ghiroda, Timis

Industrial
For Lease
WDP Dumbravita

Timisoara

Dumbravita, Timis

Industrial
For Lease
United Industrial Park

Sibiu

Sibiu, Sibiu

Industrial
For Lease
General Industrial Park

Sibiu

Sibiu, Sibiu

Industrial
For Lease
Central Industrial Park

Sibiu

Sibiu, Sibiu

Industrial
For Lease
Imperial Industrial Park

Sibiu

Sibiu, Sibiu

Industrial
For Lease
Hermann Industrial Park

Sibiu

Cisnadie, Sibiu

Industrial
For Lease
Network Industrial Park

Sibiu

Sibiu, Sibiu

Industrial
For Lease
Western Industrial Park

Oradea

Oradea, Bihor

Industrial
For Lease
Solo Industrial Park

Iasi

Letcani, Iasi

Industrial
For Lease
Southern Industrial Park

Craiova

Craiova, Dolj

Industrial
For Lease
Borg Industrial Park

Bucharest

Chiajna, Ilfov

Industrial
For Lease
Industrial Park Brasov

Brasov

Ghimbav, Brasov

Industrial
For Lease
Dibo Industrial Park

Ploiesti

Brazi, Prahova

Industrial
For Lease
WDP Fundulea

Bucharest

Fundulea, Calarasi

Industrial
For Lease
VGP Park Stefanesti

Bucharest

Stefanesti, Ilfov

Industrial
For Lease
CTPark Bucharest North

Bucharest

Stefanesti, Ilfov

Industrial
For Lease
Bucharest Airport Park

Bucharest

Otopeni, Ilfov

Industrial
For Lease
Olympian Park Otopeni

Bucharest

Otopeni, Ilfov

Industrial
For Lease
ELI Park Bacau

Bacau

Bacau, Bacau

Industrial
For Lease
Vantage Industrial Park

Alba Iulia

Alba Iulia, Alba

Industrial
For Lease
Olympian Park Timisoara

Timisoara

Remetea Mare, Timis

Industrial
For Lease