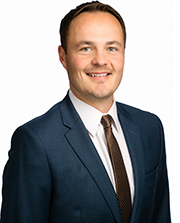 Adam

Farley
Principal / Vice President


Property Tax Services
525 - 8th Avenue SW
Suite 4300

Calgary, AB T2P 1G1 Canada
Starting his career in downtown office leasing introduced Adam to the nuances and dynamics of the leasing market. Transitioning to property tax in 2009 Adam added great insight into how prospective tenants view individual buildings and the impact their decisions have on value. In Calgary, Adam is the only practicing property tax agent with office leasingexperience.
Adam is focused on downtown and beltline office appeals and provides a data driven application for the benefit of our clients. As a result, there isn'ta downtown or beltline office appeal that Adam doesn't contribute to – either in hearings or in preparation of evidentiary submissions.
In 2011 his relationship with the brokerage community and a handful of landlords provided the data foundation for a successful appeal of Suncor Energy Centre that saved our client just over $2 million which is the largest single refund awarded to an individual commercial property since the inception of market value legislation in Alberta. Adam's efforts have saved his clients nearly $11million in the past 3 years.
---