null - Commercial Real Estate News Releases | Avison Young News
Commercial real estate news releases from Avison Young
Quarterly and topical research insights to help your business gain competitive edge in commercial real estate.
Entretien avec Josée Girard, Cheffe du capital humain et de la raison d'être, Ivanhoé Cambridge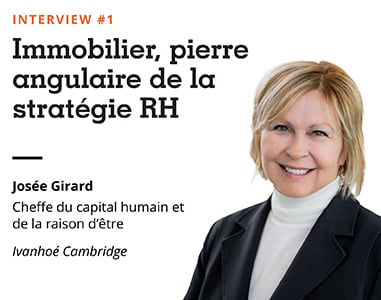 July 5, 2023
Travail flexible, une démarche initiée avant la COVID-19.
La mise en place du travail flexible au sein d'Ivanhoé Cambridge prend ses racines avant la crise de la Covid-19. Nous faisons alors face à une guerre des talents forte et la flexibilité au travail était un élément clé d'attractivité pour les candidats. Aussi, nous avons mis en place dès 2019 notre politique de "travail flexible".
Notre approche s'est basée sur trois axes principaux permettant de développer à la fois le bien-être et l'efficacité au travail : des horaires et lieux de travail adaptables pour un meilleur équilibre vie professionnelle et vie privée (en place dès le début 2020), le réaménagement de nos bureaux (à commencer par celui de Montréal) avec des plus de services et une offre de télémédecine (possibilité de consulter un médecin en ligne 7jours/7).
Avec l'arrivée de la crise du COVID-19, ces transformations se sont avérées très utiles pour poursuivre le travail dans les meilleures conditions possibles et sont venues valoriser notre marque employeur.
Travail en présentiel, des différences culturelles à prendre en compte.
Pour tous les candidats et les salariés, la qualité du lieu de travail est un critère fort de choix et de rétention, mais nous constatons des écarts importants sur la fréquence du télétravail.
Ainsi à Paris nous sommes en moyenne à 1 jour de télétravail par semaine de travail, cela monte à 2 à Montréal ainsi qu'à Londres.
A Singapour en revanche, la venue au bureau est quotidienne et nous avons obtenu la certification Great Place to Work Singapore, récompensant ainsi les efforts et les actions réalisés par nos collègues sur place afin de créer un lieu de travail collaboratif et inclusif.
Transformation des bureaux, aménager les plus beaux espaces pour les services.
Concernant les bureaux, les objectifs visés par le nouvel aménagement étaient clairement définis : 1/ Créer une valeur ajoutée à venir au bureau ; 2/ Collaborer plus facilement; 3/ Faciliter l'intégration des nouveaux entrants; 4/ Apprendre des autres équipes.
Tous les meilleurs emplacements ont été transformés en espaces partagés afin de profiter au plus grand nombre. Des services, comme la salle de sport ou la garderie d'enfants, sont proposés dans certains de nos bureaux. Les espaces de réunion et de travail en équipe ont été multipliés et en matière environnementale nous poursuivons notre objectif de zéro carbone en 2040.
Le passage au travail hybride nous a amené à perfectionner nos aménagements au fur et à mesure, notamment en matière de technologies pour les salles de réunion et de systèmes d'acoustique largement mis à l'épreuve sur les plateaux avec les visioconférences.
Un grand merci à Josée Girard pour cet entretien dans le cadre de notre série d'interviews "People & Ideas" sur le thème de L'immobilier, pierre angulaire de la stratégie RH.
A très vite pour un prochain interview !