null - Commercial Real Estate News Releases | Avison Young News
Commercial real estate news releases from Avison Young
Quarterly and topical research insights to help your business gain competitive edge in commercial real estate.
Q4 uplift in office market was driven by strong demand and constrained supply, making it the busiest quarter of the year for occupiers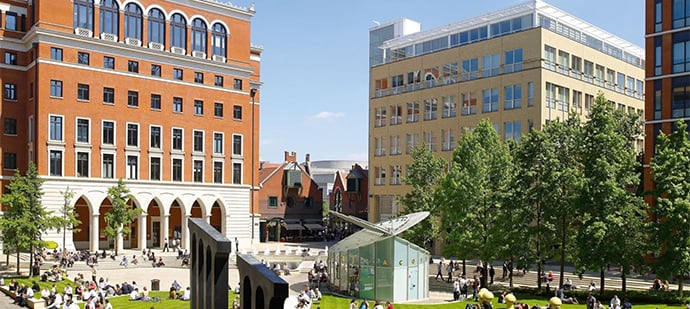 February 21, 2023
Avison Young has released its latest Big Nine office market update, covering the final quarter of 2022.
Occupier market
Q4 was the busiest quarter of the year with a total of 2.5m sq ft transacted, 14% higher than the 10-year average. This brought annual take up to 8.1m sq ft, 41% more than in 2020 but 1% below 2021 levels.
Liverpool was the outperformer of the quarter, 45% up on 10-year average levels, followed by Manchester (42%) and Edinburgh (38%). Overall, city centre markets outperformed the average by 21%.
Occupiers continued to reconsider their spatial needs. Over the course of the year, the average lease size shrunk by 19%, and the share of leases 25,000 sq ft or larger fell to 21% in 2022 from 34% in 2021.
Meanwhile, occupiers sought top quality workplaces to attract and retain talent. In 2022, 34% of all Big Nine leases – 44% in city centres – were for grade A space, double the levels seen in 2018. With strong demand and constrained supply, Leeds, Glasgow, and Manchester saw increases in prime rents on last quarter, with average quarterly prime rental growth of 1.2% across the Big Nine. Annually, prime rental growth increased to a new record high of 6.5%.
Major deals of the quarter included BlackRock's expansion to 139,182 sq ft at Dundas House in Edinburgh, Deloitte's expansion to 63,066 sq ft at 100 Embankment in Manchester, and video games developer Firesprite's 50,123 sq ft commitment to Duke & Parr in Liverpool.
Over the course of 2022, the sectors which took the most space were professional services, government and services, and financial services, accounting for just over half of all major deals.
Overall, availability continued the downward trend seen since Q1 2022, albeit at a more modest pace. Newcastle, Edinburgh, and Bristol were the tightest markets in Q4, whilst Birmingham, Leeds and Glasgow had greater levels of supply. While 2022 was the busiest year for development completions since the global financial crisis 37% of the total under construction pipeline is already pre-let, including refurbishments.
Charles Toogood, Principal and Managing Director, National Offices Team at Avison Young, said:
"Despite ongoing uncertainty, Q4 saw a healthy level of transactions, marking a 14% increase over the 10-year average, and bringing annual take-up to 8.1 million sq ft. We saw strong performance in city centres, particularly in Liverpool, Manchester and Edinburgh. While occupiers sought top-quality workplaces to secure their place in the war for talent, they also continued to reassess their spatial needs, leading to a 19% reduction in average lease size. However, several key occupiers, among them the major deals in the quarter, were upsizing, underlining that less space is not the universal answer.
Looking ahead, there are some standout schemes in the development pipeline for 2023, including projects such as 2 & 3 Haymarket in Edinburgh, One Centenary Way in Birmingham, and One Central in Glasgow set to complete, which are already partially to fully pre-let."
Investment market
On the flipside, Q4 was the least active quarter for the Big Nine investment market since 2012, excluding the Covid-impacted Q2 2022. Just £153m was transacted, 49% down on Q3 and 79% below the 10-year Q4 average.
However, 2022 was a story of two halves. Driven by the strongest H1 since 2016, whole-year volumes were just 16% lower than 2021 and 19% below the 10-year average. Manchester saw the most activity over the year at £472m followed by Birmingham (£431m) and Bristol (£300m).
The largest transaction of the quarter was French asset manager La Française's purchase of 101 Barbirolli Square for £48m, Manchester, the city having been a long-term target of theirs to add to regional presence in Bristol and Edinburgh. Other major deals included Hillview and Shlomo's value-add acquisition of 121 Edmund Street, and Circle Property's cash-out sale of Somerset House to Somerset Land & Property, both in Birmingham.
Overseas investors were the most active buyers in 2022, accounting for 45% of all transactions, whilst UK PropCos and UK Institutions accounted for 28% and 16% respectively. This level of overseas involvement was the highest since 2013. UK institutions showed some sign of re-entering the market, up on just 8% of all transactions in 2021.
At the end of Q4, £404m of assets were available across six of the Big Nine cities, and a further £87m under offer. A total of £426m were withdrawn from the market across these cities during 2022, with sellers unable to achieve asking prices for buildings such as 103 Colmore Row in Birmingham and the Liver Building in Liverpool.
Patrick Scanlon, Director, Innovation and Insight at Avison Young, said:
"While the economic headwinds are undoubtedly creating a challenging environment for the UK office market, we expect the healthy demand for best-in-class space to continue. We believe that the current relative paucity of top quality new available space will continue to place upward pressure on prime rents during this period of economic uncertainty, particularly in those cities with low Grade A vacancy rates".
To read the full research update on Big Nine office markets (Birmingham, Bristol, Cardiff, Edinburgh, Glasgow, Leeds, Liverpool, Manchester and Newcastle), click here.