null - Commercial Real Estate News Releases | Avison Young News
Commercial real estate news releases from Avison Young
Quarterly and topical research insights to help your business gain competitive edge in commercial real estate.
Success for our Agency Team at the Insider South West Property Awards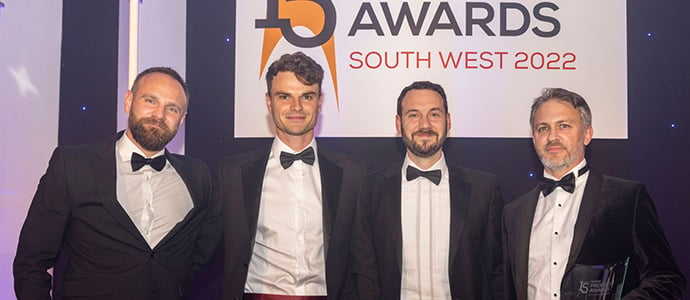 October 19, 2022
Bringing together industry friends and colleagues, the Insider South West Property Awards showcased our region's most impressive projects. We were delighted to be presented with not just one, but two awards.
First award of the evening went to the Agency Team of the Year – and we were welcomed to the stage to receive the trophy for our work in the South West by TV personality and host for the evening, Mark Durden-Smith.
Avison Young Principal, Gordon Isgrove, says:
"It was a difficult job deciding which of our Agency-led projects to include in our entry. We selected three stand-out deals that really showcase our skills across each agency discipline. This was highlighted by the judges, together with our focus on sustainability advice to clients."
One of the three projects we highlighted was the biggest offices deal of 2021 at Trinity Quay (also shortlisted in the Deal of the Year category) to the Bristol University Dental School. The off market transaction for 74,373 sq ft saw Bristol University take a 17 year sub-lease in this landmark city centre building.
Representing our industrial expertise, we highlighted the largest single warehouse disposal in the South West in 2021, namely the sale of a 360,000 sq ft property on a 21 acre site in Bridgwater, previously occupied by Argos. To facilitate the sale we rebranded the warehouse as Big Box 24, successfully achieving completion to EQT Exeter in May of last year.
The third transaction we highlighted was securing a development agreement on 112 acres of land on behalf of Cheltenham Borough Council to HBDxFactory for the Golden Valley Development. Our involvement with this ground-breaking project that will deliver £1bn GDV of mixed use including a 150,000 sq ft National Cyber Innovation Centre, started some four years ago, culminating in the developer search and appointment of HBDxFactory.
This deal also went on to be awarded Deal of the Year at the end of the evening.
Avison Young was also shortlisted in the Placemaking Category and Deal of the Year with the sale of the 365 acre site at Lotmead Farm in Swindon, offered for sale by Ainscough Strategic Land, and acquired in a joint venture partnership of Countryside and Sovereign Housing Association. The largest residential land transaction of 2021, this project was awarded the accolade Deal of the Year at the Insider South West Residential Awards which took place earlier in the year.
Gordon continues:
"Our Agency team continues to work on many of the region's most influential and ground-breaking projects, providing valued advice throughout the property lifecycle to our clients. It was a real honour to receive two awards from Insider South West, with so many great projects throughout the South West shortlisted. A massive congratulations to each and everyone of our Agency team in the Bristol office."