null - Commercial Real Estate News Releases | Avison Young News
Commercial real estate news releases from Avison Young
Quarterly and topical research insights to help your business gain competitive edge in commercial real estate.
Works underway on major new sustainable development at Baytree Nuneaton for logistics specialist Rhenus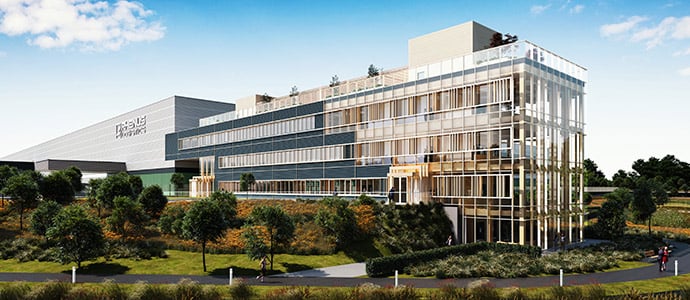 October 18, 2022
Leading logistics service provider Rhenus Warehousing Solutions UK (Rhenus) and developers Baytree Logistics Developments (Baytree) have recently broken ground on a major new development at Baytree, Nuneaton, which will create hundreds of new jobs for the local community.
Strategic real estate advisor Avison Young has advised Rhenus on the acquisition of the buildings and is providing building consultancy and project management services to Rhenus, on the one million square ft development, which upon completion will comprise two warehouses, known collectively as the 'Rhenus Campus'. The first warehouse is completing this year and will measure 210,000 square feet. The second, which is due to complete in early 2023, will measure 771,000 square feet.
The state-of-the-art, sustainable warehouses will offer a wide range of warehousing and distribution services to Rhenus's diverse customer base, including Soho House and other global retail brands.
The development will feature the very latest in digital technology and sustainable design, with the 771,000 unit seeking to achieve BREEAM Outstanding Fully Fitted certification upon completion, creating a highly sustainable environment that enhances the health and well-being of employees and protects natural resources.
Plans include the installation of a photovoltaic solar array along with potential for battery storage technology. The buildings will be heated with air source heat pumps, and car parks will be equipped with electric car charging points. The site's infrastructure will benefit from the ability to extend EV charging to goods vehicle parking bays. Rainwater harvesting will be utilised for toilet flushing and planter irrigation to both buildings in order to minimise the development's consumption of mains water.
The site will also incorporate MUGA sports pitches, allotments, edible planting, wildflower grasslands, extensive networks of footpaths to encourage cardiovascular exercise and external break out areas for staff wellbeing. The site, which is bounded by the Coventry Canal, will include landscaping with extensive native tree planting, and other works aimed at generating biodiversity such as log piles, locations for apiaries, bat and bird boxes, as well as an extensive balancing pond overlooked by a projecting terrace for staff relaxation.
Andrew Jackson, Principal, MD of Industrial at Avison Young, said:
"Avison Young is delighted to be advising on this world-leading project, which will deliver two outstanding buildings with environmental and social value embedded into their fabric from the get-go. The logistics and industrial sector is undergoing a significant drive towards sustainable, wellness-led assets, and Rhenus Campus will be a pioneering example of the associated benefits. Beyond being 'nice to haves' these ESG elements now have a direct impact on businesses' bottom line and their ability to attract and retain leading occupiers."
Tim Brown, Principal, Building Consultancy at Avison Young, said:
"It is a pleasure to advise and support a client with an absolute commitment to delivering the best for their staff and the community in which these new facilities will be located, while minimising their impact upon the environment.
The approach Rhenus has taken on this project is truly innovative, challenging Avison Young and Baytree to push the boundaries of what is considered 'industry leading'. It is great to be part of the delivery of a new development that I am sure will be setting a new standard in sustainability in the logistics and industrial sector, which others will seek to emulate."
Kerry Delaney, Managing Director at Rhenus Warehousing Solutions UK, said:
"The brand-new facility will reach the highest level of sustainability in warehousing, creating a site that's environmentally diverse and that promotes happiness, health and well-being amongst our employees. At Rhenus, we put our people at the heart of all we do and operating from a flexible space where they can boost their work life and mental health is hugely important to us.
"This new site will allow us to more easily meet the demands of our growing business and attract new customers, whilst enabling us to deliver our high-quality, personalised service. More importantly, our new, sustainable warehouses can support our customers in achieving their own carbon-zero goals."
Amit Babbar, UK Development Director at Baytree, said:
"Baytree is delighted to have been chosen by Rhenus as their trusted delivery partner for the new Rhenus Campus development at Baytree Nuneaton. Clearly, Rhenus cares deeply about its people and the positive impacts which its enterprise will have for customers and the wider community. It is the symbiosis of Rhenus' business vision and values expressed within the built and natural environment which will make the Rhenus Campus a beacon amongst its peers."