null - Commercial Real Estate News Releases | Avison Young News
Commercial real estate news releases from Avison Young
Quarterly and topical research insights to help your business gain competitive edge in commercial real estate.
Avison Young and Serendipity Labs team up to launch new flexible office location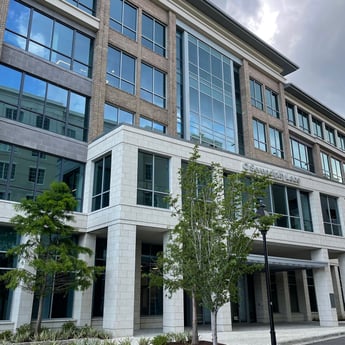 August 3, 2022
New Nexton location second in the Charleston area
Charleston, SC – Chris Fraser, CCIM, Principal and Managing Director of Avison Young's Charleston office today announced that Serendipity Labs has retained the services of the Charleston office. Avison Young will work as the exclusive brokerage partner with Serendipity Labs in the Charleston market to deliver insight and strategies to reach local and national businesses looking for a trusted workplace in the area.
The Avison Young team includes Chris Fraser, CCIM, Principal and Managing Director, Ashley Jackrel, CCIM, Vice President, and Leslie Fellabom, Senior Vice President who are all based in the firm's Charleston office. The combined team of experts has more than 75 years of office experience.
"Our team has been growing our flexible office solutions segment in the Charleston market, with particular focus since the onset of the global pandemic and the increase in fluctuation in the office sector," said Fraser. "Avison Young is a top-tier broker that is always focused on development that will benefit the local community," says John Arenas, chairman and CEO of Serendipity Labs. "The community-minded businesses AY delivers will thrive in our upscale workplaces, both our existing Mount Pleasant Lab and the new one in Nexton.
Serendipity Labs flex office workplaces, with individual offices, team suites, coworking, and meeting space, were created for professionals looking for a workspace with the flexibility to meet their business needs close to home. Every Serendipity Labs in the network, in both the U.S. and U.K., is upscale and professional, meeting both HIPAA and Sarbanes-Oxley standards. Each location is anchored in their community by hosting professional meetings and exhibits from local artists.
"This partnership aligns with Avison Young's work to create positive impact and economic, social and environmental value. Serendipity Labs is promoting welcoming, productive workplaces which are a benefit for the community and economy," said Jackrel, Vice President, Avison Young. "We are excited to be working with Serendipity Labs!"
About Serendipity Labs
Headquartered in Rye, NY, Serendipity Labs, Inc was established in 2011 by industry leader John Arenas. The company operates the Serendipity Labs brand coworking and flexible office facilities on behalf of landlords under management agreements. It has an asset-light strategy in suburban, secondary city and urban areas. Each environment is enriched by curated art shows from local artists and members are invited to attend live and virtual networking events. Corporate membership, with central billing and reporting, is available. For more information about Serendipity Labs Charleston: https://serendipitylabs.com/us/SC/