Commercial real estate news releases from Avison Young
Quarterly and topical research insights to help your business gain competitive edge in commercial real estate.
Q1 industrial and logistics take-up impacted by lack of stock and landlords' wait-and-see approach, but activity set to increase throughout 2022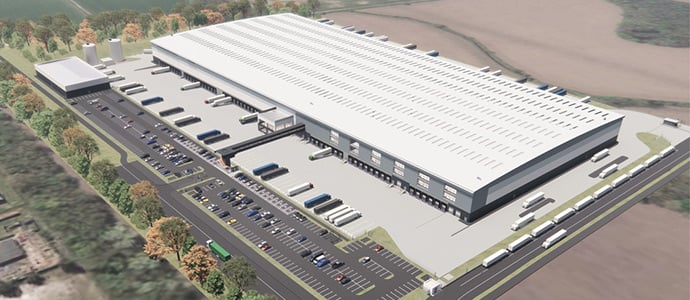 April 5, 2022
Avison Young releases latest quarterly analysis of industrial market.
Occupier market
Take-up of Grade A Big Box space in the first quarter of 2022 has been somewhat muted, totalling 4.3 million sq ft, significantly lower than last year's record Q1 take-up levels of 13.5 million sq ft, and 40% lower than the five-year Q1 average of 7.4 million sq ft.
These figures do not reflect a fall in demand, as space continues to be well sought after, rather a critical lack of stock, which could result in take-up levels for 2022 being lower than previous years.
B&Q was one of the largest occupiers of take-up of Grade A space during the quarter, accounting for almost 600k sq ft, across two developments, closely followed by Arrival which took up over 500k sq ft of space.
Overall, third party logistics and retail-non-food occupiers dominated take-up, with 69% and 24% respectively.
Regionally, for the second year in a row, the East Midlands saw the most activity during the quarter with take-up totalling 2.2 million sq ft of space. In London, activity was centred at the first post-Brexit freeport at London Gateway, totalling over 400k sq ft.
With 80% of available space coming through as speculative development, landlords are increasingly choosing to wait until a unit is approaching completion before committing to a letting, in order to capture fast moving rental growth.
Despite the supply constraints, the pipeline is delivering new space to the market. Availability of Grade A big box industrial space increased to 29 million sq ft, a 20% increase compared to the end of 2021.
ESG remains top of the agenda, and we expect to see an increase in the refurbishment of existing stock driven by the government's legislation that all commercial buildings must have a minimum EPC rating of 'B' by 2030. Avison Young's Building Zero: The Road to Net Zero Carbon Logistics report explains the key pressures affecting the industrial built environment, the changes that need to be made and the cost of doing so – a staggering £30bn.
"2022 will be a challenging year for the industrial market, driven by external factors such as ongoing supply chain problems and potential construction delays, however, this is unlikely to hamper demand for space", said Andrew Jackson, Principal and Managing Director, Industrial at Avison Young.
"Online retail sales are forecast to continue growing during the year and demand may increase from the likes of manufacturers looking to onshore facilities to cut down on costs or from datacentre operators looking to expand capabilities," added Robert Rae, Principal & Managing Director, Industrial, Avison Young.
Investment Market
Investment volumes during Q1 2022 totalled £1.9 billion. This was 8% down on the comparative period in 2021 and 3% down on the five-year quarterly average.
The largest deal was Cain International's acquisition of seven UK sites, totalling 3.25 million sq ft from Firethorn Trust, for £550 million.
One of the most significant ongoing opportunities is Prologis bidding £17.5bn to purchase the Blackstone-owned Mileway Logistics. The portfolio comprises of over 160 million sq ft of space in Europe, with almost a third of that space being located in the UK.
UK property companies accounted for the majority of activity, with a 43% (£802 million) share of total volumes.
Regionally, London and the South-East saw the highest level of activity, with £360 million transacted during the quarter.
2022 could see yields compress further, if the level of demand for assets continues at the same pace as last year. The latest MSCI quarterly index reported yields had compressed during 2021 to 3.8% - a decline of 184bps compared to the same period in 2021.
Tom Bridgman, Principal, Investment at Avison Young, commented:
"Despite a relatively subdued first quarter, which has been impacted by current economic and political challenges – as well as a replenishing of investment stock, after a flurry of activity during the final quarter of 2021 - strong fundamentals will continue to underpin demand across the market."
Avison Young's full Big Box report can be accessed here.