Commercial real estate news releases from Avison Young
Quarterly and topical research insights to help your business gain competitive edge in commercial real estate.
Q1 retail activity records sales and take up increasing in 2022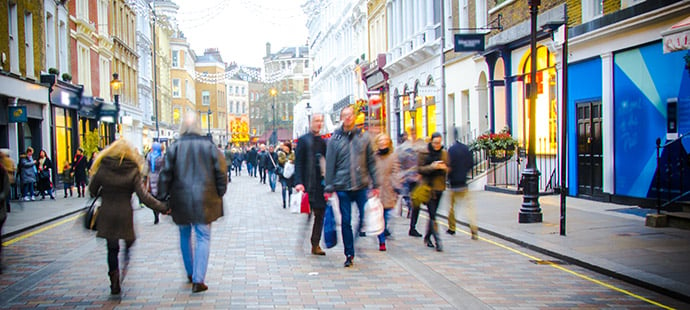 March 30, 2022
Avison Young releases quarterly retail market summary.
Avison Young has released its retail update for Q1 2022, covering emerging trends in the sector, as well as performance insights on sales, retailer results, property data, and new formats.
Market summary
Despite the impacts of Omicron, January 2022 retail sales values were almost 12% higher than they were in January 2021 – seen across clothing and footwear, department stores and the grocery sector – likely linked to the lifting of Covid restrictions and return to office but also driven by inflation. Retailers announced increases in sales, for example, John Lewis announced its highest ever annual sales in history, totalling £4.9bn; however, retailers continue to speak of economic uncertainty throughout the year.
Property data also reveals green shoots. Despite remaining in negative territory across all retail segments, a small level of rental growth was seen in Standard Retail in the South-East and retail warehouses. Investment volumes were boosted by several large sales, most notably Nuveen's £600m sale of Cheshire Oaks and the Swindon Designer Outlet to LaSalle Investment Management.
Key statistics and highlights:
Barclaycard reported that consumer card-spending grew by 13.7% in February, compared to February 2020; clothing and footwear spend increased by 15%, and department stores saw a return to growth of over 2%, compared to a 6.1% decline in January.
Total spend in the grocery sector increased by 12.9% compared to the same period in 2020, but there was a small decline in overall market share from the big players compared to January 2022, while there was a slight rise in share from the discounters.
Increased vacancy and lower retail rental values in the capital could create opportunities for retailers looking to occupy Central London stores, which may have been previously unaffordable for them.
Investor appetite for UK retail parks is expected to remain high during 2022, following last year's strong performance of volumes, which totalled £3.3 billion.
Retail parks recorded the lowest vacancy rate at 11.3%, while regionally London had the lowest overall vacancy rate at 10.6%.
A variety of new formats are emerging: China's largest online retailer JD.com launched its first European store, 'Ochama', in the Netherlands, with robots preparing orders; Amazon announced the launch of its first fashion store in Los Angeles; and IKEA launched a 12,000 sq ft small-format, cashless store format in Hammersmith with self-checkouts located throughout the building.
Miles Marten, Principal & Managing Director, Retail at Avison Young, said:
"Out of town retail space continues to underpin investment volumes, with deals coming from sales such as the Brewery Retail Park in Romford for £162m, and LaSalle's £41m sale of Meole Brace Retail Park in Shrewsbury. This appetite is expected to continue into 2022."
Dan Kent, Principal, Retail at Avison Young, said:
"Following the lifting of plan-B restrictions, increasing return to office, and higher levels of footfall, the in-town market has seen signs of recovery with retail sales values increasing by almost 12% from January 2021. However, the impact of inflation (5.3% in January) is driving some of this increase and retailers are warning of continued uncertainty moving throughout the year.
There could be changes and new opportunities in the city landscape, with increased vacancy and lower rental values allowing new retailers to emerge in Central London where they may have been previously unable to afford space."
To read the full March retail research update click here.