Commercial real estate news releases from Avison Young
Quarterly and topical research insights to help your business gain competitive edge in commercial real estate.
The road to zero carbon logistics won't come cheap, but it's worth the investment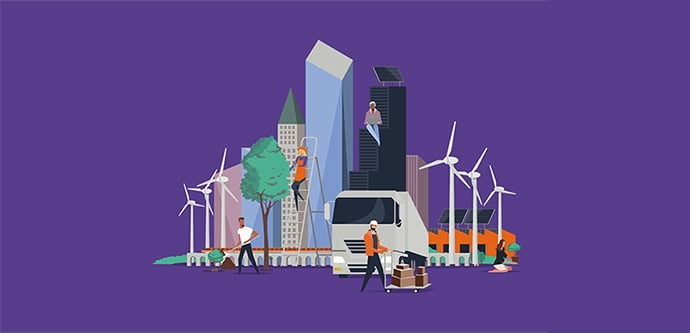 February 18, 2022
Newly launched report identifies key trends for the industrial sector's sustainability drive and calculates cost of going green.
Newly launched report identifies key trends for the industrial sector's sustainability drive and calculates cost of going green.
Strategic real estate advisor Avison Young has released 'Building Zero – The road to zero carbon logistics'. Building on Avison Young's recent Ten Trends for a Zero Carbon World, which examines the impacts of the green wave on real estate as a whole, this report sets out the key pressures affecting the industrial built environment, the changes that need to be made and the cost of doing so in order to achieve the green industrial revolution.
The size of the national industrial sector and its environmental impact make it a key battleground for the UK's net zero strategy – one with a multitude of highly influential trends to consider.
Industrial demand is exceptionally strong - the heat of the market, fuelled by the surge in online retailing, has powered the need to increase efficiency of space, transitioning from 'big sheds' to high-tech hubs
Post-Brexit UK - companies are keen to de-risk supply chains and re-shore some production functions, providing a further boost to UK industrial demand
Green growth – the technological and green revolution will be a particular catalyst, driving growth of gigafactories, data centres, battery storage, green energy manufacturing, as well as more niche activities such as vertical farming
Power – the industrial sector requires a growing volume of renewable energy to sustain it, making the availability of clean-sourced power an increasingly important consideration
Changing locational demand - development opportunities are being driven not only by the rising level of occupier demand but also the need for increasingly bespoke space and the proliferation of supply in historically non-prime locations
Greening supply chains – the entire supply chain is under sustainability scrutiny, with prospective occupiers and owners requiring strong environmental credentials
While forward-thinking developers are already striving for net zero carbon, biodiversity net gain, BREEAM Outstanding and EPC A ratings on new stock, the greatest challenge will be around how to upgrade the existing stock.
Daryl Perry, Head of UK Insight, Avison Young, said:
"Owners and developers of warehousing and logistics space are increasingly setting more stringent carbon and sustainability targets for both new and existing portfolios. This is being driven by a number of factors,, including occupier requirements to minimise supply chain emissions and ensure that their built stock is fit for purpose, as well as by policy requirements. Our report shows a holistic approach to reducing carbon emissions is required and will enable the sector to affect positive change on the road to net zero carbon."
Changing EPC regulations may render 90% of industrial properties environmentally obsolete by 2030
As a result of the UK government's 2050 net zero goal, changes in government policy and building regulations will put significant pressure on owners of real estate to improve the sustainability of their buildings.
According to Avison Young's analysis of EPCs, the incoming 2023 MEES requirements will impact around 10% of buildings. However, in 2030, the MEES requirements will increase further with all non-domestic properties needing to achieve an EPC grade B or above, which would require 90% of industrial properties to improve their energy performance.*
Upgrading industrial stock will come at a cost of £30.5bn
Avison Young has calculated the estimated total cost for achieving the 2030 MEES requirement for industrial stock comes to £30.5 billion, at an average cost of £334,000 per building. Further changes in Building Regulations, or MEES rising to an EPC Grade A would add significant extra cost and put an even greater focus on the need for structural improvements and renewable energy generation.
One of the reasons for the considerable challenges posed by the retrofit requirements to increase the sustainability of the UK industrial market is the age of the stock, with only 20% of industrial stock having been built in the last 20 years.
Green premium vs Brown discount
While improving energy performance requires a significant capital outlay, meeting higher EPC grades has a notable positive effect on rental and capital values in industrial properties. Making improvements to a building's EPC rating could provide greater security in investments and income by increasing the property's appeal to buyers and tenants. A 'green premium' on the best performing assets is currently already visible, with the differential between Grade B and Grade A average rents increasing by 2 percentage points from 2010 to 2015 and 2016 to 2021. The growth of the difference over the Grade F and Grade E compliance boundary of 11 percentage points also evidences a 'brown discount'. Further, this discount is expected to grow as MEES deadlines draw nearer, bringing a greater risk of environmental obsolescence for sub-standard buildings which could result in them becoming stranded assets.
Andrew Jackson, Principal & Managing Director, Industrial at Avison Young, said:
"Although the cost and scale of the change required to improve the UK's industrial stock is significant, there is a huge opportunity to inject value into the sector's built environment. With yields in the sector seeing significant downwards pressure, the ability to establish a further green premium will be welcomed by many investors on the best quality stock.
However, the greatest challenge is how to upgrade existing stock. Improving the thermal performance of industrial buildings, lighting efficiency and heating systems are the main opportunities for reducing built environment emissions. In many buildings, the viable improvement opportunities will be from relatively quick and easy improvements to the services within the property. However, landlords are encouraged to set their targets much higher than the minimum standards and think holistically – not only because regulations and levies are expected to become increasingly targeted to reducing carbon, but because the investor universe and occupier base will demand it."
To read the full research report click here.
*Legislation introduced in 2018 set a minimum energy efficiency standard (MEES) for nondomestic buildings to achieve a set level of energy efficiency, benchmarked through EPCs (energy performance certificates).