Commercial real estate news releases from Avison Young
Quarterly and topical research insights to help your business gain competitive edge in commercial real estate.
Avison Young Capital Markets team brokers sale of Amazon AR Sort Fulfillment Center in excess of $325 million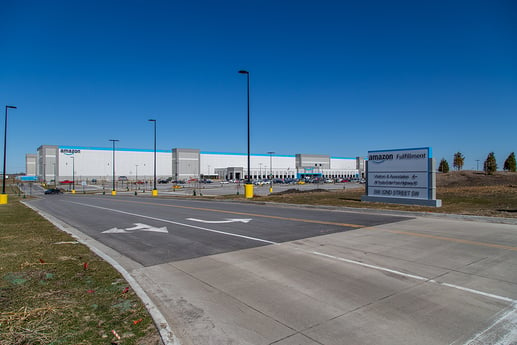 February 14, 2022
The newly constructed 2.68-million-square-foot facility is located near Des Moines, Iowa
DES MOINES, Iowa– Avison Young's Capital Markets Group today announced that it has brokered the sale of a single-tenant net-leased property totaling more than $325 million of value and representing 2.68 million square feet (MSF). The Amazon leased, AR Sort Fulfillment Center property was sold subject to an existing long-term lease and zero-cash flow financing structure.
Capital Square of Richmond Virginia purchased the newly constructed four-story facility from Mesirow Realty Sale-Leaseback, Inc.. Mesirow's Sale-Leaseback Capital team has completed transactions with value and size in excess of $8 billion and 23 million square feet, respectively with rated and non-rated publicly-traded companies, foreign corporations, and strong privately-held companies.
The Avison Young Capital Markets team representing Mesirow included Jonathan Hipp, Principal and Head of Avison Young's U.S. Net Lease Group; James Hanson, Principal; and Richard Murphy, Senior Vice President. Earl Webb, Co-Managing Partner of 9th Green Advisors, also advised Mesirow on the sale. This same team represented Mesirow in two other zero cash flow property transactions totaling over $560 million that sold in 2020.
"We were proud to once again represent Mesirow and offer investors the opportunity to acquire this premier Amazon facility," Hipp said. "It's a state-of the-art Amazon property that plays a critical role in the company's distribution network and an excellent long-term investment."
"We had tremendous interest from investors and others interested in this innovative facility, one that sets the standard for a new generation of industry logistics properties," Hanson added. "We thoroughly enjoyed working with Mesirow and are thrilled with the result."
The property is located in Bondurant, a city northeast of Des Moines. It sits across the street from a 270,000-square-foot Amazon Sortation Facility, demonstrating Amazon's long-term commitment to the area.
About Avison Young and the Avison Young Capital Markets Group
Avison Young creates real economic, social and environmental value as a global real estate advisor, powered by people. As a private company, our clients collaborate with an empowered partner who is invested in their success. Our integrated talent realizes the full potential of real estate by using global intelligence platforms that provide clients with insights and advantage. Together, we can create healthy, productive workplaces for employees, cities that are centers for prosperity for their citizens, and built spaces and places that create a net benefit to the economy, the environment and the community.
Avison Young is a 2021 winner of the Canada's Best Managed Companies Platinum Club designation, having retained its Best Managed designation for 10 consecutive years.
About Mesirow
Mesirow is an independent, employee-owned financial services firm founded in 1937. Headquartered in Chicago, with offices around the world, we serve clients through a personal, custom approach to reaching financial goals and acting as a force for social good. With capabilities spanning Global Investment Management, Capital Markets & Investment Banking, and Advisory Services, we invest in what matters: our clients, our communities and our culture. To learn more, visit mesirow.com and follow us on LinkedIn.
Mesirow was recently named one of the Best Places to Work in Chicago by Crain's Chicago Business and one of the Top 100 RIA firms by Barron's.
For more information:
Jonathan Hipp, Principal & Head of U.S Net Lease Group, Washington, DC: +1.571.926.2009
James Hanson, Principal, Avison Young, Chicago, IL: +1.312.273.4506
Richard Murphy, Senior Vice President, Avison Young, Tysons, VA: +571.449.8234