null - Commercial Real Estate News Releases | Avison Young News
Commercial real estate news releases from Avison Young
Quarterly and topical research insights to help your business gain competitive edge in commercial real estate.
E-commerce dominated last year's industrial take-up, as competition set to intensify in 2022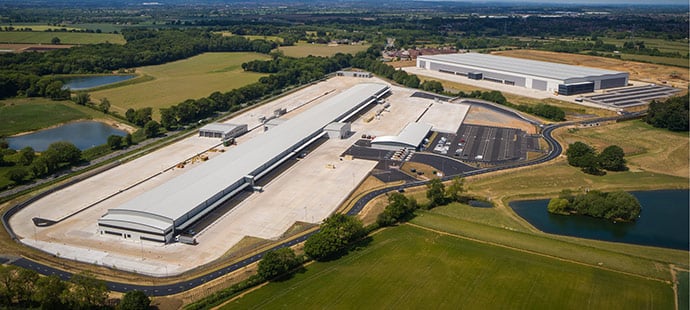 January 21, 2022
Avison Young releases year-in-review analysis of industrial market.
Avison Young releases year-in-review analysis of industrial market.
Occupier market
"The momentum that has been gathering for several years behind big box warehousing, has grown especially acute since the second half of 2020, and shows no signs of abating. Occupational activity reached record levels in 2021, driven by the ongoing ecommerce boom," says Andrew Jackson, Principal and Managing Director, Industrial at Avison Young.
Continued high levels of demand for e-commerce facilities have driven occupational activity to reach record levels for large grade A warehouses (> 100,000 sq ft) during 2021, increasing by 29% on 2020 figures. Unprecedented demand has resulted in significant increases in both land and rental values, as well as an increase in investment volumes across all regions of the UK.
For the third consecutive year, take-up has increased, compared to the previous year, totalling 49 million sq ft, 57% up on the five-year average. Activity was driven by e-commerce, whether from retailers directly or third-party logistics providers. The non-food retail sector accounted for 48% of demand, whilst 3PL providers accounted for 27%. Amazon was the most active occupier, taking almost 9 million sq ft, leading take-up ahead of a series of additional contracts with 3PL providers. Other key occupiers included Super Smart, a 3PL provider based in the Midlands, and Ceva Logistics.
The Midlands accounted for 51% of all take-up, a rise from the 40% share of in 2020. Notable deals included JLR's new global distribution park, the UK's largest ever single occupier, a D&B transaction comprising of 5 units, totalling 2.9m sq ft in Ashby de la Zouche, as well as JD Sport's 511,820 sq ft warehouse in Derby. There was a slowdown in activity in the Southwest, as well as Scotland due to a lack of available stock, as opposed to diminishing demand.
There will be a lack of supply of big box units in 2022. Availability amounted to 24.2 million sq ft at the end of 2021, 6% lower than at the end of 2020, meaning, for the second consecutive year, there is less than a year's supply of stock. This tight supply will continue to put upwards pressures on land values, underpin appetite for speculative development and drive refurbishment of older stock.
This constrained supply picture has put immense upwards pressures on land values, with sites in London commanding up to £10 million per acre. Rents have also increased significantly during 2021, rising by an average 20% across all UK regions. This trend will continue in 2022 as the competition intensifies, from traditional occupiers looking to increase their warehouse space to accommodate the continued growth in demand from online shopping, to new occupiers such as film studios and Q-commerce operators.
Investment Market
2021 was a very active year for investment, with total volumes for large industrial units amounting to just over £11 billion across the sector. Blackstone was the largest investor, acquiring industrial assets including Project Alaska, a portfolio of Asda warehouses, which sold for £1.7bn, and the Defender portfolio for £272 million.
The attractiveness of the UK industrial market drew huge demand from overseas investors during the year. In total, overseas investment made up 57% of total volumes, up from the 55% recorded in 2020. US investors accounted for the highest share of all overseas investment.
London and the Southeast saw the highest volume of activity, totalling over £2.3bn. There was also a significant level of activity in the East Midlands, where volumes reached over £1.4bn.
The strength of demand during 2021 has led to yields compressing. According to the latest MSCI monthly index the average equivalent yield for distribution property decreased by 99bps over the 12 months to 4.35%.
"With demand still high from occupiers, further rental growth and yield compression in the market is forecast. The UK industrial sector will continue to be attractive to investors driven by the strong fundamentals in the market," adds Robert Rae, Principal & Managing Director, Industrial, Avison Young.
Trends shaping 2022
There is increasing pressure from occupiers, owners, and consumers to improve sustainability credentials and focus on decarbonisation. This presents a challenge for both occupiers and landlords as it is mandatory for all non-domestic buildings to meet EPC Band B by 2030. 63% of existing industrial buildings have been built before the 1990s and will require significant refurbishment.
However, several leading developers are setting the pace of change. For example, Segro has created a 'pocket park' concept, which pushes for greener space around existing and new developments to maintain and preserve the environment, as well as retain talent.
Overall, there is unlikely to be a slowdown in demand for big box space across all UK regions in 2022, due to the continued shift in consumer behaviours. With online retail sales forecast to continue growing, there will be requirements for even more big box units to meet demand.
Read our Big Box Bulletin Review of 2021 here.