Commercial real estate news releases from Avison Young
Quarterly and topical research insights to help your business gain competitive edge in commercial real estate.
Avison Young represents landlord in 135,537-square-foot lease at World Trade Center® Charleston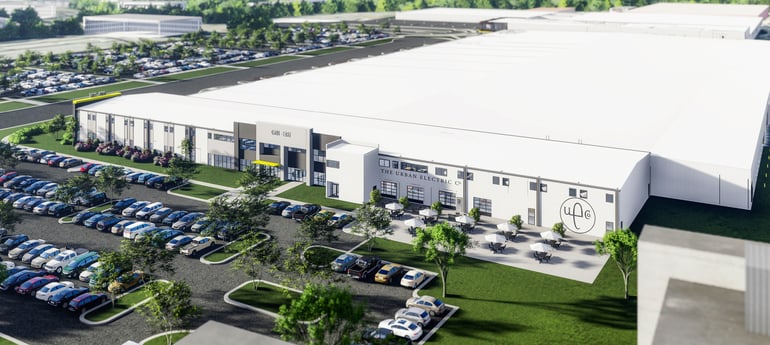 January 12, 2022
Charleston, SC – Avison Young's South Carolina office announced today that it has arranged a new 135,537-square-foot (sf) lease at World Trade Center® Charleston (WTCC) with the Urban Electric Co. The lighting manufacturer will relocate and expand its manufacturing, warehouse and office space to the premier industrial property located at 4500 Leeds Avenue in Charleston County, South Carolina.
Avison Young Principal & Managing Director of South Carolina and Savannah, GA Chris Fraser, CCIM, Senior Vice Presidents Courtney Kuhn, CCIM and Leslie Fellabom, Senior Associate Alex Irwin and Associate Ryan Young represented the landlord, LRC Properties, as the exclusive leasing agents for the property.
"The collaborative efforts and expertise of Urban Electric Co., LRC Properties and our Avison Young leasing team shined on this project, enabling us to maximize the facilities at WTCC to meet Urban Electric's needs," said Fraser. "Having a local Charleston company double-down on their investment in our market speaks volumes to how the city is equipped to foster continued growth for manufacturers as well as to the impeccable job that LRC Properties has done in rebooting such a historic industrial facility. Our team is very excited to watch and aid Urban Electric's future growth within our flexible industrial campus as they join an extensive, diverse roster of international tenants."
World Trade Center® Charleston (WTCC) is a multi-tenant manufacturing facility designed to accommodate a dynamic network of users and industries ranging from light, heavy and high-tech manufacturing to assembly, R&D, warehouse and logistics. The site consists of multiple buildings totaling 1,045,181sf on approximately 80 acres in the heart of the Charleston metro, offering proximity to the Charleston International Airport, I-26 and I-526.
"As the Urban Electric team reviewed expansion options, we knew we needed a world-class facility to consolidate our many teams and continue servicing our clients," said Tim Bazzle, Chief Operations Officer at Urban Electric Co. "We were fortunate enough to find very strong partners in both LRC and Avison Young that were aligned with the end goal of developing a workspace at WTCC that set up our employees for success, is close to our company headquarters at the Navy Yard and provides significant growth potential to meet client demand and our high design specifications. We couldn't be more excited about what this project means to the Urban Electric team and we look forward to a bright future at WTCC."
Native to Charleston, The Urban Electric Co. has grown to become one of the world's leading high-end lighting manufacturers for residential, hospitality, and contract interior designers and architects. The company's bench-made artisanal designs are found across the globe in high-profile homes, restaurants, and historic restorations. Each fixture is hand-crafted in Charleston by manufacturing processes that secure the growth and sustainability of artisanal craft for the future by using modern techniques that enhance and refine the hand-built approach as opposed to replacing it.
About the World Trade Centers Association
The World Trade Centers Association (WTCA) is a network of more than 300 highly-connected, mutually-supporting businesses and organizations in nearly 100 countries. As the owner of the "World Trade Center" and "WTC" trademarks, the WTCA licenses exclusive rights to these brands for Members to use in conjunction with their independently-owned, iconic properties, facilities and trade services offerings. Through a robust portfolio of events, programming and resources that it offers its Members, the goal of the WTCA is to help local economies thrive by encouraging and facilitating trade and investment across the globe through Member engagement. To learn more visit www.wtca.org.
About LRC Properties
Founded in 2009, LRC uses years of experience and imagination to create the unexpected. We work with our investors, tenants and communities to transform our properties into something special. We can take an average office building or obsolete warehouse and transform it into a completely modernized dynamic business environment that tenants cannot wait to get into.
Our team members don't just spend their days behind a desk. They are directly involved. They personally explore every acquisition, from the floor to the ceiling, down to the nails, and research all the potentials for development.
We have longstanding relationships in our markets where we leverage talented professionals such as attorneys, architects, engineers, construction companies, brokers, and financial sources; all who are essential to successful investment outcomes. We treat our tenants like guests in a high-end hotel – we consider them absolutely vital to the health and success of LRC. We negotiate our leases directly with them to ensure all interests are aligned. We anticipate their needs and aspirations and do our best to help create the spaces they need to successfully grow their businesses.
One of the most important partnerships we have is with our investors. We provide substantial risk-adjusted returns in a variety of asset classes, while preserving our core values of integrity, transparency and collaboration.
Avison Young creates real economic, social and environmental value as a global real estate advisor, powered by people. As a private company, our clients collaborate with an empowered partner who is invested in their success. Our integrated talent realizes the full potential of real estate by using global intelligence platforms that provide clients with insights and advantage. Together, we can create healthy, productive workplaces for employees, cities that are centers for prosperity for their citizens, and built spaces and places that create a net benefit to the economy, the environment and the community.
Avison Young is a 2021 winner of the Canada's Best Managed Companies Platinum Club designation, having retained its Best Managed designation for ten consecutive years.
Follow Avison Young
Twitter (News) │ Twitter (Deals) │ Blog │ LinkedIn │ YouTube │ Instagram
For more information:
Download property photo here
BUSINESS DEVELOPMENT
Courtney L. Kuhn (Marous) CCIM, Senior Vice President: +1.216.570.0910
Download a photo of Courtney Kuhn
Ryan Young, Associate: +1.803.530.4153
Download a photo of Ryan Young
Alex Irwin, Senior Associate: +1.843.637.5013
Download a photo of Alex Irwin
Ashley Jackrel, CCIM, Senior Associate: +1.843.327.0124
Download a photo of Ashley Jackrel
Chris Fraser, CCIM, Principal & Managing Director: +1.843.452.9425
Download a photo of Chris Fraser
Leslie Fellabom, Senior Vice President: +1.843.442.7492
Download a photo of Leslie Fellabom