Commercial real estate news releases from Avison Young
Quarterly and topical research insights to help your business gain competitive edge in commercial real estate.
Avison Young berät Hamburger Genossenschaft bei Anmietung von neuer Übergangszentrale in Hamburg-Wandsbek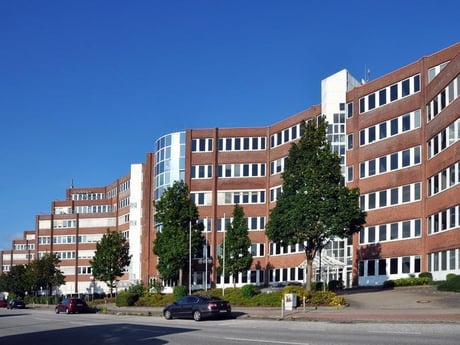 November 10, 2021
Die Hamburger Kooperative musste in kürzester Zeit eine passende Immobilie finden, die sich zwei Jahre lang als Übergangslösung für ihre Arbeit eignet. Die bisherige Zentrale ist aufgrund langfristiger Sanierungen in dieser Zeit nicht für alle Mitarbeitenden zugänglich. Man benötigte schnell eine geeignete, ausreichend große und für alle Mitarbeitenden erreichbare Alternative. Avison Young unterstützte das Unternehmen beratend und konnte ein geeignetes Objekt in der Nähe zum Friedrich-Ebert-Damm vermitteln. Die Verhandlungen für die Vermieterseite wurden durch die FIDES GmbH geführt. Die Immobilie sticht durch ihre vielen Stellplätze und ihre Anbindung an eine gute Verkehrsinfrastruktur heraus.
Robin Sönnichsen, Senior Consultant Office Leasing bei Avison Young, erklärt die Besonderheit dieser Vermietung: "Die Vermittlung wurde mit einer mieterseitig gewünschten, mittelfristigen Laufzeit und der dringlichen Situation auf Mieterseite mitunter zu einer Herausforderung, die wir aber unter Berücksichtigung aller Wünsche auf Mieter- sowie Vermieterseite realisieren konnten. Hier hat sich gezeigt, dass wir auch in den Hamburger Teilmärkten und Stadtrandlagen sehr stark aufgestellt und vernetzt sind. Der Stadtteil Wandsbek ist mit seiner Lage am Stadtrand im Osten der Hansestadt ein wichtiger Teilmarkt, den wir gerne weiterhin bedienen wollen."
Jochen Völckers, Principal, Managing Director und Leiter des Hamburger Standorts, ergänzt: "Wir sind stolz auf die hervorragende und sehr individuelle Beratung unseres Teams. Der Verband hat vollkommen andere Anforderungen an Büroräume als beispielsweise ein Start-up. Dabei zeigt sich, wie wichtig maßgeschneiderte Lösungen sind. Wir stellen den Menschen in den Mittelpunkt und sehen es als unsere Aufgabe an, individuelle Interessen und Bedürfnisse unserer Kundinnen und Kunden realisierbar zu machen."
Bildunterschrift: Avison Young hat erfolgreich eine Hamburger Genossenschaft bei der Anmietung einer neuen Büroimmobilie Am Stadtrand 50–56 in Hamburg-Wandsbek beraten. (Fotonachweis Avison Young)