null - Commercial Real Estate News Releases | Avison Young News
Commercial real estate news releases from Avison Young
Quarterly and topical research insights to help your business gain competitive edge in commercial real estate.
Avison Young releases Ten Trends for a Zero Carbon World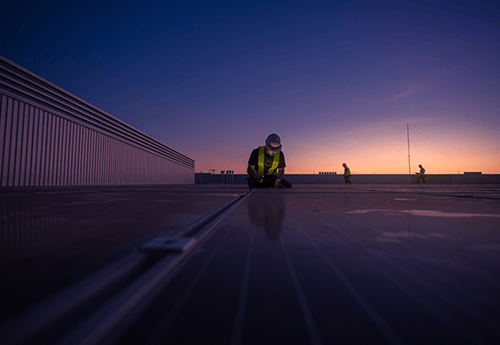 October 28, 2021
Experts explore how actions to address environmental and social challenges are impacting real estate and the built environment
Chicago, Toronto and London – Avison Young today released its Ten Trends for a Zero Carbon World, a look at how actions to address climate change are impacting the development, investment and occupation of real estate. A key component of the wider Environmental, Social and Governance (ESG) debate, decarbonisation has wide-ranging implications for the economy, society and the built environment. The report, featuring insights from the firm's real estate experts across multiple disciplines, helps frame the issues organizations are grappling with as we look for paths to a zero-carbon world.
"As the global community comes together at COP26 to discuss the impacts and solutions for climate-related events, we are sharing our perspective on key issues that will help clients climate-proof their business strategies, mitigate risk and realise the benefits of a transition to a zero carbon future," said Jon Gibson, Avison Young's Global Director of ESG. "We are now regularly helping our clients navigate their zero carbon journey with holistic commercial and practical strategies that respond to the extraordinary societal demand for a fossil fuel-free built environment."
The trends the team digs in to in the report include:

EcoLogical: How cities are leading the way on tackling climate change
Cities account for a vast proportion of global emissions, and are often most exposed to the consequences of climate change. City governments are at the forefront of action to reduce emissions and mitigate the impacts of extreme weather events, with significant implications for real estate.
Electric avenue: The evolving future of mobility
Pandemic-induced lockdowns have shown us the environmental benefits of reduced vehicle movements, which many cities are looking to retain as life starts returning to normal. In conjunction with an accelerated shift to the use of electric vehicles, this is set to reshape our urban landscapes.
(Work)Force of nature: The climate agenda meets the "War for Talent"
The post-COVID labor market is in a state of flux, with plentiful job openings and record levels of resignations. Companies' ESG credentials are set to play a key role in attracting and retaining talented young workers who believe their employer should have a social and environmental conscience.
Zero in: How new materials and techniques are changing the construction of buildings
Over the next 40 years, the equivalent of a city the size of Paris is expected to be built every week. Changes in design, innovative materials, new construction techniques and increased use of technology are all helping minimize the "whole life carbon" impact of new developments.
Retrofit revolution: Out with the new and in with the old
The reduction in emissions needed to meet global decarbonisation targets can only occur by improving the environmental performance of the existing building stock. In most cases this requires structural improvements, which presents challenges and opportunities in equal measure.
Chain reaction: All change for supply chains and logistics real estate
Walmart recently closed its record $2 billion green bond offering, the proceeds of which will be used to drive decarbonisation and sustainability projects throughout its operation, including its extensive supply chain. A sign of things to come for logistics real estate everywhere.
The colour of money: The expanding market for green finance
Sustainable finance has grown rapidly in scale and significance in recent years, and if the current trajectory continues, it will have major implications for the cost and availability of debt and equity for every real estate project.
Risk and returns: Investor responses to a changing economic and social geography
Each real estate market is exposed to its own unique combination of risks arising from climate change and social inequality. As these risks are increasingly recognized and priced, they are changing the investment landscape. There will be winners and losers, as occupiers and investors respond by reshaping their portfolios.
Dollars and sense: How decarbonisation is impacting real estate values
As all these factors affect supply and demand in the occupier and investment markets, sustainability is now impacting every element of the value equation – and we're already seeing the impact.
Just rewards: Why climate change is a social as well as environmental crisis
The impacts of climate change fall disproportionately on parts of the world and sections of society that are least able to protect themselves or recover from climate events. Governments need to ensure that policies introduced don't have unintended social consequences.
"As our trends indicate, we are heading toward a society and an economic geography reshaped by ESG considerations. National and local governments across the world are committing to a decarbonisation agenda - with major implications for the real estate sector, which accounts for a significant proportion of global energy consumption and carbon emissions," added Dr Nick Axford, Avison Young's Global Director of Insight. "Assessing the risks and opportunities presented by rising regulatory and market pressure around climate change is becoming a key boardroom issue for businesses across all sectors of the economy. As our research shows, occupiers and investors are beginning to act on their own initiative in an effort to get ahead of the regulatory curve. This is having a demonstrable impact on patterns of demand and property values," Axford concludes.
To explore the trends, check them out here.
Avison Young creates real economic, social and environmental value as a global real estate advisor, powered by people. As a private company, our clients collaborate with an empowered partner who is invested in their success. Our integrated talent realizes the full potential of real estate by using global intelligence platforms that provide clients with insights and advantage. Together, we can create healthy, productive workplaces for employees, cities that are centers for prosperity for their citizens, and built spaces and places that create a net benefit to the economy, the environment and the community.
Avison Young is a 2021 winner of the Canada's Best Managed Companies Platinum Club designation, having retained its Best Managed designation for ten consecutive years.
For more information: