Commercial real estate news releases from Avison Young
Quarterly and topical research insights to help your business gain competitive edge in commercial real estate.
Occupier activity at highest level for two years, while UK property companies dominate Q3 investment activity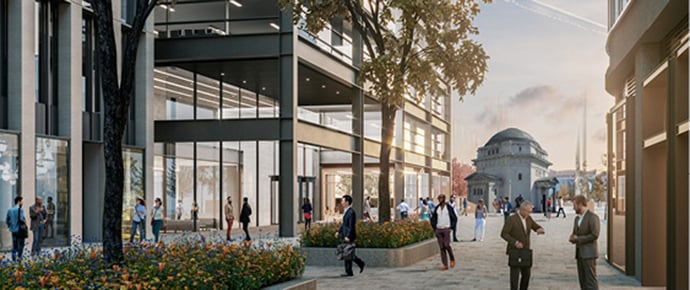 October 25, 2021
Avison Young releases analysis of regional office markets for Q3 2021.
Strategic real estate advisor Avison Young has released its latest quarterly Big Nine office market update, covering the third quarter of 2021.
Occupier confidence across the Big Nine office markets has reached its highest level since the pandemic started, reflected in the strongest take-up in two years. Across the Big Nine's city centre and out-of-town markets, take up amounted to 2.3 million sq ft – 11% up on the ten-year average. There has been a depth to the number and size of deals, with increasing confidence releasing pent-up demand and requirements that have been on hold during the past 18 months.
Key statistics and highlights of Q3's occupier activity:
Out-of-town activity accounted for 45% of all take-up, amounting to the strongest quarter for three years at more than 1 million sq ft.
Demand for Grade A, best-in-class office space remains robust: in Birmingham, grade A take-up accounted for 85% of activity.
The flexible workspace sector saw the busiest quarter in two years. Cat A+, plug and play space also witnessed increasing demand, with a premium being seen on oven-ready space across markets.
Professional services activity saw a marked increase, recording its highest quarterly activity for five years.
Availability across the Big Nine city centres increased from a cyclical low of 8.1 million sq ft in the Q1 last year to 11.6 million sq ft over the course of the pandemic, continuing on an upward trajectory.
In addition, there is a further 5.1 million sq ft of space under construction, of which 2.3 million remains available.
With greater demand for quality space, prime rents across the Big Nine averaged £32.61 psf, an increase of 2.5% over the past 12 months.
Charles Toogood, Principal and Managing Director, National Offices Team at Avison Young, said:
"A post-Covid focus on flexibility is underpinning a rise in demand from flexible workspace providers and driving the proliferation of Cat A+, plug and play space."
Confidence in the regional office investment market remains robust, with activity over the past 15 months performing above the long-term average. Total investment volumes during Q3 amounted to £753 million, 26% up on the ten-year average of £599 million.
Key statistics and highlights of Q3's investment activity:
UK property company transactions accounted for 88% of volumes, going against the tide of strong overseas investment for the last 12 months.
Activity has been dominated by a large portfolio deal purchased by UK property company Regional REIT from Squarestone Growth for £236 million. The Big Nine markets accounted for two thirds of the multi-let office assets.
The largest single-let deal was the 320,000-sq ft 3-4 Piccadilly Place in Manchester, purchased by Longmead Capital for £143 million.
Prime yields for most cities stayed the same over the quarter at an average of 5.33%, which compares to 5.31% 12 months ago. According to MSCI, average equivalent yields for all regional offices have moved from 7.69% in June to 7.44 in September, which compares to 7.30% 12 months ago.
Investors are particularly interested in prime and value add stock: consequently, the yield gap between prime and secondary property continues to widen from 278 basis points at the end of June compared to 228 at the end of 2019.
Mark Williams, Principal and Managing Director, Regional Investment at Avison Young, said:
"There continues to be a considerable weight of money looking to invest in the regional office market, and Q4 is expected to be the strongest quarter of the year, particularly given the slow start we had to 2021."