null - Commercial Real Estate News Releases | Avison Young News
Commercial real estate news releases from Avison Young
Quarterly and topical research insights to help your business gain competitive edge in commercial real estate.
Avison Young attracts more than 125,000 people to summer events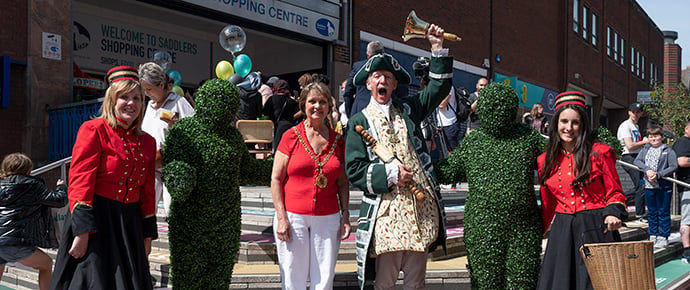 October 22, 2021
As the UK's return to destinations accelerates.
More than 125,000 people attended 30 events in seven locations across the UK
Summer events form part of Avison Young's ongoing client support post-pandemic
Brindleyplace and Walsall town centre have featured as areas of highlight with the aims of welcoming people back
Strategic real estate advisor Avison Young helped clients across the UK to attract more than 125,000 people back to their destinations this summer.
Demonstrating strong demand from communities to return to events post-pandemic, the results are more than four times that of Avison Young's last summer programme in 2019, which achieved 30,000 attendees across the same period. Briefed to inject life and safely welcome people back into town centres, shopping centres and mixed-use developments, the results represent a renewed focus on engagement and communications, coupled with the property sector's strong desire for events.
The 2021 summer series saw Avison Young's Engage team - which provides strategic marketing, engagement and placemaking advice and services – deliver a range of events and installations for clients with retail, office and high street assets in areas including the West Midlands, Portsmouth and Manchester. Initiatives spanned installing temporary urban parks, competitive socialising event series, charity driven arts and culture programmes and strategic multi-channel recovery campaigns for local authorities.
Highlights include:
Delivery of a major welcome back campaign for Walsall Council, 'We Are Walsall' - celebrating the retail, leisure and visitor offer and encouraging people to rediscover their town post-pandemic. Activities included a launch day attracting an additional 10,000 footfall compared to the previous week, family meet and greets with well-known children's characters including Peppa Pig and Peter Rabbit, as well as crazy golf in shopping centres and a social and digital media marketing campaign celebrating the town's faces and businesses with a prominent 96-sheet billboard towering above the M6 motorway.
A three-month pop-up 'urban park' at Birmingham's Brindleyplace - bedecking the popular waterside scheme with a huge pop-up garden for the first time in its 28-year history to enable office workers and visitors to enjoy more open, green space and enhance the appeal of returning to the office and the city centre.
Supporting a welcome back to the office with 'Lakeside Live' in Portsmouth's Lakeside North Harbour - with events featuring Segway obstacle courses, archery and axe throwing, accompanied by live music and street food.
Simon Bateman, Asset Manager for Lakeside on behalf of Portsmouth City Council, said:
"Lakeside is all about creating an environment that goes beyond the office. Our office campus is already home to a gym, nursery and fantastic cafés, but maximising the amenities and the sense of community through a considered and engaging events and networking programme for workers is critical to attracting them to return to the office, and in retaining them at this location. We offer something unique to other "standard" office environments."
Lydia Ellis, Head of Engage at Avison Young said:
"People are the lifeblood of places, and it has been very important to our clients to find ways to encourage people back both responsibly and sensitively following the pandemic. Audiences want to get out and experience their communities, but they need to be informed and more fully understand the experience they are coming to.
"Throughout the last 18 months and since restrictions eased, we've been working hard on strategies to help our clients get people back to safely enjoying events and venues, with each area having a clear goal, from supporting employees as they return to the office to increasing footfall in a town centre.
"Building on a successful summer, we are continuing to develop strategies for clients over the Christmas period as well as for 2022 and beyond."
The results of the summer events programme are in-line with Avison Young's UK Cities Recovery Index, a real time tracker of the speed and trajectory of post-pandemic recovery of the UK and key cities. National footfall climbed 73 per cent when restrictions lifted and continues to rise, with retail and recreation seeing strong upticks in activity.
Caroline Pooley, Principal of Real Estate Management at Avison Young said:
"The strong results for Avison Young's summer enlivenment and engagement programme are testament to the expertise of our team and the commitment to supporting our clients during and after the pandemic.
"Pairing extensive knowledge of clients and areas they support across the UK with the wider trends that are impacting peoples' interaction with places as we come out of COVID-19, the team has delivered a diverse mix of engaging events that have welcomed people back safely to destinations."