Commercial real estate news releases from Avison Young
Quarterly and topical research insights to help your business gain competitive edge in commercial real estate.
Latest occupier and investor transactions surpass 2020 figures as South East office market eyes recovery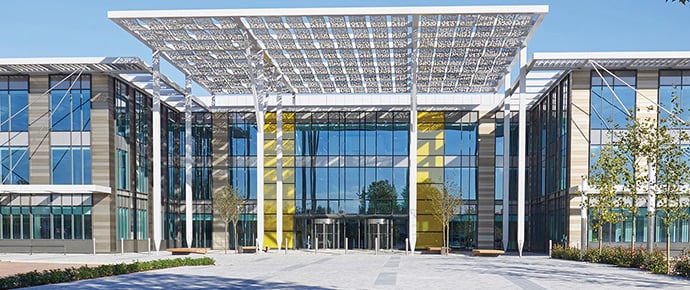 October 20, 2021
Take-up highlights across SE 10 in Q3:
571,410 sq ft total take-up
Increase of 87.6% vs Q3 last year
20.6% increase compared to Q2 2021
Town Centre 110,610 sq ft vs Out of Town 460,800 sq ft
Grade A 407,030 sq ft vs Grade B 164,380
Science, Media and Technology occupiers were the most active occupiers, making up 60% of take up
Headline rents average £36.50 per sq ft
Occupier market
Q3 recorded the highest level of quarterly take up in two years, with activities in the market boosted post 'Freedom Day' on 19th July. However, many occupiers are still operating their offices at occupancy levels substantially below pre-Covid levels.
Despite this, take-up in Q3 continued its upward trajectory quarter on quarter with 571,410 sq ft recorded, a 20.6% increase on Q2 2021. The total take-up for 2021 has already surpassed levels recorded for the whole of 2020. With most markets reporting healthy levels of transactions agreed or in progress, we expect Q4 to continue the upward trajectory.
2021 has seen an uptick in occupiers taking space out of town, with 72% of take up being on city fringes and further afield. This compares to the 5-year average of 53% out of town deals. It will be interesting to see if this is an effect of Covid, or if it is the investment in business park amenities and activities paying off - reinvigorating the out-of-town business park market.
Piers Leigh, Principal South East Offices, Avison Young, said:
"The business park is back with a bang, with out of town take up accounting for the majority of letting activity so far this year, driven by the out-of-town markets of Cambridge, Oxford and Reading. While this may be partly due to Covid, it is more prominently a result of significant new developments and investment in amenities on offer in the South East's major business parks. The total take-up for 2020 has already been surpassed and as we enter what is traditionally the busiest quarter of the year, we anticipate a healthy level of activity to continue."
Key South East office occupational transactions in Q3 2021
Canon's relocation to The Bower at Stockley Park, totalling 150,000 sq ft.
Building 2 Cambridge Science Park, pre-let of 116,630 sq ft to Roku at a rent of £37.25 psf on a 10-year lease.
London South Bank University's acquisition of 56,000 sq ft in Croydon at Electric House on confidential terms.
One Victoria Street, Windsor, 48,000 sq ft letting to Intersystems on a 15-year lease, with a break in year 10 at a rent of £43.00 psf.
NHS acquisition of Epsom Gateway, Epsom totalling 32,000 sq ft on a 10-year lease at a rent of £21.50 psf.
Investment market
The strengthening occupational demand has seen investors' appetite continue to increase with transaction volumes 7% up on Q3 2020, but still down on the 5-year average. Demand for Life Sciences stock in the Ox-Cam corridor sees no sign of abating. In fact, Cambridge alone accounted for 38% of investment alone across the South East during the quarter.
Funds and property companies continued to be the most active vendors accounting for 80% of sales. Overall investment activity has surpassed 2020 levels already and 2021 is on track to exceed the 5-year average, showing the increasing confidence in and value of the South East office market.
James McFeely, Director South East Offices Investment, Avison Young said:
"Office occupancy rates have seen an increase in Q3, which has translated into improved investor confidence. As we see more employees returning to the office in Q4 and into 2022, with most companies now implementing a hybrid working model, we expect further investors to return to the market in search of increased returns."
Key South East office investment transactions in Q2 2021
Cambridge International Tech Park (15 acres) for £135m - Purchaser: Blackstone – Vendor: Abstract Securities
Hertz House, Uxbridge (70,000 sq ft) for £18.6m – 9.00% – Purchaser: Eagle Street – Vendor: NFU Mutual
Peterhouse Technology Park, Cambridge (139,281 sq ft) for £75.145m – 4.15% - Purchaser: British Land – Vendor: LaSalle IM
Wexham Springs, Slough (101,000 sq ft) for £31.15m – Purchaser: Kennedy Wilson – Vendor: Cromwell Property
Janus House, Basildon (116,989 sq ft) for £27.8m –6.22% – Purchaser: M7/ Kamco – Vendor: Maya Capital
Avison Young's quarterly South East office update focuses on 10 key markets, made up of in town and out of town markets, covering the whole of the south east geographical area (Cambridge; Milton Keynes; Oxford; Basingstoke; Reading; Maidenhead; Slough; Crawley; Guildford, Woking & Weybridge; and Watford).
To read the full research update on South East offices,
click here
.