Commercial real estate news releases from Avison Young
Quarterly and topical research insights to help your business gain competitive edge in commercial real estate.
Avison Young unveils workplace strategy guide for new era of work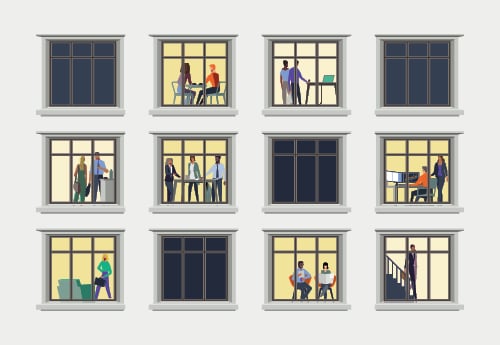 October 20, 2021
X Factor helps clients address the need to strike a balance between remote and in-office productivity to win in the war for talent
Chicago & Toronto – Avison Young today launched the X Factor, a guide for companies looking at the best way to attract and retain top talent for today's evolving expectations of the workplace.
"Everyone understands that things have changed in the wake of the pandemic, but within this disruption are significant opportunities for the workplace to make progress on overdue structural changes," said Sheila Botting, Principal and President of Americas Professional Services. "Enhancing and evolving outdated paradigms is for everyone's benefit. We're guiding our clients on the new reality of how and where we work, which requires a new definition of workplace – one that is holistic and approaches the workplace as a dynamic ecosystem."
X Factor guides companies through considerations around the new era of work, new employee archetypes, and how to optimize their workplace strategies for now and for the future. For many, that will require a hybrid work experience that accounts for some aspect of remote working, which has driven productivity and employee satisfaction over the last eighteen months. Avison Young survey data from 2020-2021 reveals that:
89% of survey respondents felt that their home environment enables them to work productively
93% of survey respondents said that they work effectively with managers and colleagues from their home office
75% of survey respondents felt that they were able to maintain a healthy work-life balance while working from home
At the same time, survey respondents also outlined which activities they would prefer to participate in in-person, at the office rather than at home or at a different virtual location:
"While many companies recognized that physical office space was not essential for all business operations, one fundamental necessity that still isn't going anywhere is the need for human connection and social interaction. To flourish, workplace ecosystems require proximity of people, ideas, and innovation," added Botting. "Organizations that can address employee needs and preferences across a variety of work-type environments will win the war for talent, increase productivity, reduce unnecessary costs and reduce employee turnover."
Avison Young's workplace strategy team guides clients through their workplace needs from strategy through to implementation. Start your journey exploring the X Factor here.
Avison Young creates real economic, social and environmental value as a global real estate advisor, powered by people. As a private company, our clients collaborate with an empowered partner who is invested in their success. Our integrated talent realizes the full potential of real estate by using global intelligence platforms that provide clients with insights and advantage. Together, we can create healthy, productive workplaces for employees, cities that are centers for prosperity for their citizens, and built spaces and places that create a net benefit to the economy, the environment and the community.
Avison Young is a 2021 winner of the Canada's Best Managed Companies Platinum Club designation, having retained its Best Managed designation for ten consecutive years.
For more information:
Andrea Zviedris, Senior Manager, Canadian Media Relations: +1.416.891.7416
Sandra Hill, Manager, U.S. Media Relations: +1.281.853.5548