Commercial real estate news releases from Avison Young
Quarterly and topical research insights to help your business gain competitive edge in commercial real estate.
Avison Young takes on a pedElle of a Challenge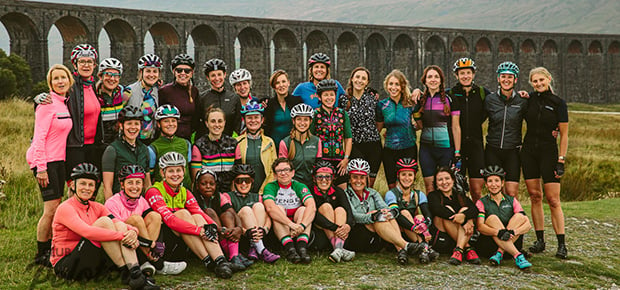 September 21, 2021
Raising money for Coram, the UK's oldest children's charity.
Last week, Emma Turnbull, Associate Director at Avison Young, Newcastle took on the massive challenge of pedElle 2021 through the Lake District, Yorkshire Dales and the Forest of Bowland, to raise funds for Coram, the UK's oldest children's charity. She was joined by Mandisa Khabo, Technical Development Manager at Greystar, based in London, whose space was also sponsored by Avison Young.
Avison Young was one of the main sponsors of the event, which was initially planned to cover the route from Vienna to Budapest in early June of last year. Relocated to the UK, due to the ongoing pandemic, the three-day challenge covered 270 miles over 23,000 ft, through some of the country's most scenic and exhausting terrain. The organisers of pedElle, Club Peloton, were able to bring pedEllers back together after a two-year hiatus, not only in the interests of promoting women in the real estate industry but raising much needed funds for Coram and other essential charities. So far, the pedEllers have raised a massive £35,000.
Based in the North East of England, Emma is a Chartered Surveyor with over 25 years' experience in the valuation of trading leisure businesses, including for the last six years, within Avison Young's national Leisure team.
Emma comments: "As a keen triathlete, I train all year with our Tri Club and on the turbo trainer in the winter. Living in Northumberland, I'm no stranger to hills but this challenge took me well beyond my comfort zone. It's fair to say that 100 miles over 10,000 ft in the Lake District on Day 1 left me exhausted with two days left to go!'
"The fantastic company of a group of inspirational women kept me going, spurred on by the fact that it was all to raise funds for youngsters who are less advantaged. Being able to help those less fortunate than us made it even more fulfilling, whilst also raising the profile of women in the real estate industry."
Mandisa added: "My biggest fear about the challenge was the struggle to get up the numerous hills planned over the three days - having spent the past year of my newly started cycling journey avoiding major hills. Coincidentally we ended up on a hill called The Struggle on the first day, which turned out to be ever so ironic.
Over three days I met a great group of ladies, of all different ages, with vast amounts of knowledge and experience - from planners, surveyors, architects and engineers, and we shared many stories about our journey working in the built environment sector. Club Peloton was amazing and looked after all of us so well throughout the stay. I am looking forward to properly training next year and joining the team again."
Ros Goode, Principal and Regional Managing Director, Avison Young, said: "PedElle is a fantastic event – providing important funding for a very worthy cause, as well as offering professional women in our industry the opportunity to network, socialise and bond in person, after nearly two years of being largely apart.
I took part in the Ride to Mipim in 2017, also organised by Club Peloton, and was so enamored with the event that I have been determined to encourage others to take part. You meet amazing people and create a great bond around a unique shared experience. Avison Young is proud to be supporting PedElle and Club Peloton."
Well done Emma and Mandisa, the whole of Avison Young's office network is proud of you and your unrivalled determination and stamina.
See link below if you would like to support Emma's and Mandisa's fund-raising efforts:
www.justgiving.com/fundraising/emma-turnbull30
www.justgiving.com/Mandisa-Khabo