Commercial real estate news releases from Avison Young
Quarterly and topical research insights to help your business gain competitive edge in commercial real estate.
Bristol City Council secures £350m investment from Legal & General for Bristol Temple Island regeneration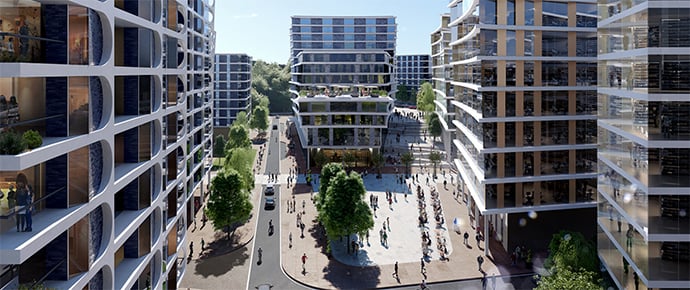 June 23, 2021
Avison Young provided multi-disciplinary advice to Legal & General.
Legal & General has agreed terms with Bristol City Council to invest £350m into Bristol Temple Island, transforming the disused site into a vibrant new urban quarter. With a focus on social inclusion through affordable housing, training and employment opportunities, Temple Island will support the city's plans to build back better and back the creation of 2,000 new jobs.
Avison Young advised Legal & General on the project over the last three years, providing multi-disciplinary advice, including agency advice associated with residential, offices, hotel and leisure, along with valuation and planning advice, together with assisting with the negotiations and structure of deal.
Using the UK's pensions and savings to drive economic growth in the region - post-COVID - Temple Island will complement the wider "Temple Quarter" partnership, which includes Bristol City Council, the University of Bristol and Network Rail. Legal & General is already a significant investor in Bristol, having committed £310m to nearby Build to Rent and modular housing schemes, alongside commercial real estate, such as a Civil Service hub and the Quayside Bristol office development.
Legal & General's new development will bring forward a resilient city centre offer in the face of current structural changes in working, retailing and leisure. The Temple Island scheme will enable the growth and innovation stemming from the University's neighbouring new Innovation Campus by providing incubator space, affordable housing and new employment opportunities for the local knowledge economy.
Designed by Zaha-Hadid Architects (ZHA), Temple Island will include a large capacity conference centre and exhibition space, a 345-room hotel, 550 new homes (including 220 new affordable homes) and two major Grade A office buildings. As part of its commitment to tackle the growing climate crisis, Legal & General's scheme at Bristol Temple Island will be heated by a District Heating Scheme provided by Bristol City Council and the buildings will target a minimum of BREEAM Excellent status.
Stu Howie, Head of Regeneration at Avison Young, said:
"This is a great example of Legal & General using it's patient capital to deliver long term, place-based transformation. The Bristol Temple Island regeneration will deliver the quality, ambition and sustainability to really help businesses & communities thrive in a post-Covid world. Avison Young is proud to have advised Legal & General over the past three years and excited for the future of Temple Island, and those who will enjoy it."
Jo Davis, Regional Managing Director Bristol at Avison Young, said:
"This is a significant milestone and will act as a catalyst to accelerate investment and delivery in the Bristol Temple Quarter Enterprise Zone. The hard work now begins to bring this transformational development to life with social inclusion at its heart, prioritising affordable housing, employment opportunities and wide engagement with the surrounding community. Legal & General's global sustainability drivers, including linking into the district heating, will ensure this development meets all the Bristol One City Plan ambitions."
Nigel Wilson, CEO of Legal & General, said: "Our investment partnerships in cities such as Oxford, Manchester, Cardiff and Newcastle are already delivering at pace, and likewise our vision for the Temple Island will deliver a much-needed new quarter in Bristol. The conference centre will attract delegates from around the world, whilst the offices and affordable homes will meet an urgent local need and support new ways of living, post-pandemic.
We have been attracted by Bristol City Council's commitment to become a "city for all". aligning with our ambitions to level up across UK regions and cities, using the power of pensions. Alongside, we firmly believe this development offers a perfect complement to Bristol University's new Innovation Campus, providing space to incubate new talent and start-up companies coming out of the university."
Marvin Rees, mayor of Bristol said: "This investment is welcome to deliver a much-needed boost to jobs and economic growth in Bristol as we recover from the pandemic. The development in Temple Quarter will deliver affordable homes that will play a significant role in bringing people and families to the city centre, within easy active-travel access to jobs and leisure. This development is a step forward in our commitment to stretching targets on affordable homes as well as a balanced response to the linked and fundamental challenges of housing, jobs and climate. We are delighted to be delivering through collaboration with our key partners, Legal and General, alongside the University of Bristol and Network Rail".
Following the agreement of terms, Legal & General will be launching the first phase of its public consultation on the plans for Temple Island. Over the coming months, Legal & General wants to understand residents, businesses and community groups' aspirations for the site and together develop a shared vision for this important part of the city.