Commercial real estate news releases from Avison Young
Quarterly and topical research insights to help your business gain competitive edge in commercial real estate.
Average lease lengths show small tenants' hesitancy to commit to office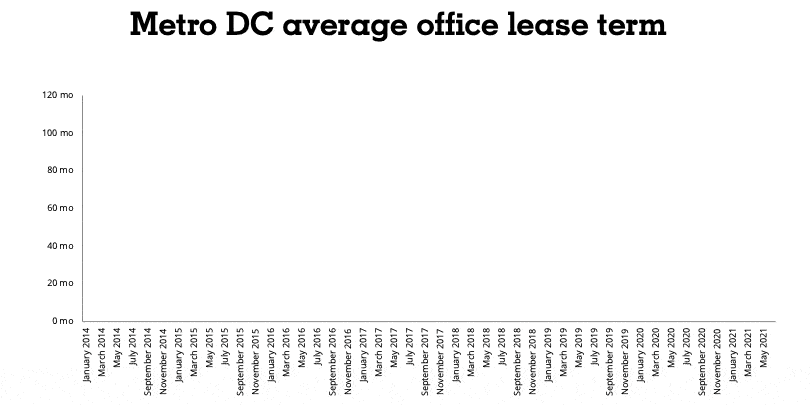 June 15, 2021
13.4% post-pandemic lease term drop for small tenants
As tenant activity across Metro DC begins to thaw from a COVID-induced freeze, flexibility has reached paramount importance for the office leasing market. This trend has manifested via shortening lease terms: among tenants larger than 10,000 sf, the 12-month trailing average lease term declined modestly from 101.9 months in March 2020 to 96.9 months as of June 2021, a 4.9% drop. Tenants smaller than that, however, averaged a much more substantial drop of 13.4% over the same period, from 66.6 months to 57.7 months.
The COVID-19 vaccine rollout is well underway and many of the restrictions aimed at curbing viral spread have been lifted, yet small-tenant lease terms appear to remain in decline. This could suggest that small tenants are permanently seeking increased flexibility, as the pandemic highlighted the potential risk of committing long-term. Some tenants may find this flexibility via coworking, a sector that was pummeled by the pandemic (contracting nearly 15% regionally) but that has seen increased interest as the economy reopens. According to Google Trends, nationwide searches for "coworking" increased 45% in May 2021 in comparison to the prior 11 months, and Washington, DC ranked first in the nation by a wide margin.
Regionally, 64% of tenants fall into the sub-10,000-sf category, but thanks to their small size, these tenants' square footage adds up to just 17.6% of leased space. Therefore, while plummeting lease terms have the potential to harm landlords and their asset values, it is worth noting that most of the impact is confined to a minority share of the office market. Moreover, landlords that are willing to get onboard with the trend toward flexibility may find it provides a differentiator in today's increasingly competitive leasing environment. Given that many small tenants have also been putting off their leasing decisions throughout the pandemic, a combination of speed to market (via spec suites, for example) and willingness to accommodate two- to three-year lease terms could help landlords capture an outsized share of leasing in the near term.
Source: Avison Young. Figures on the graph reflect trailing 12-month average lease terms.
Snack-sized data that fills you with delight and insight.