Commercial real estate news releases from Avison Young
Quarterly and topical research insights to help your business gain competitive edge in commercial real estate.
Manhattan office leasing metrics post pandemic
June 10, 2021
Manhattan Class B and Class C net effective rents, a consolidated value based on rents, tenant improvement allowances and free rent concessions, have softened by 15.8% after the pandemic. What conditions are causing rents to soften and concessions to rise?
The flight to quality trend persists as some tenants have capitalized on more favorable market conditions to proactively commit to transit-oriented, high-quality properties. Trophy and Class A properties have accounted for 88.7% of leasing activity from April 2020 to present, significantly higher than this segment's 75.2% share of leasing activity from 2018 to March 2020. This environment has caused commoditized alternatives to compete through discounted rents.
The value of concessions packages has ballooned by 30.9% as landlords have used free rent periods and tenant improvement allowances to induce long-term tenant commitments. Especially long rent abatement periods were offered during the quarantine period to offset potential construction delays.
Base rents remain steady, increasing by 1.2% after the pandemic. Office owners have been hesitant to lower base rents due to their capital markets implications.
This analysis does not account for tenant-favorable lease provisions that landlords have offered to induce long-term tenant commitments, including, but not limited to, expansion and contraction rights, lower security deposit amounts and pandemic-related force majeure clauses.
The "haves vs. have-nots" market is positioned to continue provided as reawakening tenant demand is not expected to offset the record levels of sublease and direct vacancies that could linger on the market, resulting in continued downward pressure on net effective rents.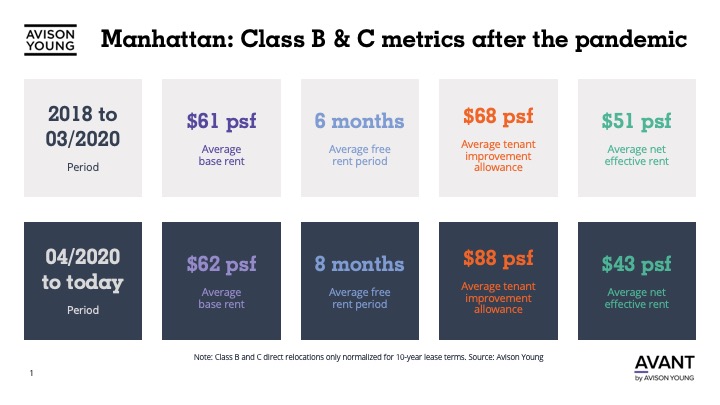 Snack-sized data that fills you with delight and insight.