Commercial real estate news releases from Avison Young
Quarterly and topical research insights to help your business gain competitive edge in commercial real estate.
Romeo & Julia im Frankfurter Westend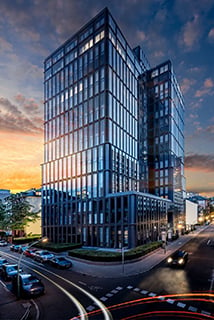 May 21, 2021
Avison Young unterstützt Geissbühler Weber Consulting erneut bei der Anmietung von Büroflächen.
Geissbühler Weber Consulting (GWC) mietet mit Unterstützung von Avison Young ab Herbst 2021 ca. 400 Quadratmeter im "Romeo & Julia" und setzt dort ein modernes Bürokonzept um. Dabei handelt es sich um eine erneute Partnerschaft: Bereits 2016 hat Avison Young das Beratungsunternehmen bei der Anmietung von Bürofläche für die Unternehmensrepräsentanz in Frankfurt unterstützt.
Das "Romeo & Julia" zählt zu den Hochhäusern der ersten Generation im Frankfurter Westend. Eigentümer der Immobilie ist die Schweizer Anlagestiftung AFIAA mit Sitz in Zürich. Erbaut in den 1970er Jahren wurde das Gebäude inzwischen vollständig modernisiert und zählt auch aufgrund seiner Lage zu einer der begehrten Bürogebäude in Frankfurt. Die Stadt am Main ist nach wie vor ein Magnet für Banken und Unternehmen aus der Finanzwirtschaft und bietet im deutschen Städtevergleich nach wie vor viel Potenzial, um attraktive Räume zu beziehen. "Wir freuen uns sehr über die langjährige und zufriedene Partnerschaft mit Geissbühler Weber Consulting. Das zeigt uns, dass gerade in dieser Zeit des Umdenkens wie das Arbeiten zukünftig aussehen kann, wir als vollumfänglicher Berater immer mehr gefragt werden", so Bastian Jourdan, Head of Office Leasing Frankfurt.
Yasmin Hilsky, Senior Consultant Office Leasing, ergänzt: "Geissbühler Weber Consulting hat das Potential des Gebäudes von Anfang an erkannt. Wir freuen uns für GWC eine Fläche gefunden zu haben, die das Büro zu einem Ort der Zusammenarbeit und Kommunikation machen und das individuell auf die Arbeitsabläufe des Unternehmens angepasst ist."
Als Teil der Geissbühler Weber Group mit Standorten in der Schweiz stellt für die Geissbühler Weber Consulting die Mainmetropole eine wichtige Location dar. "Wir freuen uns sehr ab Herbst neuer Mieter im "Romeo & Julia" zu sein. Das Gebäude bietet alles, um unser neues Arbeitsplatzkonzept abzubilden und unseren Mitarbeitern ein attraktives Büro für die Zukunft zu bieten", erklärt Christian Irrgang, Geschäftsleitender Partner bei Geissbühler Weber Consulting.
Für die Vermieterseite, die Schweizer Anlagenstiftung AFIAA, war CBRE als Lead-Makler beratend tätigt.
Bild Copyright: AFIAA