Commercial real estate news releases from Avison Young
Quarterly and topical research insights to help your business gain competitive edge in commercial real estate.
Swinton Square receives DWP investment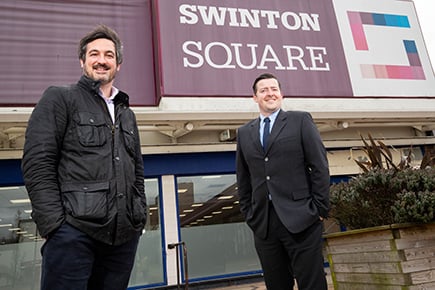 April 16, 2021
Swinton Square, a community shopping centre in Salford, is proving resilient, securing a major letting as the Department of Work and Pensions (DWP) invests in a new Jobcentre Plus for the local area.
Following a challenging year, the letting reinforces Swinton Square as a pillar in the local community. Whilst retail has been heavily affected throughout the Covid-19 pandemic, footfall at the scheme has remained buoyant, with shoppers staying local, favouring the convenience and independent retailers of Swinton Square. Renovations began on the site of the new, temporary job centre at the beginning of the year and is due to be completed in May. The centre is expected to boost footfall and support for local, independent businesses.
Chris Walker, director at Avison Young, asset managers for the scheme, commented: "In collaboration with our property management and marketing team on the ground, we are delighted to have secured this major new occupier for Swinton Square. There has been a shift of shoppers returning to local centres in the last year, which has translated into a positive stream of letting interest for the centre. The centre holds a critical place in the local community, and we have no doubt that the addition of the new Jobcentre Plus to the scheme will further support the customers and residents of Swinton."
The pattern which has evolved over the last year at Swinton Square reflects Avison Young's analysis of top trends for 2021, which references a shift in consumer behaviour, that has led to out of town centres and some local high streets faring significantly better than the wider retail sector, as people stay closer to home for their shopping needs.
The Swinton Square site is one of 80 new, temporary DWP job centres opening around the country – bringing even more frontline support to jobseekers in communities across the UK.. The Jobcentre Plus will also be the new workplace for some of Greater Manchester's 785 new work coaches, helping more local people to find work and progress into new roles.
Avison Young's restructuring solutions team in the north west has overseen Swinton Shopping Centre for 12 years and is also responsible for a portfolio of properties across the region which they manage creatively to optimise value. Avison Young is the largest, most experienced, dedicated restructuring property advisors in the UK, representing major banks, building societies and alternative lenders.