Commercial real estate news releases from Avison Young
Quarterly and topical research insights to help your business gain competitive edge in commercial real estate.
Plans submitted for multi-million pound Stretford transformation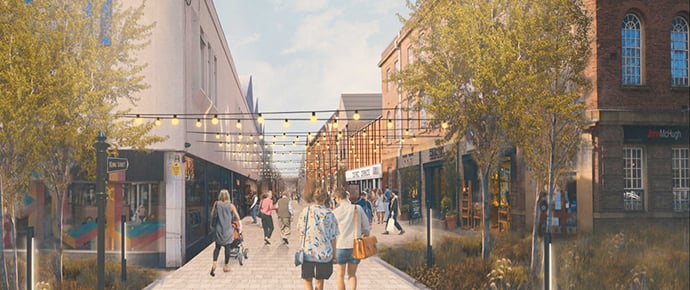 March 17, 2021
The submission, which has been developed by Bruntwood Works and Trafford Council, follows consistent positive feedback from the community, with 71% of respondents in favour of the ambitious plans which are now subject to approval.
The multi-million pound Stretford Masterplan is the result of a long-term commitment from the joint venture to transform the town centre and Stretford Mall in a way that is inclusive of the area's community, providing new places to play, work, shop and live. Unveiled last month, the plans have been heavily informed by the substantial engagement with the community via in-person and digital events.
Avison Young's team in Manchester acted as planning agent for the proposed new development, and also coordinated and delivered the Environmental Impact Assessment (EIA).
Conor Vallelly, director at Avison Young, said: "The submission of this planning application marks a significant step forward in the delivery of Stretford's new masterplan.
"Ensuring Stretford town centre is fit for local people was a key message coming from the community engagement exercise. This scheme will reenergise Stretford by providing much needed new homes, space for independent retailers, new green spaces and ultimately radically improve the local environment. It is a transformational regeneration scheme which has been long promised and we are delighted to be a part of it."
Over the 18-month consultation period, thousands of residents and local stakeholders have engaged with the project, helping to develop a community-led masterplan. The plan submitted for approval is the initial planning submission, and thorough community engagement is set to continue as details are developed for the full proposals. These will be submitted ahead of a reserved matters application for individual elements of the plan.
Under the long-term plans submitted for approval, Stretford's historic King Street will be reinstated to provide a new high street for the community, with an expanded and evolved retail and leisure offering. Residents and local businesses will also benefit from enhanced public spaces, including the new Library Square, and more greenery via a new 'Central Park' and biodiversity corridor. Combined, this will create over an additional acre of new public space within the mall.
Lacy Street car park is set to be repurposed to open up access to the Bridgewater Canal, running through the heart of the community, creating a new waterfront destination with bars and restaurants. A 'Makers Yard' hub for small independents and the evening economy, complete with further outdoor seating, eateries and bar areas, will help to attract more businesses to the area, along with the renovation of Arndale House to provide modern office and commercial space. The plans also include proposals to introduce up to 800 new homes, with affordable housing as part of a mix of residential units.
Cllr Andrew Western, leader of Trafford Council, said: "The regeneration of Stretford is of massive importance to Trafford Council and fits in with our corporate priority of creating thriving town centres. It is the culmination of a long-term collaborative partnership between the Council, Bruntwood Works and the local community.
"The proposals will greatly improve the area by creating valuable green and open spaces and making Stretford an exciting and modern centre for the enjoyment of the whole community and beyond. It will also help attract local independent businesses and exciting retail and hospitality brands, while enhancing the lives of residents and visitors at the same time. The public have been fantastic in working with us throughout and we are grateful for all your help in shaping our vision."
Andrea George, town centre & consumer brands director at Bruntwood Works, said: "This is a major milestone in our journey to create a new town centre for Stretford and it's been shaped by its community. They know the area better than anyone else and, most importantly, they are the people who will ultimately benefit from the transformation.
"The community's valuable input will still be needed as we move to expand on the finer details of the masterplan and make sure that we deliver a thriving town centre for Stretford.
"Feilden Clegg Bradley Studios provided the lead urban design and architectural services, supported by Exterior Architecture on landscape design, planning and environmental impact assessment was undertaken by Avison Young and Transport services provided by Civic Engineers."
Ernst ter Horst, associate, FCBStudios said: "From the outset this masterplan was genuinely co-created with the community, with the stakeholders leading the process. After a series of engagement sessions over 12 months the proposals set out a vibrant and diverse high street, within a walkable 20-minute sustainable neighbourhood.
"The ambition is for Stretford to be the place to go for much more than shopping, it will include cutting edge workspaces, great cafes and restaurants, community facilities and play spaces for everyone.
"The key to reviving the centre hangs on reinstating key historic routes from east to west and north to south, which converge on a central square. These routes will reconnect local landmarks - the Victorian town hall, St. Matthews Church and the Bridgewater Canal - with green spaces and places to gather, working together to make a place that is uniquely Stretford.
"By working closely with the community and stakeholders, we have developed these plans that stitch the mall and the town centre back into its surroundings through a series of people centred interventions.
"Residents are encouraged to continue feeding back on the plans via the Stretford Mall Public Consultation website www.futurestretford.co.uk."