News Releases

Search our commercial real estate news and announcements.
Gigajot Plants HQ in Pasadena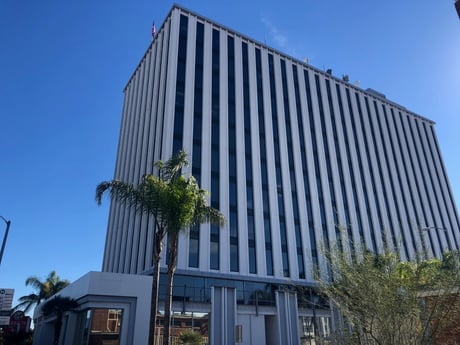 25 Jan 2019
Avison Young's Ted Simpson and Kevin Carroll represented startup chipmaker Gigajot Technology in its search for a corporate headquarters, ultimately landing at 3452 East Foothill Blvd., Pasadena.

Founded in 2017, at Dartmouth College, by professor Dr. Eric Fossum and colleagues, CEO and Co-founder, Dr. Saleh Masoodian, and Chief Technology Officer and Co-founder, Dr. Jiaju Ma, Gigajot is developing the next generation of image sensors where high-speed single-photon detection is used to unlock new images capture capabilities.
Translation, in a couple of years, you'll basically be able to take pictures (almost) in the dark.
After choosing to plant its flag in Pasadena over Silicon Valley because of lower business, housing, and employee costs as well as access to top talent in the area via institutions like Caltech, Gigajot initially incubated in a subleased office space for about a year. As the end of the sublease neared, the Gigajot team tried to find new space on their own, but due to their unique requirements – any office space they moved into would be setup so that they would be able to design and test their special chips on premise – they were having a hard time.
CEO and Co-founder, Saleh Masoodian, came to Simpson and Carroll in December of 2018 with not much time left on Gigajot's sublease, and the aforementioned prerequisite for their new space.
Simpson and Carroll immediately surveyed the market, drawing on Simpson's 30 years of experience in Pasadena. After determining that the Lake Avenue corporate high-rises were not the environment for a tech startup, Simpson and Carroll pivoted and narrowed the list of options for the Gigajot team.
Masoodian commented, "Kevin and Ted helped us quickly move into the right space for our rapidly expanding company and did so with efficiency and first-class professionalism."
"Despite the low vacancy and landlord favorable market in Pasadena, we were able to find a space that was an exact fit for Gigajot's needs, moving them in within 10 days of lease signing, and with the building ownership paying for the office improvements necessary to design and test microchips. We look forward to watching this groundbreaking company thrive in its new home," Carroll said in a statement.
Written by Ed Resetar | Avison Young