News Releases

Search our commercial real estate news and announcements.
Avison Young refinances condominium construction project in Los Angeles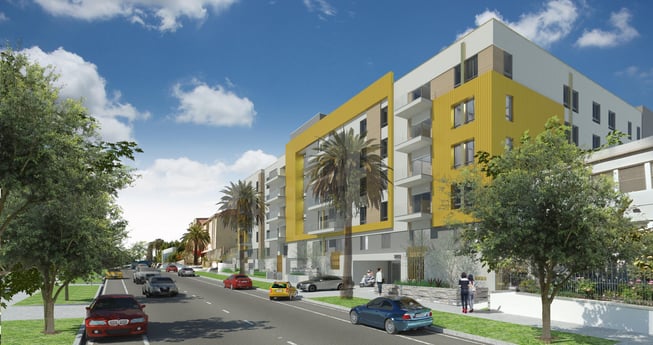 7 Jan 2019
Los Angeles, CA – Avison Young, the world's fastest-growing commercial real estate services company, announced today the closing of a $29-million loan to refinance the construction and sell-out of a partially completed 80-unit condominium project located in Los Angeles's Koreatown community.
The financing was led by Avison Young Principals Jay Maddox and Peter Sherman, who are based in Los Angeles. Locally based private lender Parkview Financial provided the loan.
Maddox commented, "Mega Home LLC, our client and the project's developer, was paying a very high interest rate and needed additional funds to complete construction and sell out the project. Refinancing a project midway through construction is unusual, and presents unique challenges. Very few lenders are willing to consider such a transaction. Fortunately, we were able to help our client procure new construction financing under attractive terms that provided needed funds and time to complete the project, together with significant cash going back to the developer for cost reimbursement."
Golden Galaxy Plaza Condominiums is located on Leeward Avenue, two blocks south of the Wilshire/Vermont MTA station. It will feature luxury condominium units ranging in size from 493 to 1,764 square feet (sf), with an average unit size of 1,160 sf, and consist of a mix of studio, one-bedroom, two-bedroom, and three-bedroom units. All units will feature modern appliances and top quality amenities. The five-story building includes a pool, spa, interior courtyards, gym, meeting space, and 188-stall subterranean parking garage. Completion is anticipated in Spring of 2019.
"We have deep knowledge of the Koreatown submarket, and our team quickly recognized the inherent value of the real estate and viability of this project," says Parkview Financial CEO Paul Rahimian. "We are pleased to play an important role in bringing Leeward Plaza to completion."
Mr. Zhengxiong Xie of Mega Home who serves as the project's Supervisory Manager, stated, "Avison Young came into a challenging situation and delivered a great solution for us. We needed to refinance because we were paying a high interest rate to our former lender and we needed more funds and more time to complete the project. Within a few months, we closed a new loan under the attactive terms that the Avison Young team originally quoted. Plus, we recovered a significant amount of our project costs and an additional year on the payback without further penalty. This impressive performance helped preserve our project."
For further information/comment/photos:
• Darcie Giacchetto, Places Public Relations: 949.278.6224