News Releases

Search our commercial real estate news and announcements.
Avison Young brokers $14-million sale of mixed-use apartment property in Playhouse District of Pasadena, CA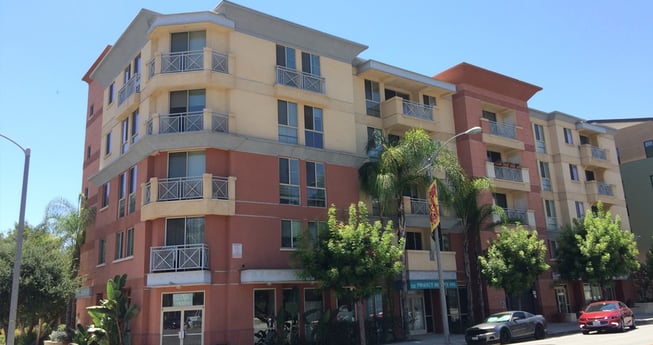 9 Nov 2017
Los Angeles, CA – Avison Young, the world's fastest-growing commercial real estate services firm, announced today that it has brokered the $14-million sale of Walnut Place, a fully occupied 28-unit apartment property with two retail units, located in the Playhouse District of Pasadena, CA.
Andrew Berk, a Vice-President who is based in Avison Young's North Los Angeles office, represented the seller, Walnut Place, LLC of Los Angeles. The buyer was a private investor from the San Fernando Valley. The transaction closed at a low cap rate of 3% and a price per unit of nearly $467,000 (including retail units).
"We are seeing an increasing migration of folks to urban communities that are walkable and have a number of amenities nearby," comments Berk. "Walnut Place is ideally located near Old Town Pasadena and is very desirable for that area's tenant demand. The property provides the buyer the opportunity to increase cash flow with a renovation and by bringing rents up to market rates as leases expire."
Berk notes that the property received a strong amount of investor interest and multiple offers.
Built in 2004 and located at 712 E. Walnut Street, the five-story property includes seven three-bedroom and 21 two-bedroom residential units, as well as two retail units totaling approximately 3,000 square feet. The property includes balconies or wrap-around outdoor patios on all units, an interior landscaped courtyard, and underground gated parking.
Located in the urban heart of one of the most desirable and culturally rich, historic areas in all of Southern California, Walnut Place is walkable to all of Old Pasadena, the Pasadena Playhouse, numerous world-famous art museums, South Lake Avenue District, the Rose Bowl, JPL, Fuller Seminary, CalTech, gyms, cafes, restaurants, nightclubs, coffee shops, and movie theaters. The property is also adjacent to the Gold Line metro station and is just off the 210 and 134 freeways.
Avison Young is the world's fastest-growing commercial real estate services firm. Headquartered in Toronto, Canada, Avison Young is a collaborative, global firm owned and operated by its principals. Founded in 1978, the company comprises 2,600 real estate professionals in 81 offices, providing value-added, client-centric investment sales, leasing, advisory, management, financing and mortgage placement services to owners and occupiers of office, retail, industrial, multi-family and hospitality properties.
For further information/comment/photos, contact:
Darcie Giacchetto, Places Public Relations: 949.278.6224