Commercial real estate market research reports
Quarterly and topical research insights to help your business gain competitive edge in commercial real estate.
Houston Office Market Report (Q4 2020)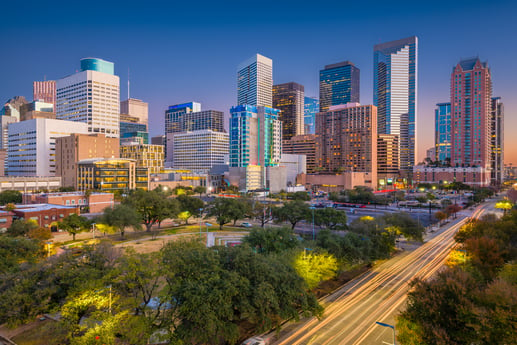 4 Jan 2021
Houston's office market faces challenges as it struggles to overcome the significant disruptions created by the effects of the global pandemic along with a diminished energy sector. At present, overall demand for space remains sluggish as tenants determine current and future office space needs contemplating ever-changing, work-from-home policies.
Houston has regained about 50% of all jobs lost, but meaningful economic recovery depends on controlling the pandemic. The arrival of the vaccine has created optimism, and some firms are making decisions. For firms that have made leasing decisions during the fourth quarter of 2020, flight to quality remains a factor as evidenced by those companies opting for newer buildings or buildings with substantial upgrades being completed. In some instances, leases completed this quarter include new configurations or workplace strategies allowing for more flexibility, and, potentially, smaller footprints.
Tenants clearly have the upper hand as vacancy and availability rates continue to rise along with concession packages. Despite Houston's soft office market, the combination of a low cost of living, a diverse talent base and a friendly business climate for a multitude of industries has attracted office users from other areas of the country. Hewlett Packard Enterprises recently reported plans to move its global headquarters from California to its new campus in North Houston that is presently under construction.
The Greater Houston Partnership (GHP) recently reported 18 new projects evaluated Houston's MSA during 2020 with a similar outlook for 2021 as the area's diversity expands. The GHP's recent forecast projected growth of 35,000 to 52,000 new jobs next year, with most happening during the second half of the year.
Another bright spot is the metro's growing technology sector, which is attracting new business incubators and start-ups along with prominent firms. Microsoft Corp. just signed on to join Chevron Corp. as both a tenant and a partner in Houston's future innovation hub currently underway in The Ion, a 288,000-square-foot (sf) facility at 4201 Main. Dallas-based Common Desk, who has reportedly leased 58,000 sf of co-working space in The Ion, will offer flexibility to start-ups in the redeveloped space scheduled for completion during the first quarter of 2021.
Metro Houston's November unemployment rate jumped to 8.9% from 7.7% in October, according to the Texas Workforce Commission. The GHP estimates that the region will experience its usual seasonal job losses through January with most growth resuming in the second half of 2021. According to the GHP's jobs' forecast, every sector will register job growth except energy and retail with the following sectors creating the most jobs: administrative support services, health care and social assistance, manufacturing and professional services.
Absorption & Demand
Leasing activity is slowly being reinvigorated but is not keeping pace with the large amounts of office space both available and returning to the market. The global pandemic and corresponding work-from-home policies continue to cause hesitation for leasing decisions.
Despite a total of 1.1 million square feet (msf) of direct negative net absorption for the quarter, eight submarkets posted positive gains. The Woodlands led with 120,472 sf of positive net absorption followed by Katy/Grand Parkway West with 41,257 sf of positive net absorption. The Central Business District (CBD) reported numerous moveouts; as a result, it recorded the largest amount of negative absorption at 627,591 sf for the quarter, bringing the CBD's annual sum of negative absorption to 1.4 msf.
Relocations in the CBD this quarter included Waste Management, who moved into 316,081 sf in Bank of America Tower while leaving 273,233 sf in One City Centre. EDP Renewables North America also moved into its new 92,523 sf in Hess Tower, leaving its former 90,653-sf space in the Esperson Building at 808 Travis.
All classes overall added to prior space losses for a year-end total of almost 4.4 msf of direct negative net absorption for 2020. The office market has struggled during the last few years as the energy crisis has caused oil and gas firms to consolidate and contract, offsetting the large gains from 2012 through 2016. Energy firms continue to adjust with several reducing their footprints due to budget cuts and staff reductions.
Leasing activity is on a downward trend with fourth quarter's 1.1 msf, a record low that is nearly 50% of third-quarter's activity. For the year, the metro recorded 11.7 msf of leasing activity, a 37% drop from 2019's 18.6 msf.
Notable fourth-quarter activity included TC Pipelines, formerly TransCanada, extending its 320,504-sf lease to 2030 in its namesake building at 700 Louisiana. The West Loop sector reported two late December deals: Cadence Bank signed a new 82,215-sf lease in Park Towers South while JLL committed to 81,999 sf in 200 Park Place, a building completed earlier this year. Each firm will be consolidating local offices. The Houston Fire Department also leased 55,155 sf in 500 Jefferson downtown, and Yang Ming Corporation leased 34,541 sf for a global headquarters at 3250 Briarpark Drive in Westchase.
Vacancy & Availability
The current direct vacancy rate increased 50 basis points from last quarter to 19.6%. Class A's direct vacancy rate is slightly higher at 20.6% while Class B vacancy rates decreased to 19.4% during fourth quarter. Total vacancy including sublease space is now at 20.7%, slightly up from last quarter's 20% and 19.7% from this time last year.
Direct availability citywide increased to 23.2% during the fourth quarter, while total availability, including sublease space, increased 70 basis points to 25.8%. Availability differs from vacancy; available space includes all space being marketed that could be leased but may or may not be vacant.
Available sublease space also increased 14.7% to almost 6.5 msf during fourth quarter; this amount of sublease is much smaller than the record-level 10.9 msf available in 2016. Sublease space is multiplying in many large markets across the country, but currently represents about 11% of the total 60.8 msf available in Houston. Three submarkets account for 55.5% of all available sublease space in the metro with the Katy Freeway West/Energy Corridor submarket offering more than 1.4 msf available, the CBD with almost 1.4 msf and the West Loop with 794,781 sf.
Construction
The construction pipeline stands at 19 buildings totaling 4.1 msf under construction and 62% preleased; several of the larger projects are scheduled to deliver in late 2021. Two buildings totaling 84,800 sf were completed during the fourth quarter, and one 92,839-sf building at 4411 San Felipe broke ground. Overall, 15 smaller buildings totaling 1.2 msf were completed during 2020.
Asking rents
Overall average asking rents increased to $30.96 per square foot (psf) gross from last quarter's $30.30 psf and from $30.72 psf recorded year over year. This quarter marks a record high as quoted asking rents have fluctuated in the $28-to-$31-psf range during the last five years. However, effective rents are declining due to the current economic climate. Landlords are expected to continue offering numerous concessions to close deals including lengthy rent abatements, large tenant-improvement allowances and substantial amounts of free parking.