Commercial real estate market research reports
Quarterly and topical research insights to help your business gain competitive edge in commercial real estate.
Austin Return to Office June 2021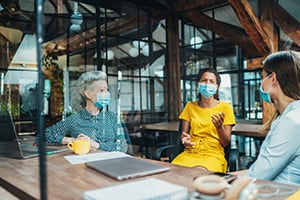 June 9, 2021
Return to Office – When and What Will This Look Like?
Summer is here and in "normal" years this means vacations, travel, and a more casual workflow before the year end crunch. For year 2021, summer is the time period when many companies are planning their return to office.
This process is more complicated than having hand sanitizer and providing a one-way path of travel. There are complex questions to address:
- Who will come into the office?
- How often?
- Will vaccinations be required?
- Is this mandated by leadership or employees or their teams?
- How have employees' needs changed?
- Is there a need for different technology?
- Are changes required in the design of the workplace?
- What changes will come about in the short term? Long term?
- How long should changes be tested before adjusting?
- How will changes impact the ability to recruit talent?
Our consulting team is busy advising companies across North America including law firms, tech and healthcare on these very same questions. Some of the data gathered includes:
- 3 out of 4 people want to work from home at least once a week
- Less than 10% want to work remote full time
- 59% would only consider a job that allows choice in location
- 59% of Millennials and 44% of Gen Z feel successful at home
- Having a quality workplace to come to even with a flex schedule, attracts talent and optimizes engagement.
While every industry, company and culture are unique, one thing is consistent: solutions are not a one size fits all and most will evolve over time as the flexibility around employee work schedules and work styles change.
So, take inventory, ask questions, gather data, and make a plan. If there's one thing the pandemic has taught us is that we can adapt to the ever-constant change.