קריירה באביסון יאנג: מצא את עתידך בנדל"ן מסחרי
להיות בחזית הנדל"ן המסחרי
עבודות נדל"ן מסחריות עם מטרה, תשוקה ושותפות
מעוניינים להצטרף לצוות המוביל, הסקרן והיצירתי שלנו?
אנו עובדים עם מנהיגים וחברי צוות שמטרתם להשפיע לטובה על המקומות, המרחבים וההשקעות שלנו, מונעים על ידי שיתוף פעולה, הצלחה משותפת, תובנה גלובלית ומומחיות שוק מקומית עמוקה.
גלה כיצד תוכל להצטרף לחיבור האינטליגנציה הקולקטיבית הייחודית שלנו, ולעזור לנו ליצור ערך כלכלי, חברתי וסביבתי מתמשך כיועץ נדל"ן עולמי, המופעל על ידי אנשים:
מצא את ההזדמנות שלך:
לעשות שינוי
"אביסון יאנג אימצה את הרעיון שזה לא קשור רק למה שאתה משיג, אלא באיך שאתה משיג את זה. כחברה פרטית, Aאביסון יאנג מהווה תווך אמיתי בתעשייה, הבנוי סביב שירות לקוחותיו. כל מי שפגשתי - מנהיגות מנהלת, מקומית ומחוצה לה - הם שותפים מצוינים שיש להם מומחיות יוצאת דופן בנדל"ן מסחרי. כל מה שהצטרף לצוות הזה הרגיש נכון ".
- מרסי מוניפני, מנהל, אביסון יאנג (דנבר)
"אביסון יאנג מאמצת את רוח הדברים שהמהות היא לא על מה שאתה משיג, אלא על איך שאתה משיג."
אנו מבסיסים את הידע שלנו מתובנות השוק שלנו, הלקוחות שלנו והמגמות המשפיעות על עתיד הנדל"ן המסחרי. היכולת הייחודית שלנו לראות דפוסי הזדמנויות פירושה שאנחנו תמיד מסודרים סביב אסטרטגיות הלקוח ומגיבים במהירות.
אנו לא מאמינים במסגרת השירות המסורתיות, על מנת להתקל בפחות חסמי שירות ואפשרות להגיע לפתרונות משולבים וייחודיים יותר. גלה איך זה לשתף פעולה עם צוות מיושר באמת שנבנה סביב משימה ייחודית אחת: יצירת ערך ללקוחות ולשותפים שלנו.
תפתח את הקריירה שלך
"אני חושב שההון הגדול ביותר שלי היה לקבל את ההחלטה להצטרף לאביסון יאנג ולאנשי המקצוע המדהימים המרכיבים את הארגון. עכשיו, יותר מתמיד בקריירה הארוכה שלי, אני באמת מרגיש שאני עובד בתוך תרבות שלא רק מקדמת עסקים גדולים, אלא גם ערכים שאני מייחס להם ברמה האישית ".
- ניל רזניק, מנהל, אביסון יאנג (לוס אנג'לס)
"אני עובד בתרבות שלא רק מעריכה עסקים טובים, אלא גם שמה דגש על הערכים שלי ברמה האישית"
אנו מבינים שמתן תוצאות מעולות מתחיל בהשקעה באנשינו.
המשמעות היא למשוך, לשמר ולפתח את האנשים הטובים ביותר בתעשייה, ולספק להם באופן קבוע הדרכות מיוחדות, סדנאות והזדמנויות אחרות לסייע בהרחבת הידע האישי שלהם, והאינטליגנציה הקולקטיבית שלנו.
השקעה בלקוחות ובקהילות שלנו
"התרבות המבוססת על המנהלים מרגשת. כבעלים, אנו מספקים רמת אחריות נוספת ללקוחות, כמו גם הזדמנות לתרום לכיוון החברה. התוכנית העסקית מעודדת מתרגלים בודדים לחפש את הפתרונות הטובים ביותר עבור לקוחות ".
- ג'ף פלמינגטון, מנהל, אביסון יאנג (מיסיסאוגה, אונטריו)
"אנו מספקים רמה נוספת של אחריות ללקוחותינו יחד עם הזדמנויות לתרום לכיוון החברה"
מעל לכל, אנו מאמינים שהעבודה שלנו אמורה להשאיר השפעה חיובית על הקהילות שאנו משרתים. אסטרטגיית הסביבה, החברתיות והממשל שלנו (ESG) מנחה כיצד אנו מתייעצים עם לקוחותינו, כיצד אנו מנהלים את הפעולות שלנו ואת שיטות העבודה שלנו ואת הפילנתרופיה שלנו.
הצוותים שלנו ממנפים מדי יום תובנות קריטיות מתוך מומחיות קולקטיבית והטכנולוגיה הטובה ביותר כדי לספק אסטרטגיות מובילות בתעשייה התומכות ביעדים הפיננסיים, התפעוליים והתרבותיים הגדולים ביותר של לקוחותינו.
להופיע כמו כל ה"אני" שלך בעבודה
"I can't express enough how much I feel supported and appreciated by Avison Young. Over the past 10 years here I've had exposure and opportunities that never would have been within my reach at other CRE firms. Those experiences are priceless to me. I love working for a company that always wants to improve because the same philosophy drives me both personally and professionally."
– קאטי וודסייד, Global Director, Brand Identity (Washington, DC)
"ב10 שנותיי בחבקה נחשפתי להזדמנויות שבחברות נדלן אחרות היו מחוץ להישג ידי"
At Avison Young, we've always put people at the heart of what we do. This includes implementing deliberate strategies that advance underrepresented communities in commercial real estate careers.
In the last few years, we've increased the diversity at our board, leadership and Principal levels. Avison Young stands out for our commitment to empowering women. In addition to increasing the number of women on our board and in our leadership ranks, our internal Women's Network of more than 300 members come together for networking and learning, and advise the business on strategies for promoting access, opportunity and inclusion in our industry.
Our global D&I steering committee shapes our strategy to continue to increase industry access for people of color and diverse backgrounds and accelerating initiatives led by our employee resource groups, including our Women's Network, Black Professionals and LGBTQ+ groups. In addition to leading global initiatives, the steering committee's work examines our policies and practices, creating accountability for results and communicating progress to our executive leadership, our clients and our communities.
Avison Young named to Fast Company's annual list of the World's 50 Most Innovative Companies for 2022
We're proud to be recognized on Fast Company's prestigious annual list of the World's Most Innovative Companies for 2022, earning the number one ranking in the Urban Development category.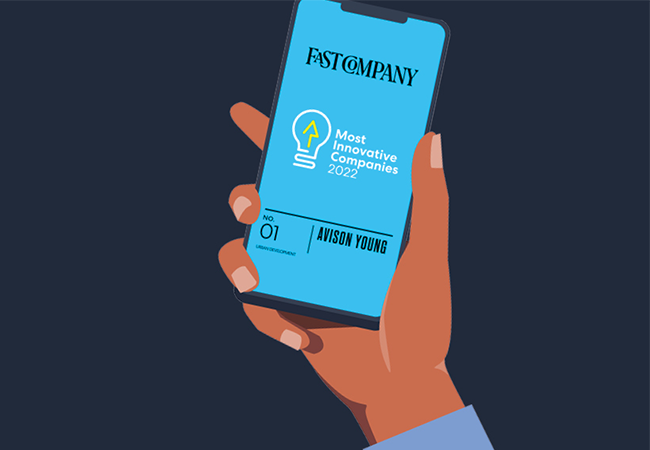 Avison Young commits to CREW Network's CRE Pledge for Action
We're proud to share our commitment to the CRE Pledge for Action, standing with CREW Network and commercial real estate leaders in advancing women and increasing diversity in our industry.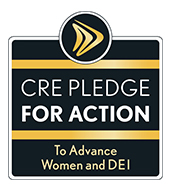 READ MORE