Putting people and the planet first
Explore our 2022 Impact Report
Explore our 2022 Impact Report, and read about our performance last year, alongside perspectives from our people on the topics that matter most to us – climate action, diversity, equity and inclusion, and community impact.
Accompanied by stunning portraiture, captured by talented female photographers from Women Photograph, these stories are just some of the ways we're supporting our clients, our industry and each other to create everyday impact for people and the planet.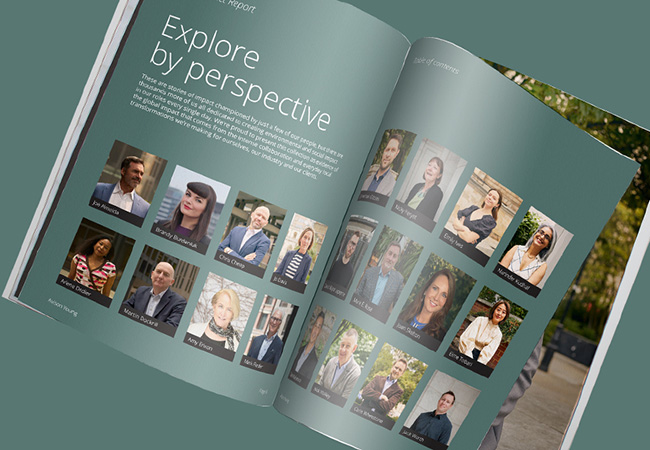 Local transformations, global impact
Every day we're confronted with evidence of climate change, dramatic shifts in weather, social injustice and global health crises. These interconnected global challenges affect both our wellbeing and our bottom line.
We recognise that these global challenges require a global response, so to coincide with the release of our 2021 ESG Report we've extended our long-standing ESG program into a formal, global ESG strategy.
So we're taking immediate and impactful action, putting people and the planet first.
Our key priorities
Our focus is on six key priorities aligned to the relevant UN Sustainable Development Goals (UNSDGs). Three core elements inform every action plan and decision, supporting our success in delivering against our commitments in these areas: innovation, data and insights, governance and ethics.
2040
We have made the ambitious commitment to reduce the carbon impact of our own workplaces globally to net zero by 2040, with a 50% reduction by 2030.
Diversity, inclusion, leadership
Avison Young's success is driven by outstanding people. We're committed to policies, partnerships and practices that help to eliminate barriers between our organization and extraordinary talent. We work actively to ensure that members of underrepresented groups have access to business and career opportunities in commercial real estate — as suppliers, as early-career professionals and as senior leaders.
40%
Female representation at executive level
550
Participants in our diverse mentorship program
66%
Response rate to our first engagement survey
Our community impact
As a global business dedicated to local transformations, Avison Young strives to be a good neighbour — making positive contributions to the more than 100 communities where our offices are located.
2,097
Participants in our annual Day of Giving event
60,000
Volunteer hours donated by our employees over the past five years
13
Local partners in an innovative community climate resilience project
Toward net zero
Avison Young is working to bring our global occupied office portfolio to net zero carbon emissions by 2040. To that end, we're concentrating our presence in energy efficient buildings, including those that have been retrofitted or refurbished with a focus on sustainability. This is part of a broader decarbonization effort that extends across our operations, reshaping policies and practices in areas ranging from procurement to business travel.
2040
Year in which we aim to reach net zero carbon for our offices
10
Trends for a zero carbon world – a thought leadership report
3M
Tons of annual CO2e emissions eliminated through our Avon Lake project
What's your biggest ESG challenge?
Contact us to see how our ESG and Wellness professionals can help you navigate the obstacles you're facing.