Commercial Real Estate Market Outlook
Quarterly and topical research insights to help your business gain competitive edge in commercial real estate.
Houston Office Market Report (Q1 2021)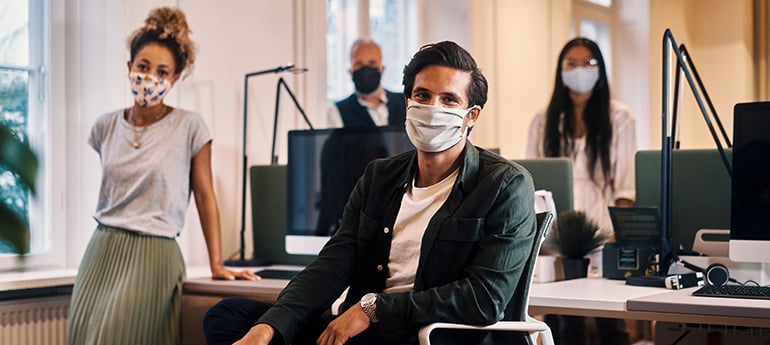 7 Apr 2021
Houston's office market faces challenges as it adds more vacant space than the market absorbs, fighting to overcome the major disruptions resulting from the global pandemic and a weakened energy sector. At present, overall demand for space remains low as tenants determine current and future office space needs.
Houston has only regained about 35% of all jobs lost even as all businesses have been given the green light to open, but meaningful economic recovery depends on controlling the pandemic. The vaccine rollout has expanded in recent weeks, with about one-third of all Houstonians 16 and up receiving at least one dose and about one-fifth of all residents being fully vaccinated.
More firms are reopening their offices and making leasing decisions. Kastle Systems' Back-to-Work Barometer shows Houston offices at 34.7%, with the only dip reported after the winter storm. Texas cities continue to top the list due to the state's open policies.
Flight to quality remains a significant influence as evidenced by those companies opting for newer buildings or buildings with substantial upgrades. 200 Park Place, the newest property in the West Loop submarket completed last year, is now 100% leased with almost three-fourths of the building leased during the last two quarters.
Tenants obviously have the upper hand as vacancy and availability rates remain high while rents declined this quarter. The large amount of available space does create opportunity for a multitude of industries to lower operating costs – and the region does offer a lower cost of living, a diverse talent base and a friendly business climate.
The metro's growing technology and life sciences sectors are attracting new business incubators, startups and tenants for medical and health facilities. The Ion, a 288,000-square-foot (sf) facility at 4201 Main, is one of Houston's newest innovation hubs that will open in July with Microsoft and Chevron as tenants. Greenhouse Labs, another hub for startups, has scheduled an Earth Day, April 22, opening.
The life sciences sector currently has about 800,000 square feet (sf) under construction and another 1 million square feet (msf) proposed. One recent developer just announced a 200-acre site in Northeast Houston designated as the Valley Ranch Medical District with extensive medical facilities and offices planned.
Employment
The region's February unemployment rate marginally increased to 8.4% from 8.2% in January, according to the Texas Workforce Commission (TWC), resulting in the creation of only 6,900 jobs. That number is well below the 20-year average of 21,100 jobs per month reported by the Greater Houston Partnership (GHP).
Based on February data, the GHP estimates metro Houston has recovered about 35% of all jobs lost during March and April of last year. However, since the February power outages caused fewer employers to report the monthly numbers, the GHP suggests other economic indicators including the Houston Purchasing Managers Index signal the economy is in better shape than these estimates show.
The TWC survey reported annual losses from 12.2% to 12.5% for the manufacturing, information and other services sectors. Mining, logging and construction along with leisure and hospitality sectors reported annual changes of a negative 15.3% and 15.2%, respectively.
Absorption & Demand
The Houston market slowed the pace of negative absorption, but demand is still sluggish as office space returning to the market increased during the first quarter. Despite reporting 446,563 sf of direct negative net absorption, eight submarkets posted positive gains. The Kingwood/Humble/Northeast sector topped the list with the completion of Insperity's 270,000-sf Building 5 on its corporate campus, which represented the largest absorption for the quarter.
The Woodlands submarket reported the largest negative absorption of 225,343 sf. The Howard Hughes Corporation moved into its new 43,915-sf offices at 9950 Woodloch Forest Drive but several larger moveouts including Lexicon Pharmaceuticals, Exxon and Kiewit were reported. The Central Business District (CBD) reported 132,852 sf of negative net absorption for the quarter with several energy-firm moveouts or downsizes including Sable Permian Resources, Chevron and Oasis Petroleum.
The first quarter recorded 511 deals with leasing activity totaling 1.4 msf, which is 48.6% of fourth-quarter's activity. The largest first-quarter deal was Buckeye Partners' 73,075-sf lease at 200 Park Place, bringing the building to 100% occupancy. Other leasing activity included NCI Group's 38,943-sf deal* in Northwest Crossing III at 13105 Northwest Freeway and Axiom Space taking an additional 32,869 sf in Hercules II at 1290 Hercules to up the building's occupancy to 100%.
Vacancy & Availability
The current direct vacancy rate marginally increased 10 basis points from last quarter to 19.9% but is higher than the 17.6% from a year ago. Class A's direct vacancy rate is 21.1% while Class B vacancy rates also rose to 19.5% during first quarter. Total vacancy including sublease space is now at 21.2%, slightly up from last quarter's 21% and 18.5% from this time last year.
Direct availability citywide increased to 24.3% during the first quarter, while total availability, including sublease space, increased to 27.1%. Availability differs from vacancy; available space includes all space being marketed that could be leased but may or may not be vacant.
Available sublease space also decreased slightly by 17,736 sf; the current 6.8 msf is about 40% higher than the 4.8 msf reported during first quarter 2020. Houston's sublease space represents about 11% of the total 63 msf available. Three submarkets account for 56% of all available sublease space in the metro with the Katy Freeway West/Energy Corridor submarket offering 1.6 msf, the CBD with 1.3 msf and the West Loop submarket with 865,401 sf.
Construction
The construction pipeline stands at 15 buildings totaling 3.5 msf under construction and 58% preleased; several of the larger projects are scheduled to deliver in late 2021. Four buildings totaling 399,400 sf were completed during the first quarter.
Asking rents
Overall average asking rents dropped to $30.01 per square foot (psf) gross from last quarter's $30.82 psf and from $30.15 psf recorded year over year. Class A rates are $34.70 psf, also a decrease from last quarter's $35.87. Landlords are expected to continue offering numerous concessions to close deals including lengthy rent abatements, large tenant-improvement allowances and substantial amounts of free parking.