Commercial Real Estate Market Outlook
Quarterly and topical research insights to help your business gain competitive edge in commercial real estate.
Houston Industrial Market Report (Q1 2021)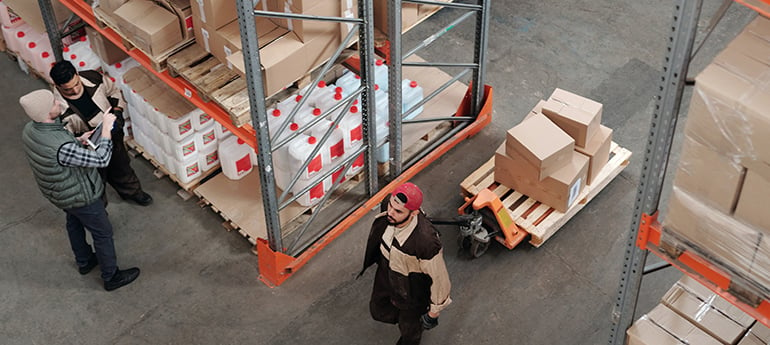 7 Apr 2021
The industrial market in Houston ends the first quarter strong in leasing and construction activity – continuing its run as Houston's leading commercial real estate sector. Deliveries slowed to 20% of the previous quarter after the market recorded the most square footage both completed and under construction during one year in Houston's history.
Amazon is at the forefront of the logistics construction as six new facilities are announced in the north, northeast and southeast sectors of the region. Two additional facilities in the southwest sector are currently underway, which make up Amazon's estimated 7 million square feet (msf) in the Houston area, according to CoStar.
Activity at the Port of Houston has been solid despite challenges driven by the pandemic and the February Houston freeze. Congress recently authorized the Houston Ship Channel's widening and deepening construction project, which is another positive indication that the port will continue to be one of Houston's main economic drivers. The Port is consistently ranked as the top port in terms of total waterborne tonnage, foreign waterborne tonnage and number of vessel transits.
Online shopping remains strong, benefiting Houston's industrial sector and creating demand for both new distribution centers and warehouses along with last-mile facilities. Large national retailers such as Lowe's, Home Depot and Floor & Décor are joining Amazon expanding their presence in the region; Floor & Décor recently broke ground on a 1.5-msf project in the Southeast near the Port. These retailers are capitalizing on the growing trend of home improvement as families continue to stay at home.
Employment
The region's February unemployment rate marginally increased to 8.4% from 8.2% in January, according to the Texas Workforce Commission (TWC), resulting in the creation of 6,900 jobs.
Based on February data, the Greater Houston Partnership (GHP) estimates metro Houston has recovered about 35% of all jobs lost during March and April of last year. However, since February power outages caused fewer employers to report the monthly numbers, the GHP suggests
other economic indicators including the Houston Purchasing Managers Index signal the economy is in better shape than these estimates show. The GHP reports 21,100 jobs are created monthly based on a 20-year average.
The TWC survey reported annual losses from 12.2% to 12.5% for the manufacturing, information and other services sectors. Mining, logging and construction along with leisure and hospitality sectors reported annual changes of a negative 15.3% and 15.2%, respectively.
Absorption & Demand
Direct net absorption remained positive during the first quarter but plunged to 301,109 square feet (sf), which reflects true market conditions as firms opt for newer space but also leave former spaces vacant. Dunavant Distribution represents one of the larger moves this quarter. The firm consolidated into 784,000 sf in Bay Area Business Park's Building 10, which was completed last June, but also left behind more than 605,000 sf of vacant space in two different locations.
Two of the larger and earlier first-quarter deals that also resulted in positive absorption was Awesung's 239,124 sf in Southwest Commerce Center and Averitt Express' 159,793 sf in Port Crossing Commerce Center. Texas Tissue represented the largest move into just-completed space in Conroe Park North Industrial Park's 402,300-sf building at 1101 Conroe West Park Drive.
Absorption totals soared in 2020 as several large retailers, including Dollar Tree with 1.2 msf and Ross with 2.2 msf, completed and occupied their new facilities. During 2020, the Houston region recorded net absorption of 14.7 msf and deliveries of 30.2 msf, both records for a single year.
The two largest speculative buildings to be completed during the first quarter are Empire West Business Park's Building 3 at 750,775 sf and Park 505 at Hardy's 534,000 sf at 505 Aldine Bender. Of the 23 properties completed during first quarter, about 57% of the 3.4 msf had been leased.
Industrial leasing activity remained strong during the first quarter at almost 7 msf, which is comparable to the 7.4-msf average during the last two years. Last quarter's 9.3 msf set a record for any one quarter in Houston's history. The largest deal of the quarter is Amazon's 368,467 sf in Fallbrook Pines Business Park in the Northwest followed closely by 4PXS Express USA with 347,730 sf in Boulevard Oaks Business Park in the Southwest.
Vacancy & Availability
The vacancy rate increased marginally to 7.9% from 7.8% last quarter, having slowly risen from 7% a year ago; however, the rate has vaulted from the 5.2% two years ago. The large number of unoccupied deliveries during the last few years has resulted in the climbing vacancy rates, although the many large single-tenant and owner-occupied projects helped to slow the vacancy rate hikes.
Deliveries during first quarter fell to 23 properties with 3.5 msf, a 40% drop from the 8.7 msf delivered during fourth quarter. All 2021 properties were 57% leased at the end of the quarter. As mentioned, 2020 recorded the largest amount of completed space of 30.2 msf in 186 buildings.
Available space decreased from the previous quarter; this category includes all space that could be leased but may or may not be vacant. Overall direct availability is at 11.9%, down from 12.3% last quarter and up from 9.7% during the same period last year.
Available sublease space increased minimally to 5.6 msf from 5.3 msf the previous quarter. Three sectors are offering more than 1 msf each representing 69% of all sublease space available. Both the North and Southeast sectors have 1.3 msf available while the Northwest sector has 1.2 msf available.
Construction
Houston's construction pipeline increased 28% from last quarter's 11 msf to almost 14 msf in 55 buildings. The metro has averaged 13 msf of construction during each of the last five years.
The two largest projects underway represent consumer goods: Lowe's has 1.5 msf in New Caney to the north and Floor & Décor has a 1.5-msf project underway in the Southeast. Rounding out the projects larger than 1 msf is Amazon's 1.1-msf project in Missouri City and a 1-msf spec project in Cedar Port. The southwest sector boasts 42% of all space underway with 5.9 msf in 21 buildings.
Asking Rents
The overall asking average rental rate for all industrial space during first quarter marginally decreased to $7.32 per square foot (psf) triple net (NNN) from $7.33 psf last quarter. Depending on asset quality, institutional distribution space is often quoted at $5.40 psf with an effective rate 10% to 20% lower. Flex space rents range from $8.40 to $12.00 psf and manufacturing from $7.00 to $8.40. Concession packages are being offered more frequently with up to 10-month rent abatements on long-term deals along with allowances covering the major cost of tenant improvements.