null - Commercial Real Estate Blog | Avison Young
Avison Young's commercial real estate blog
Welcome to the Multiverse of Work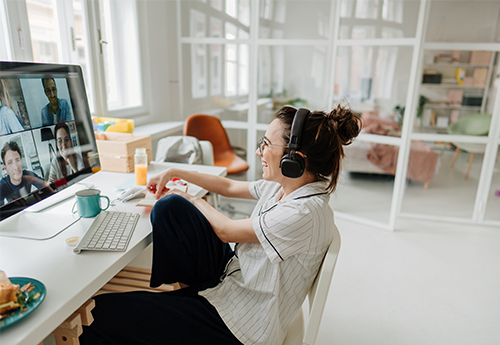 May 16, 2021
Having proven they can be productive at home, knowledge workers will soon use their leverage to demand an integrated suite of workplaces—including high-performing offices that meets their needs
Inertia is a powerful thing. Before 2020, millions of workers commuted to offices nearly every weekday. Some of them spent several hours every week on crowded trains or white-knuckling their way down congested roads just to get to and from the places they did their jobs. They did this for a lot of reasons, but it now appears that one of them was simply the force of habit. Inertia.
Then the powerful external force that was the COVID-19 pandemic halted all that movement practically instantaneously. It seemed that just about everyone in the knowledge workforce was suddenly working at home, spending more hours on video conference calls than they ever did commuting. The strangest part is, for the most part…it worked!
It's not as if remote work was new. By 2019, as many as a third of office workers were already spending at least a day a week at home.[1] But the scale of remote work in 2020 was like nothing anyone had ever seen before. Now, as vaccinations offer the promise that life can return "normal," the question is, how much will it continue? More than a full year of the work-from-home habit means that, rather than compelling us to commute, inertia now anchors us to our home offices—complete with our pets, loungewear, and favorite coffee mugs.
The truth is that there are other forces leading to a future of more remote work. For one thing, people generally like staying close to where they live. And while this was always true, the knowledge workforce now has tremendous leverage, having proven through the pandemic that it can be effective and trustworthy at home. If companies want to keep the talent they have and make high-quality new hires, then granting flexibility to work remotely will be table stakes.
By some estimates, the number of person-days worked remotely stands to triple in the post-pandemic world.[2] And while there are limits on just how much work can be done remotely, those limits seem further away than they used to. Studies by the University of Chicago and McKinsey suggest that anywhere from 25-40 percent of jobs are highly conducive to remote work. And in several key office-using sectors (such as finance, technology, and professional services, for example), the ceiling may be much higher.[3],[4]
But just because a job can be done away from the office does not mean it is done best in a fully remote model. For that matter, most workers don't even want to work from home every single day. Instead, they want to split their time between remote and onsite locations, for a variety of reasons. There is also a great deal of evidence that this hybrid arrangement actually leads to better business outcomes for companies. The key is to approach the workplace as a crucial tool in maximizing an organization's return on talent. The office is far from dead, but it needs to change, and it needs to change quickly.
In "The Multiverse of Work," we dig into this evidence, examining how supporting a variety of workplaces helps knowledge workers—and, by extension, their employers—perform at their highest level. Delivering well on this hybrid model is going to be a huge challenge, and we expect the next few years to be a time of experimentation across companies competing for the best talent to move their respective industries forward. We also expect that it will require a degree of cooperation unlike ever before among owners, operators, and occupiers of commercial buildings. As an industry, we have no choice. Our old inertia has been shattered.
Phil Mobley is our Director of U.S. Occupier Research, based in our Boston office.
[1] https://globalworkplaceanalytics.com/global-work-from-home-experience-survey
[2] https://www.frbatlanta.org/blogs/macroblog/2020/05/28/firms-expect-working-from-home-to-triple
[3] https://bfi.uchicago.edu/wp-content/uploads/BFI_White-Paper_Dingel_Neiman_3.2020.pdf
[4] https://www.mckinsey.com/featured-insights/future-of-work/whats-next-for-remote-work-an-analysis-of-2000-tasks-800-jobs-and-nine-countries
© 2023. Avison Young. Information contained in this report was obtained from sources deemed reliable and, while thought to be correct, have not been verified. Avison Young does not guarantee the accuracy or completeness of the information presented, nor assumes any responsibility or liability for any errors or omissions therein. All opinions expressed and data provided herein are subject to change without notice. This report cannot be reproduced, in part or in full, in any format, without the prior written consent of Avison Young.