Avison Young's commercial real estate blog
Toronto – A Development Retrospective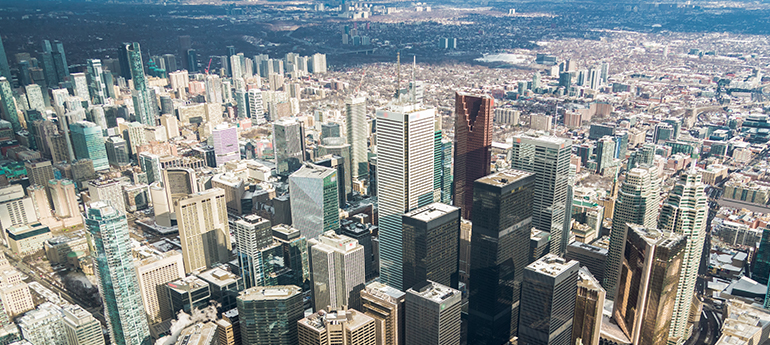 February 28, 2019
As I celebrate 10 years with Avison Young, I can't help but reflect on the changes I've seen in the downtown Toronto office leasing market during my 31 years in commercial real estate.

Those who have joined the industry in the last 10 years – when we've seen continuous development in the downtown market – may not fully appreciate the extent of the peaks and valleys the market has endured over the decades, and how the current wave of development compares to the boom years of the 1970s, '80s and early '90s which shaped the downtown as we know it today.

These musings inspired me to create this chart, putting the past 50 years into perspective – along with what's coming in the next five years.
A look back over the years inevitably leads to the question: does this ongoing construction cycle, which started in 2009, constitute a renaissance in the Toronto's downtown office market?

With historic-low vacancy (1.8%) and a burgeoning development pipeline, the red-hot downtown market has attracted a lot of attention recently – and deservedly so. Supply constraints remained the market's Achilles heel in 2018 and will be the primary brake on growth in 2019. This situation is set to persist until nearly 8 msf (out of a record wave of new development comprising almost 10 msf) is delivered to the market between 2020 and 2022. Consequently, rents are on the rise and although each deal is different, in many cases, space that would have leased for $35 per square foot (psf) net one year ago has risen to the range of $40 to $50 psf, with rates breaching the $50-psf mark for the best office space.

Although the building boom downtown continues to capture the headlines, a comparison with the city's suburban markets paints a different picture. The results may surprise you!

Since 2000, cumulative new office completions in the suburbs outpaced downtown by a factor of nearly two to one. This gap is set to narrow, as almost 10 million square feet will be delivered downtown by 2024 – compared to just 1.3 million square feet now underway in the suburbs.
As of year-end 2018, suburban vacancy fell below 10% for the first time since 2011 (buoyed by a strong performance from Toronto West), as the suburbs posted notable quarterly and annual gains in occupancy, which lifted overall suburban absorption to 1.7 msf – an 11-year high.

Even though the downtown office market receives most of the attention, the suburbs appear to be turning the corner, supported by a greater emphasis on public transit infrastructure, transit-oriented development and urbanizing assets. For example, the Vaughan Metropolitan Centre has benefited from the TTC subway connection opened in 2017, while the GTAA's Pearson Transit Hub project looks to bring connectivity to the surrounding Airport office nodes.

Though downtown is booming, could dwindling available sites and the rise of transit-oriented development favour the suburbs and actually help to sustain the longer-term development trend? Only time will tell.

For additional insights into the Greater Toronto Area office market, see our Q4 2018 report.

(Bill Argeropoulos is an Avison Young Principal and the firm's Canadian Research Practice Leader. He is based in the company's global headquarters in Toronto.)