null - Commercial Real Estate Blog | Avison Young
Avison Young's commercial real estate blog
The Virtual Shift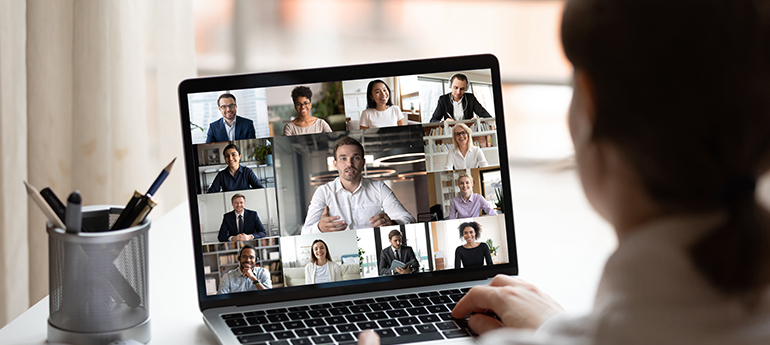 July 28, 2020
After nearly six months of pandemic life, the number of remote workers post-COVID-19 (whenever that may be) is predicted to be 500% more than prior to the pre-pandemic figures, according to recent analysis by Frost & Sullivan's,
Post-pandemic Growth Opportunity Analysis of the Meetings Market.
Is working from home the new "normal," (at least for some although that is not a choice for all), or is this flexible model of working just a temporary response to the coronavirus? There is no doubt that virtual meetings are now an established part of our work culture. However, there are still technical kinks, professional etiquette issues and employee and business assessments that need to be ironed out.
The technology for us to connect with our offices, clients and business partners around the globe has been around for quite some time, but now we are video-conferencing with co-workers that we usually see face-to-face on a daily basis. Our workplace interactions have now been confined to a computer screen. Being able to see your co-workers fosters connection and active engagement during this remote-working world and it's important to stay connected with the rest of the company. Applications such as Microsoft Teams and Zoom have been instrumental in fostering that connectivity.
The last few months have been an adjustment period for a lot of us who were not accustomed to online-meetings as the primary way to meet with colleagues and clients. Some of us are now whizzes at sharing our screens, using a professional background and inputting our questions into the chat box! As people fine tune their skills and become more savvy at conducting and participating in virtual meetings, it is likely that there will be a shift to some type of flex hybrid of working at home and working at the office or some other designated location. Companies will have to consider the varying needs of their employees. The advancements in technology were already in place prior to the pandemic, but the pandemic has pushed most companies to utilize them regularly.
It is clear that COVID-19 has forced us all to adapt to many different things in our everyday living and working environments and it's important to assess what changes, if any, are needed to keep people connected and productive. The commercial real estate industry and most other industries must recognize that technology trends and employee expectations are sparking change in how and where we work. Innovative times call for innovative solutions. Avison Young recently launched
Americas Professional Services
practice which supports clients with gaining insights into people and work environments across property types to assist in addressing business strategies. It will be interesting to see what other transformations may emerge before the end of 2020.
Rand Stephens is a Principal of Avison Young and Managing Director of the company's Houston office.
© 2023. Avison Young. Information contained in this report was obtained from sources deemed reliable and, while thought to be correct, have not been verified. Avison Young does not guarantee the accuracy or completeness of the information presented, nor assumes any responsibility or liability for any errors or omissions therein. All opinions expressed and data provided herein are subject to change without notice. This report cannot be reproduced, in part or in full, in any format, without the prior written consent of Avison Young.