null - Commercial Real Estate Blog | Avison Young
Avison Young's commercial real estate blog
The office isn't dead and here's why Tech would agree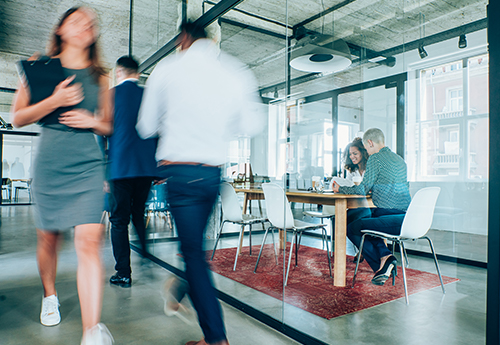 June 4, 2021
There is no denying that the U.S. office market has faced headwinds over the past 18 months as the pandemic wreaked havoc on office fundamentals. Leasing demand dwindled to levels not witnessed in more than a decade, falling by more than 70% in some of the nation's largest markets. Sublease space began to flood the market as office-using tenants waded through months of uncertainty of when and how they might return to the office. Reservations around the future of the office rattled investor confidence as occupiers largely ceased all leasing plans.
During the early months of the pandemic one high-profile company after another announced their plans for increased flexibility and long-term remote working strategies. Commentators reasoned that fewer employees in the office would ultimately lead to the reduction of overall real estate footprints. The industry began to wonder what long term implications this would have on commercial real estate values, for both investors and occupiers.
But, contrary to what those headlines led readers to believe, companies in the tech industry continued to expand their footprints in 2020, leading the pack in leasing demand. Year to date, their appetite for space continues, and new headlines are now appearing about their renewed commitment to both the offices and the cities in which they reside. Distributed working models have now created opportunity and new demand in markets that weren't always at the top of the list.
In May 2020, Facebook dominated the news cycle with their seemingly aggressive shift to permanent remote work for more than 50% of their 45,000-person workforce. But it was just two short months later when Facebook doubled down on their commitment to New York City with a deal for 730,000 square feet of additional space. The social media company then made headlines again in the Fall when they paid $367.6 million to acquire a brand new 6-acre, 400,000 square foot complex from REI at the new Spring District development in Bellevue, Washington, just east of Seattle. In total, Facebook has signed more than a dozen new deals in 2020 and 2021, adding more than 3.1 million square feet to their portfolio.
Within days of the Facebook announcement, Twitter shook the industry and rattled office market confidence even further when they announced their employees could work from home 'forever.' It wasn't long into the summer when Twitter put more than 100,000 square feet of its San Francisco headquarters on the market for sublease as their employees remained home under shelter in place orders throughout the Bay Area. Some took this as an early sign of lessening demand for Bay Area office space as companies began to embrace remote working models. However, when put into perspective, this is less than 15% of the social media company's San Francisco space, indicating that maintaining a presence in the city was still of strategic importance. By the Fall, Twitter had more than doubled its footprint in Boulder Colorado, signing a 65,000 square foot lease at the Railyards. Moving into 2021, the social media company renewed in a similar sized space in Downtown Seattle.
Additionally, Google, Apple, and Microsoft all made significant plans and investments throughout the pandemic to expand their footprints. Microsoft signed more than a dozen deals across six states during 2020, with a handful more signed this year. In addition, the technology company has acquired nearly 30 properties across eight states since 2020, quietly expanding its real estate holdings. Most of the acquisitions have been for land on which Microsoft plans to build more office and data centers.
Bucking the remote work announcement trend early in the pandemic, Apple remained relatively quiet throughout the year, largely keeping their thoughts on remote work to themselves. Since the onset of the pandemic, Apple has signed more than two dozen leases totaling nearly 2 million square feet across five states. Just last week, Apple signed a deal to expand its Silicon Valley portfolio, inking a deal for more than 700,000 square feet across six buildings in Sunnyvale. Even more significantly, Apple made an announcement earlier this year to accelerate its U.S. investment with plans to make contributions of more than $430 billion and add 20,000 new jobs across the country over the next five years. As part of this investment, the company intends to invest more than $1 billion in North Carolina and will build a new campus in the Research Triangle area, where it plans to create more than 3,000 new jobs.
Google announced plans in February 2020 to invest more than $10 billion in U.S. offices and data centers that year, with new investments in California and 10 other states. Just a few months later, these plans were seemingly put on hold. However, the search giant didn't sit on the sidelines all year. In addition to leasing space in more than six states, Google continued to make other real estate investments. In August 2020, the search giant finalized the purchase of the Kirkland Urban East plot, which will serve as additional space for long-term growth in the area just east of Seattle. Earlier this year, Google announced that after a slight pause last year, it now plans to spend $7 billion on real estate in 2021. Some of that investment will go toward data centers and other assets, but it is also going toward office space – adding room for thousands of hires in cities such as Atlanta and Chicago and opening new offices in Texas and Mississippi. Furthermore, the company has renewed discussions with the city of San Jose, California, and is moving forward with plans to develop 80 acres of land in downtown, including 7.3 million square feet of office space. After four years of planning, city officials approved the plan in late May and construction is expected to start as soon as next year.
Although 2020 tempered office leasing demand across many industries, the appetite for space among tech companies still exists. Last year, millions of workers were forced to retreat suddenly from their offices to their homes as remote work swept the country. As cities reopen, it is likely that it will take an extended period of time for people to return to office in critical mass, and this number is unlikely to reach pre-pandemic levels as companies shift to hybrid working models. However, this hasn't removed the value of office space – it has only changed it. Offices will remain a critical piece in any hybrid work model, providing an environment for employees and teams to come together for collaboration. Inevitably, some companies will reduce their footprints. However, this space will likely get picked up by other expanding and growing companies. In just the first quarter of 2021, there were 56 new venture-backed companies - known as unicorns - in the U.S. that hit a valuation of $1 billion or more, according to data from Pitchbook. This compared to last year's total of 101 unicorns across the country. These companies all have potential for exponential growth in the coming years, ultimately fueling the demand for space.
Jennifer Vaux is U.S. Director of Insight, Office research at Avison Young. She is based in the firm's Silicon Valley office. She is a member of CREW Silicon Valley (Woman in Commercial Real Estate).
© 2023. Avison Young. Information contained in this report was obtained from sources deemed reliable and, while thought to be correct, have not been verified. Avison Young does not guarantee the accuracy or completeness of the information presented, nor assumes any responsibility or liability for any errors or omissions therein. All opinions expressed and data provided herein are subject to change without notice. This report cannot be reproduced, in part or in full, in any format, without the prior written consent of Avison Young.