null - Commercial Real Estate Blog | Avison Young
Avison Young's commercial real estate blog
Supercharging for improved resilience and well-being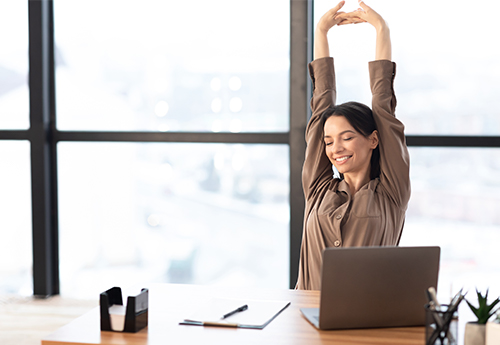 May 20, 2021
In support of Mental Health Awareness events taking place around the world during the month of May, and in an effort to continue our internal efforts to educate and support professionals, we recently hosted a Global Townhall.
Guest speaker Steph Peltier, an expert in the Science of Happiness and a certified Mindfulness and Positive Neuroplasticity Training (PNT) coach, engaged our teams with interactive exercises and provided tools and techniques to build resilience, adapt to change and recharge our proverbial "battery."
The challenges we have faced over the last year have been unexpected and multi-faceted. And we. are. exhausted.
Without a break, and constantly needing to adjust, compromise, and learn new ways of doing things in almost every aspect of life (even shopping!), we are all feeling a bit burnt out and low on fuel – though being at home has made trips to the kitchen much easier, it, unfortunately, is not the type of fuel many of us are in need of.
Our global teams' session with Steph focused on the energy drains in our environments and patterns of behaviour that we may be enthusiastically engaging in to combat negative feelings, that may be working against us. Steph created awareness of the importance of the connection of the body and mind to recharge; if the two are not in sync, the "sinking" and battery "drain" continues (this is starting to sound like a home reno – which I am sure many of you have at least started while being at home).
Below are 5 of the many great tips Steph shared to boost our optimism, manage our inner critics, and "supercharge" our days.
1. Manage what you can control or influence.
Make a list of what drains you – what is bringing your energy down? Now, identify what is in your control. Then, ask yourself, of what is in your control, what can you remove or delegate to improve your personal well-being?
2. Accept what you cannot control.
Not everything will be in your control. For the things that bother you, but are completely out of your own personal control, select some things you can let go of. Avoid rumination, complaining and fortune-telling, work on managing your emotions around the things you cannot change.
3. Find coherence. Acknowledge how you feel, let it go and shift to neutral.
Find more energy, calm, clarity, and confidence by finding more neutral, peaceful, moments. Practice breathwork, as little as three minutes throughout the day is all you need to re-center! Much of what we do in a day is on autopilot but living that cruise control life isn't helping anyone cruise. By being more conscious in each moment, you will be able to enjoy pleasant experiences and gain more control of those that could become negative.
4. Manage your thoughts to interrupt stress response.
The stories we tell ourselves become our thoughts and can shape our feelings. A "belief" is just a thought that is repeated over time and every thought triggers an emotion. Knowing this, making a conscious effort to try and think positively will result in more positive beliefs! You'd be surprised what a bit of reframing can do to help you feel motivated and rebalanced.
5. Do more of what makes you feel good.
For some it might be gardening, for others reading, dancing, playing with a pet, or watching sports. Whatever your thing is, do as much of it as you can throughout the week.
Is it okay to reach for some chocolate and enjoy it alone in the corner of a room away from everyone (asking for a friend)? YES – you deserve it! Make time for YOU.
Giving just a bit of time to personal passions can go a long way to refuel our hearts, minds, and spirits – which also rubs off on those around us.
As a part of our on-going commitment to employee mental health and well-being, we look forward to sponsoring more events, continuing to provide resources and together build our toolkits to be happier and healthier at work and at home. Our employee health and wellness programs are focused on total health; mental and physical.
Now more than ever, remember that to take care of others, we must put our own oxygen masks on first. So, for yourself and your teammates, take whatever you need to refill your energy supplies – it's important!
Interested in practicing mindfulness with Steph? Join her free monthly meditation sessions, which take place the last Wednesday of the month at 8pm London time. Claim your spot here.
Parveen Sandhi is Global Director, HR at Avison Young.
© 2023. Avison Young. Information contained in this report was obtained from sources deemed reliable and, while thought to be correct, have not been verified. Avison Young does not guarantee the accuracy or completeness of the information presented, nor assumes any responsibility or liability for any errors or omissions therein. All opinions expressed and data provided herein are subject to change without notice. This report cannot be reproduced, in part or in full, in any format, without the prior written consent of Avison Young.