null - Commercial Real Estate Blog | Avison Young
Avison Young's commercial real estate blog
Returning to work environments safely: A discussion with doctors from the Cleveland Clinic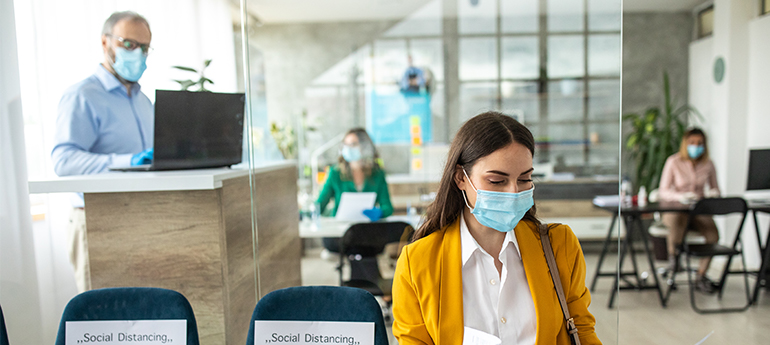 July 31, 2020
Work, as we know it, is changing. In early April, 62 percent of employed Americans told Gallup they've worked from home during the pandemic, a number that had doubled since mid-March. And while working from home for many jobs has emerged as practical and feasible, we have now entered a phase of the pandemic where some workers are gradually returning to offices. In fact, 41% of U.S. workers indicated to Gallup that they would like to eventually return to their workplace.

Avison Young has collaborated with Cleveland Clinic, ranked the #2 hospital in the country by U.S. News & World Report, with hospitals in Canada, Abu Dhabi and, in 2021, London, on our own return to office strategies and protocols. Recently, our teammates around the world heard from a panel of Cleveland Clinic experts who offered their perspective on the pandemic: What we know, what we think we know, and what we do not know.

During the panel, Dr. Amanda Hagen, Medical Director for Cleveland Clinic AtWork, the clinic's employer health program, noted that there are multiple steps to return to office programming. Each step is a layer of protection. Dr. Hagen explained each layer of protection – like everyone wearing a mask or social distancing – as a slice of swiss cheese; each slice is mostly solid, but there are some holes, and together the slices form a block. The more layers of protection you add, the greater the chance you lower your risk.

Dr. Hagen also spoke to the importance of a strong workplace culture, which has been central to Avison Young and is especially important during challenging times: "For any return to office plan to work, people need to be team players, even if they don't totally agree with everything," she said. "The more we learn about the virus, the more we learn about how to combat it, so we all need to stay flexible and open minded."

The panelists shared practical ways for people to model good behaviours and do their best to stay safe at work and in the community – wearing masks, physically distancing, washing hands and keeping surfaces clean – all of which are imbedded in our own return to office policy requirements. Importantly, they also discussed how to balance our physical wellness with our mental wellness during this time of stress.

"You don't want to get too caught up in the stressors of the day to day. Know what you can do and do your best," said Dr. Talia Varley, a primary care specialist and Physician Lead for Advisory Services at Cleveland Clinic Canada. "It's all about judgement – making sure that if you are doing something that you can do it safely and navigate it more confidently to minimize risk."

Dr. James Gutierrez, Chief of Quality, Safety and Patient Experience at Cleveland Clinic London, shared that there is much we are still learning about the virus: "This virus is teaching us something new every day and really humbling us. I would encourage everyone during these times to double down on empathy. Realize that everyone is going through a lot right now – physical, financial mental. We have to be extra careful about being human during this time."

"It's easy to get caught up in this ocean of information and get overwhelmed," added Dr. Hagen. "The most important thing you can do is take a moment to centre yourself and breathe. Take care of yourself; recognize that you can't control everything, but rest, exercise, meditation, nutrition – there are a lot of things you can do."

As a commercial real estate advisor, we have been in the unique position of consulting with our clients as they navigate their workplace strategies while simultaneously developing our approach for our own workforce. Some, like us, are allowing the continued flexibility for employees to work remotely for the remainder of the year, others are implementing gradual return to office spaces, while yet others have had essential employees coming in to their work environments during the entirety of the pandemic. The future of work is likely to be more flexible, with a combination of time spent in offices, working near home and working from home.

Throughout it all, we believe – for ourselves and for our clients – in prioritizing safe, healthy work environments that promote physical and mental wellness. In our Return to Office guidance, we have taken an informed and conservative view on the reintroduction of staff in the workplace based on the best practices of HR, medicine and real estate. Our protocols take in to account the big picture trends and tenets we follow, but also allow for customization at the local level to respond to local market conditions thoughtfully. We want people to come back to offices and other commercial spaces, just as we know they want to be back. And we'll continue to work on behalf of our teammates and clients to implement the best, known ways to do that safely and successfully.

Martin Dockrill is an Avison Young Principal and Global Chief Operating Officer. He has headed Avison Young's business continuity response to the pandemic.
The spread of COVID-19 and the containment policies being introduced are changing rapidly. While information included is current as of the date written, the views expressed herein are subject to change and may not reflect the latest opinion of Avison Young. Like all of you, Avison Young relies on government and related sources for information on the COVID-19 outbreak. We have provided links to some of these sources, which provide regularly updated information on the COVID-19 outbreak. The content provided herein is not intended as investment, tax, financial or legal advice and should not be relied on as such.
© 2023. Avison Young. Information contained in this report was obtained from sources deemed reliable and, while thought to be correct, have not been verified. Avison Young does not guarantee the accuracy or completeness of the information presented, nor assumes any responsibility or liability for any errors or omissions therein. All opinions expressed and data provided herein are subject to change without notice. This report cannot be reproduced, in part or in full, in any format, without the prior written consent of Avison Young.