null - Commercial Real Estate Blog | Avison Young
Avison Young's commercial real estate blog
Prioritizing our mental health in challenging times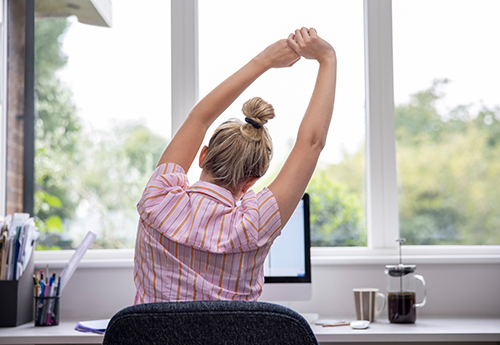 January 29, 2021
Yesterday was Bell Let's Talk Day, an initiative focused on advancing the dialogue and research for mental health in Canada. But its message is universally important: checking in on the status of our mental health and doing all we can to protect it is even more critical in challenging times.
In continuation of Avison Young's deep commitment to the mental health of our teammates, we recently invited London-based public health expert and mental health and well-being coach Dr. Barbara Mariposa to provide our global team with the tools they might need put themselves first.
A few key principles Dr. Mariposa shared:
Committing to your own wellbeing is the best thing we can all do to help other people. Being especially intentional about "putting on your own oxygen mask first" before helping others makes such a difference!
It has gotten harder to get started in the morning and switch off in evenings for everyone. This reinforces the need for cultivating more calm in our lives.
Everyone is different, but across all personality types adaptability and the ability to take concrete steps to remain engaged in the world around us will be key to finding greater stability.
And practical tips she mentioned we all can use to cultivate more calm into our days:
Take more breaks. Make your meetings 10 minutes shorter than you normally would and use that time to recharge. Find 5-minute breaks throughout the day to get up and stretch.
Choose and limit your information input, especially when it comes to news consumption and social media.
Write down your day's purpose in the morning and finish the day noting what went well to cultivate a more positive mindset.
Do things you love doing at least once a week, if not daily.
We're proud to support initiatives like Bell Let's Talk Day, provide access to information from experts like Dr. Mariposa, and offer important mental and physical health services and resources to all employees as a part of our benefits, so that people can ask for help when they need it – confidentially, free of charge and 24/7.
Work can wait, your mental health can't. Do what you can, today and always, to take care of yourselves and each other.
Mark E. Rose is Chair and CEO of Avison Young.
© 2023. Avison Young. Information contained in this report was obtained from sources deemed reliable and, while thought to be correct, have not been verified. Avison Young does not guarantee the accuracy or completeness of the information presented, nor assumes any responsibility or liability for any errors or omissions therein. All opinions expressed and data provided herein are subject to change without notice. This report cannot be reproduced, in part or in full, in any format, without the prior written consent of Avison Young.