Avison Young's commercial real estate blog
Our roadmap to a low-carbon future, acting toward net-zero in our U.K. operations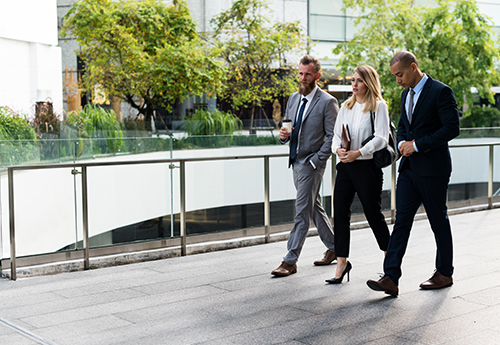 April 21, 2021
The theme for this years' Earth Day is "Restoring our Earth," with a focus on preventing climate change and environmental destruction. As we engage our Avison Young colleagues in Earth Day celebrations and actions, we're also reflecting on a leading commitment we made a year ago as a business – to be net zero carbon in our workplaces across the U.K. by 2030. Since then, a lot has been happening behind the scenes to develop our strategy. We formed a Net Zero Carbon Working Group, bringing together diverse expertise – facilities; IT; sustainability; quality & risk; procurement; workplace; and energy – to help us develop the plans that will achieve our goals.
Starting with the data
Much as you would do when you are setting out to achieve any goal, we started with the data. Where were we now? Collecting data from across our occupied real estate (and across systems, processes, procedures and landlords) has helped us establish our carbon footprint baseline. Whilst challenging, having comprehensive baseline data is critical to measuring our success long term.
Taking the first steps
Beyond establishing our baseline data, we've taken additional actions to help advance our strategy, including establishing common knowledge and systems. These measures include:
Deploying a new data platform that will serve as the single repository for not only our carbon footprint data, but also our wider sustainability data
Installing automatic meter readings at all our office locations, where possible
Developing a carbon literacy training programme for all staff – beyond the working members of the team, we're educating our teammates about how they can play a role in helping reduce not our carbon footprint, that of our clients, and their own personal impacts
Our net zero commitment is part of our broader Environmental, Social and Governance (ESG) approach, aligned to the UN Sustainable Development Goals. Our ultimate goal is to procure 100% of our energy from renewable sources across all sites. This will require a period of engagement with landlords where we aren't in control of energy purchasing decisions.
On the road again
One surprising discovery has been the proportion of emissions from business travel to our carbon footprint. In 2019, business travel (rail, cars, and air) accounted for 60% of our carbon footprint in the U.K. Car travel emitted more carbon than rail and air combined. Whilst 2020 was a unique year where travel halted and many of us stayed (and worked) much closer to home, travel will be part of our future and we're exploring strategies to reduce our emissions in this area going forward. It is also raising new areas of inquiry in how we will best align our calculation of emissions from home working with the latest best practice disclosures in this evolving area.
Novelist and environmentalist Wendell Berry is quoted as saying: "The Earth is what we all have in common." That's why, even though the road to 2030 may be long, the time is now to take critical steps to prevent climate change – to act at a human scale to help create healthy, productive, prosperous spaces and places for us all.
Andy Smith specializes in research and sustainability in Avison Young's London offices and leads the group working on our net zero carbon commitment in the U.K.