Avison Young's commercial real estate blog
Multimodal transportation corridor taking shape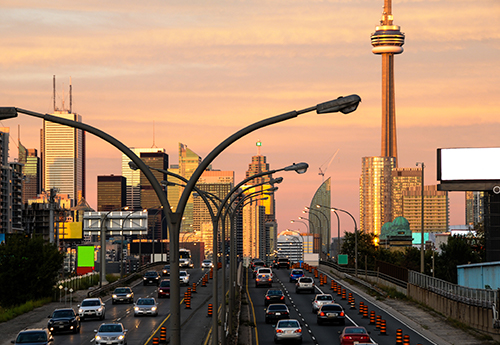 October 8, 2020
Plans for a new 400-Series Highway spanning Halton, Peel and York Regions in Canada's largest commercial real estate market – the Greater Toronto Area (GTA) - aim to reduce travel times and support economic growth and job creation.
Also known as Highway 413, the GTA West Multimodal Transportation Corridor project is intended to alleviate traffic congestion on Highway 401, The Queen Elizabeth Way (QEW) and Express Toll Route (ETR – Highway 407) while supporting the Places to Grow Act. The project cost is estimated at $6 billion and covers approximately 50 km and 16 interchanges. A provincial environmental assessment (EA) study was begun in 2007 and is now being expedited by the province for completion by year-end 2022. It is forecasted that more than 300,000 vehicle trips will be made daily on the route by 2031, and without the new highway, average commute times are expected to increase by 27 minutes a day. The updated 2017 Growth Plan for the Greater Golden Horseshoe (GGH) forecasts the area to grow to 13.5 million people and 6.3 million jobs by 2041. It is claimed building more transportation infrastructure would help alleviate traffic congestion and improve goods movement in the GTA.
The proposal is for a four- to six-lane highway (within a 110-metre right-of-way) with a separate adjacent transitway (within a 60-metre right-of-way). Transitway stations will be located at certain interchange areas.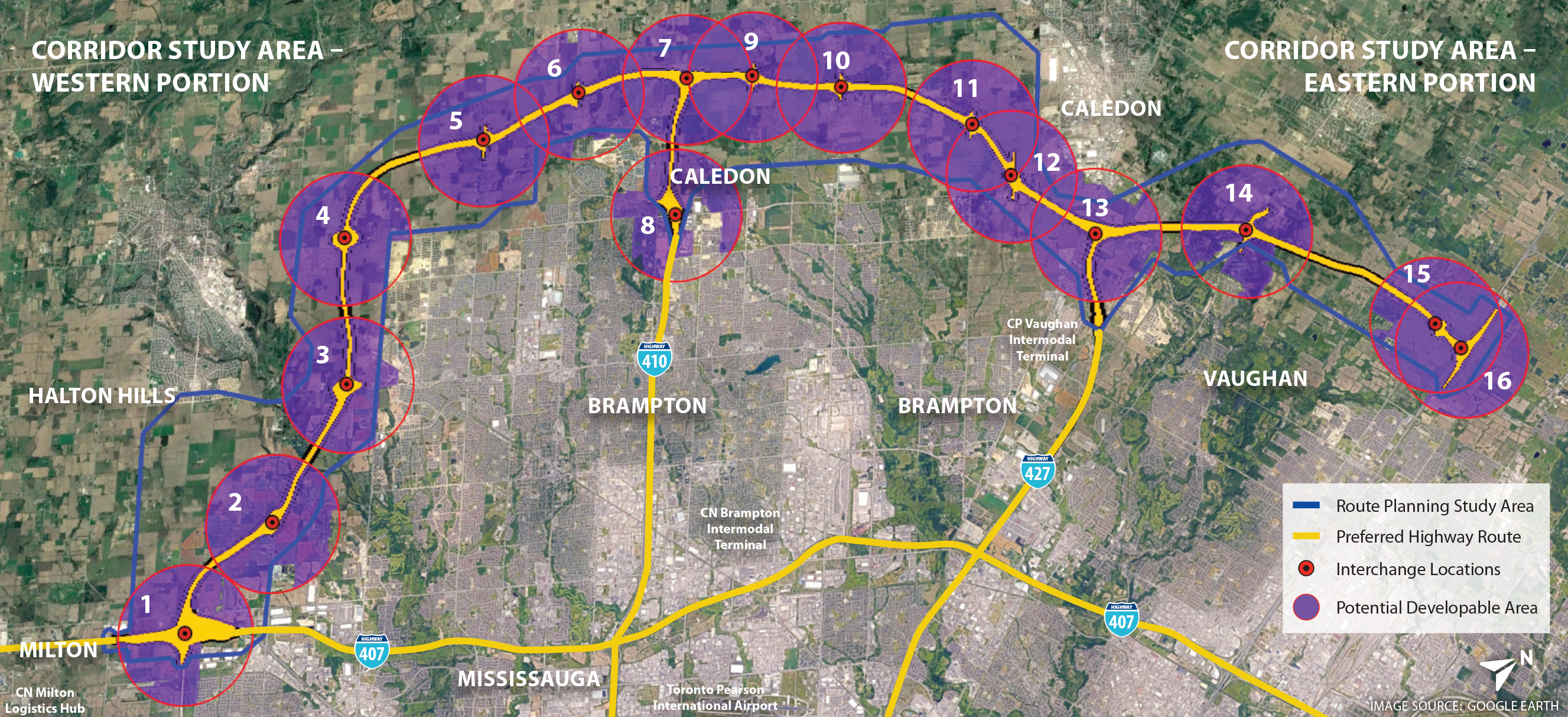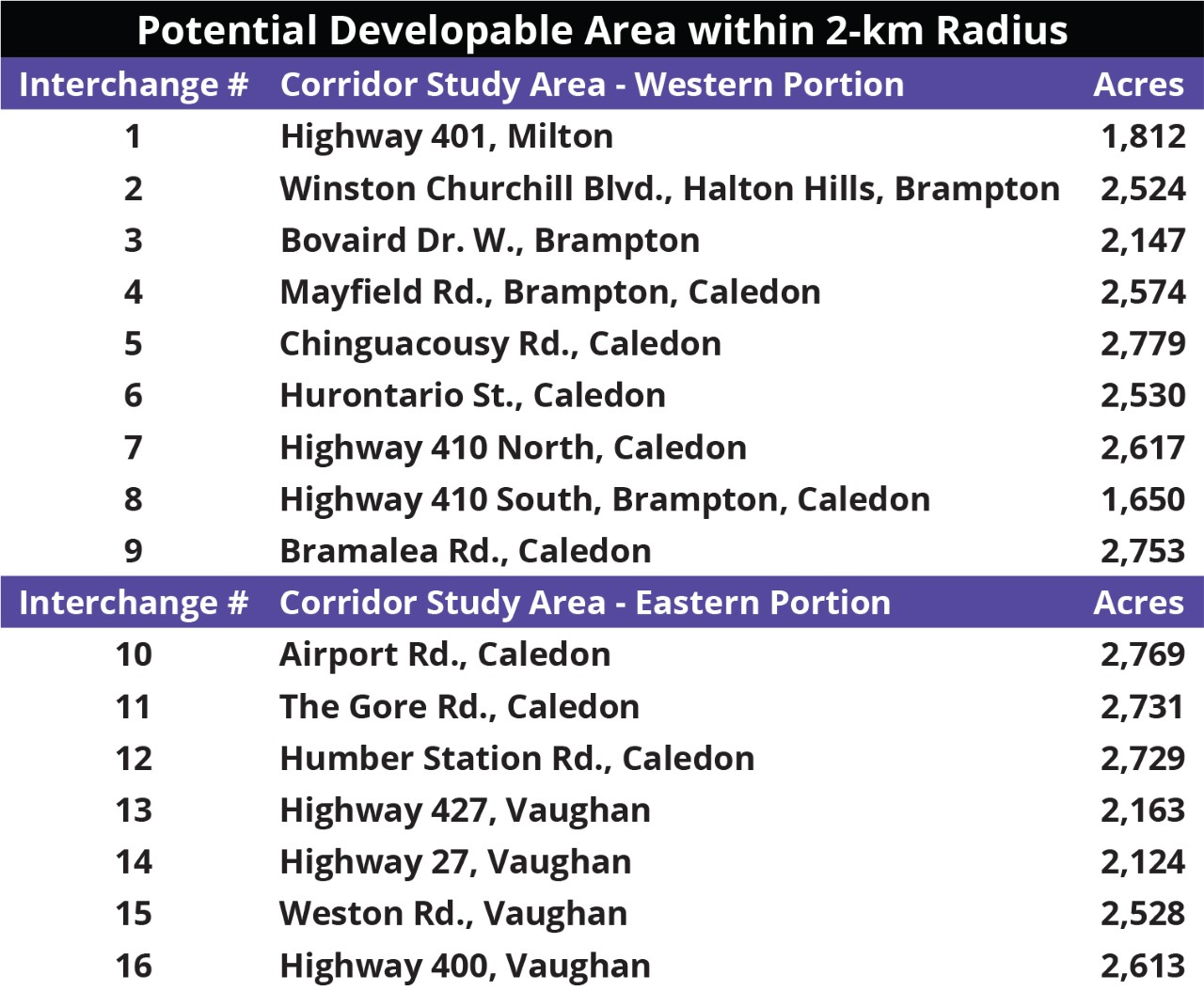 Future CRE development potential
Office: The transitway will be developed as a separate designated right-of-way (roadway) for buses. Transitways allow for efficient bus transit systems (and potentially, in the future, light rail vehicles), so bus routes can operate on express schedules without having to stop at crossing roads and signals or mix with general traffic on the highway lanes. Transitway stations will be located at certain interchange areas where transit riders can park or be dropped off.
Industrial: The proposal calls for several features to prioritize the movement of goods, helping to accommodate 'just in time' delivery (i.e. suppliers controlling inventory costs by reliably getting products to the customer just before the customer needs them). These features include:
Truck-only lanes
Combined truck/transit lanes. Truck use of potential high occupancy vehicle (HOV) lanes during off-peak hours
Intelligent Transportation Systems (ITS) features, such as variable-message signs and real-time traveler information
Longer speed change (merge) lanes
Enhanced design to accommodate Long Combination Vehicles
Truck-only interchange ramps where warranted by truck volumes
Truck parking facilities
Enforcement features (weigh and inspection stations), including automated weigh stations
Not without controversy
Infrastructure: The Government of Ontario commissioned a viability study in 2018 on the proposed project. The subsequent report released by an expert advisory panel concluded the highway would only reduce travel times for motorists by 30 to 60 seconds, and instead recommended investing in public transit and widening existing highways before a new highway should be considered. The project was then abandoned by the provincial Liberals before being revived by the current Conservative government.
Environmental: The route will travel through the Greenbelt in Vaughan and across Whitebelt lands in Caledon and Brampton. In November 2019 and June 2020 meetings, Vaughan city council expressed its full support for the project, requesting an alignment that will minimize impact to existing residential communities, agricultural lands and the environment at large. Similarly, the Town of Caledon indicated broad support for the project, while the City of Brampton has taken a different stance. Brampton is supporting an alternative urban boulevard concept running from Mayfield Rd. to the Credit River through the Heritage Heights community (Brampton's only remaining undeveloped greenfield lands). The Town of Halton Hills passed a motion in November 2019 opposing further investment by the province in the GTA West Corridor. Halton Hills argues a shift to more sustainable modes of transportation and action to reduce greenhouse gas emissions are needed.
Despite the opposition, the new multimodal transportation corridor looks to provide some needed relief for one of the tightest and hottest industrial markets in North America with rental rates at all time highs and vacancy rates at all time lows. This is especially true for the built-out Brampton and Mississauga markets of GTA West where development is continuously being pushed to submarkets that are underserviced by an established multimodal transportation network leading to decreased speed, higher shipping costs and labour challenges.

(Bill Argeropoulos is an Avison Young Principal and the firm's Canadian Research Practice Leader. He is based in the company's global headquarters in Toronto.)