null - Commercial Real Estate Blog | Avison Young
Avison Young's commercial real estate blog
Learning how to be a more active ally to the LGBTQ+ community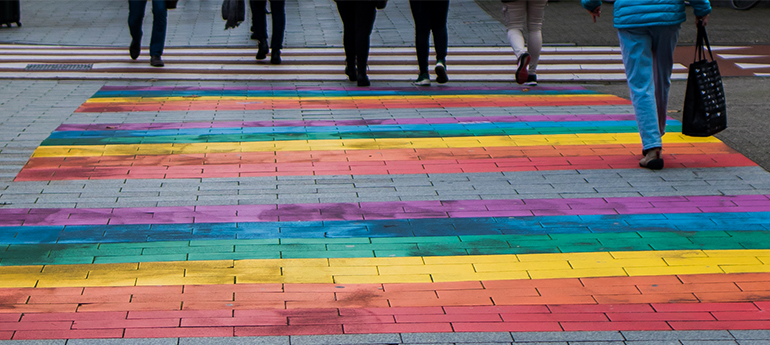 July 6, 2021
In support of PRIDE month, and our on-going commitment to a company-wide culture that embraces a diversity of perspectives and empowers all people to show up as they are at work, we recently hosted a global discussion sponsored by our LGBTQ+ employee resource group.
Guest speaker Bernadette Smith, a diversity and inclusion leader and speaker from the Equality Institute, opened the event with a conversation on the history of the LGBTQ+ community, challenges the group faces today, and key terms and steps to know to be a better ally. Her talk was immediately followed by a powerful panel discussion featuring some of Avison Young's LGBTQ+ colleagues, sharing stories and experiences.
Here's a bit of what was shared:
LGBTQ+ is a diverse community with a diverse history.
Members of the community have always existed, as old as time. There are early century examples and evidence of not only LGBTQ+ members being accepted, but in some cases celebrated, such as Native American's celebration of what they called two-spirit souls.
It really wasn't a big deal until the 4th century, when laws against homosexuality began to be passed. And in World War II, it wasn't just Jews who were put in concentration camps, but also members of the gay and transgender communities, Bernadette shared.
Today, while there are fairly comprehensive protective laws in place in locations like Canada and the U.K., there are still U.S. state laws that allow for discrimination based on sexual orientation – in the workplace, in buying a home, anywhere – and laws on the books in a number of other countries around the world that don't allow for true safety or openness for members of the community.
This shows that while we've made great strides with things like the passage of gay marriage and certain federal-level protections, we still have a ways to go to let all folks feel truly safe and accepted, as they are.
It's important to not make assumptions about anyone's gender/sex and accept boundaries are expanding.
Assuming can get awkward. As my colleagues considered in this session, there can be a big difference between one's assigned biological sex at birth by a doctor and how someone identifies, which has led recently to the emergence of publicly sharing one's pronouns with others so there's no confusion (something we encourage our teammates to share in their individual email signatures).
It's always best to ask, but that can feel overwhelming and awkward too. Here, Bernadette shared an accessible tip:
Offer your name and pronouns first! Practice saying, Hi, my name is [name], and my pronouns are [insert your pronouns here]. What are your name and pronouns?
The more people who start doing this, and sharing their own pronouns everywhere they can, the more others will feel it's normal and accepting to say theirs, whatever they may be, in any space.
Sharing your pronouns with others says I am an ally and I am here to support everyone being able to show up as they are and as they feel, Bernadette noted.
The ARC method can help you speak up against harassment.
People are not always kind. Sometimes, far from it.
For members of the LGBTQ+ community, already struggling with feelings that they might not be accepted for who they are, feeling exhausted at having to consider coming out over and over again or facing a fear in each interaction of being found out by the wrong person and being put into an unsafe scenario, your support in especially the toughest scenarios matters.
If you see something, say something. Every time. Consider the ARC approach to enter the conversation with someone who has made an insensitive comment or said something you know is offensive to the community:
Ask: Aim for clarity. Did you mean to say what you just said? What did you mean by that?
Respect: When the person answers, reserve judgment. Hear them out and don't react.
Connect: Use it as a learning opportunity to relate and offer an alternate suggestion to their phrasing or to share a story of perspective that could help bring more empathy forward in the future.
Its ok to make mistakes. What's important is how you recover from them.
When you make a mistake or if you find you accidentally say something insensitive to a member of this community, the best thing you can do is acknowledge it as a mistake, correct the thinking, apologize and do better the next time.
The work of allyship isn't always going to be easy and missteps can happen, but the important thing to remember is what's at stake and why it's so important to treat others how they wish to be treated and recognized.
We owe it to each other to help everyone feel seen, safe, welcome, and accepted for who they are in the workplace and beyond. Consider what steps you could take to be a better ally to those around you. Because, collectively, every effort makes a difference.
Andrew Bird is an Assistant Surveyor at Avison Young, and a member of Avison Young's I.D.E.A. Network, the firm's LGBTQ+ employee resource group
© 2023. Avison Young. Information contained in this report was obtained from sources deemed reliable and, while thought to be correct, have not been verified. Avison Young does not guarantee the accuracy or completeness of the information presented, nor assumes any responsibility or liability for any errors or omissions therein. All opinions expressed and data provided herein are subject to change without notice. This report cannot be reproduced, in part or in full, in any format, without the prior written consent of Avison Young.