null - Commercial Real Estate Blog | Avison Young
Avison Young's commercial real estate blog
Investment in Bristol City Centre offices reflects expectations of wellbeing, collaboration and flexibility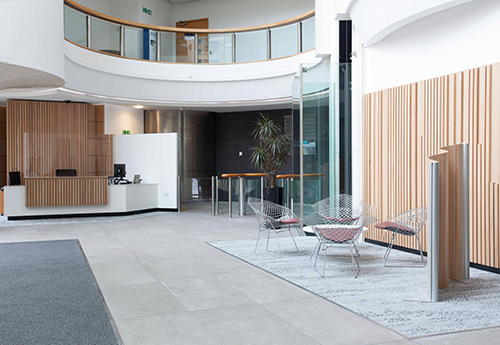 September 30, 2021
The Covid-19 pandemic and resulting periods of lockdown and enforced homeworking have caused businesses of all shapes and sizes to reassess the amount of office space they occupy, as well as how they occupy it.
The investment in the refurbishment of city centre offices in Bristol reflects a flight to quality as businesses encourage their staff to return to office working and rethink their office space accordingly, ensuring that they are providing an attractive and healthy working environment and a positive alternative to home working.
After months of enforced home working, companies are increasingly offering flexible and hybrid working options to their employees. Firms are closely monitoring the space that they need, and how that meets demands for:
reduced desk space
more areas for collaborative working
break out spaces
shared facilities
a focus on wellbeing
As a result, landlords of older properties are busy upgrading their space in line with occupier expectations of less formal workspace but of a higher quality and with more areas for collaboration and informal working.
Increased demand for updated workspace is pushing city centre landlords to upgrade space to bring workers back in
Despite the difficulties of the past 18 months, rents have remained strong in Bristol city centre and are even increasing, which is why we are seeing a flurry of refurbishments taking place across the city. Landlords are upgrading their space to attract the wave of new lettings expected over the coming months, and in recognition that tired, un-refurbished accommodation is becoming increasingly hard to lease, even at a discounted rent.
What has that meant for spaces?
We've seen concierge style facilities increase in popularity in central London and this trend is now moving out to the regions. Coupled with anticipated tightening of minimum energy efficiency requirements for commercial premises, there is a need for landlords to futureproof their buildings to compete for occupier demand.
Grade A space built in the city now meets the high specification that occupiers are demanding. As a result, landlords of older properties feel investing to ensure their workspaces meet expectations of wellbeing, collaboration and flexibility is a must.
And for many, the definition of collaboration and flexibility is a move toward a hybrid workplace model.
We expect hybrid working to be the way forward for many companies, providing a mix of both home and office working, where staff return to the office for a proportion of the week to collaborate in face-to-face meetings and to enjoy social interaction with colleagues. This is leading them to place greater emphasis on wellbeing within the office environment.
With the way we work now so closely under the microscope we believe that the office environment is expected to become less about process and more about collaboration and innovation, as well as being a vital resource for junior employees to be able to learn from their more experienced colleagues.
As an example, just note the significant office refurbishments currently taking place in Bristol city centre including The Crescent Centre and Tower House. Both of these spaces are being comprehensively upgraded to facilitate hybrid working and rebranded to meet occupier expectations and capitalise on increasing demand as the return to the office gathers momentum.
With this key work done to encourage return to office, how is Bristol recovering? The outlook is good, with better days ahead expected.
According to Avison Young's UK Cities Recovery Index, people in the city are increasingly starting to return to office working, with the Index for Bristol sitting at 49.2. This is a welcome increase after having fallen slightly over June and July and compared to a national figure of 59 from a baseline of 100.
The overall Recovery Index for Bristol currently sits at 85.4, only slightly below the national average of 88.9. Growth in the index has slowed over the past month as Bristol has adjusted to the lifting of all restrictions, however since this coincided with the school holidays it is expected to gather pace now that children are back at school.
Paul Williams is a Director in the National Offices Team, based in Bristol.
© 2023. Avison Young. Information contained in this report was obtained from sources deemed reliable and, while thought to be correct, have not been verified. Avison Young does not guarantee the accuracy or completeness of the information presented, nor assumes any responsibility or liability for any errors or omissions therein. All opinions expressed and data provided herein are subject to change without notice. This report cannot be reproduced, in part or in full, in any format, without the prior written consent of Avison Young.