Avison Young's commercial real estate blog
"Checking in" with Canada's Hospitality Sector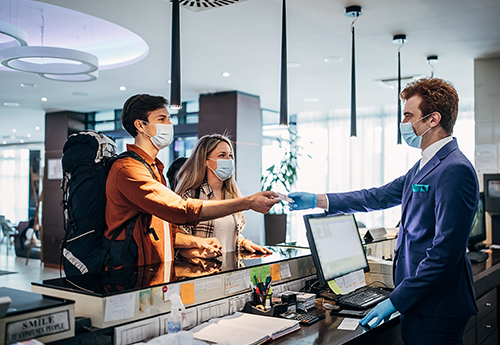 April 6, 2021
The Canadian hospitality market was hit harder than most other commercial real estate asset classes during 2020. Given that the industry relies on business and leisure travel, conferences and human interaction, it is no surprise that it has been severely challenged by the COVID-19 pandemic.
International travel to Canada is down sharply. For example, the latest numbers from Statistics Canada indicate that the number of travellers from overseas and our neighbour to the south, the U.S., was down by 92% year-over-year in January 2021. Excluding Canadian residents, only 5.1 million international travellers arrived in all of 2020, a decline of more than 84% from 2019.
The impact of the pandemic can be seen in the year-over-year decline in the industry's key performance indicators (KPIs): occupancy, average daily rate (ADR) and revenue per available room (RevPAR).
Occupancy, ADR and RevPAR across Canada
According to STR, in 2020, the Canadian hotel market experienced a 49% decrease in occupancy rates compared with 2019, resulting in 21% and nearly 60% decreases in ADR and RevPAR, respectively.
Although every class of hotel property was affected by the pandemic, luxury and upscale properties posted the biggest declines in occupancy and revenues. The smallest declines in occupancy rates were in the economy (-34%) and midscale branded hotel (-40%) sectors. In comparison, occupancy in luxury hotels declined 59% year-over-year.
RevPAR for economy brands was $58.31 in 2019 but fell to $33.86 in 2020 – down 42% year-over-year. The luxury brand sector fared worse, with RevPAR falling from $224.47 to just $79.36 – a year-over-year decrease of 65%. Significant drops in RevPAR were reported across the luxury and upscale brand sectors.
Occupancy, ADR and RevPAR in major markets
In 2020, Vancouver had the highest occupancy rate and RevPAR among the six major Canadian markets (37% and $53.84, respectively). Conversely, Montreal had the lowest occupancy rate at just under 25%, while Calgary posted the lowest RevPAR at $29.28. Montreal suffered the greatest year-over-year declines among the major markets in both occupancy (-66%) and RevPAR (-74%).
Investment transaction volume
Hotel transaction sales volume in Canada's six major markets totaled $318 million in 2020 – down 24% year-over-year and representing the third consecutive year of declining volume following a peak of nearly $1.7 billion traded in 2017. The overall number of hotel transactions also fell, from 35 in 2019 to 24 in 2020. Industry commentators expect a rise in distressed asset sales in the near- to mid-term, especially where borrowers have become overly extended. This may become a bigger issue as government relief programs come to an end.
Under the current circumstances, owners of Canadian hotels are in the position of having to decide whether to hold on to existing non-performing assets in the hope that the industry's return to pre-pandemic performance will be rapid, or disposing of assets at a discount in order to remain solvent.
What to expect in 2021 and beyond
Numerous travel restrictions remain in place – both internationally and between some Canadian provinces – and travel is further discouraged by stay-at-home orders, high COVID-19 case counts in many regions, and new virus variants circulating in the community.
However, with the recent uptick in vaccination efforts across the country, there is at least one bright spot on the horizon. According to CIBC, Canadian consumers and businesses have amassed $170 billion in cash savings, and many people will look to travel as one of their first activities post-COVID-19.
With international and business travel still difficult, look for more domestic and intra-provincial demand as "staycations" could be the only available option in the near term, providing a source of optimism for some recovery in Canada's hotel sector. Some industry observers have expressed expectations of a gradual recovery that could continue until late 2023 or early 2024, with leisure travel leading the way, followed by corporate travel and, finally, conventions or other large gatherings.
For now, a closer look at the KPIs shows a continued deterioration in the first two months of 2021, compared with the same period in 2020 (before the onset of the pandemic). For example, occupancy was down 56%; ADR was down 26%; and RevPAR decreased by 68%. However, the industry's performance in February 2021 was the best since October/November 2020.
On the investment front, look for repositioning plays as more hotels may be sold to be repurposed as residential. Alternative uses, particularly redevelopment or social housing, are driving higher valuations for some properties – even exceeding pre-COVID-19 valuations. Preliminary first-quarter 2021 hotel investment sales dollar volume across the six major markets stands at approximately $75 million – down from $115 million transacted during the same quarter one year ago, and slightly behind 2020's quarterly average of $80 million.
For a more in-depth look at the Canadian hospitality market's performance in 2020 and outlook for 2021, read Avison Young's Canada Hotel Market (2020 Review and 2021 Outlook) report.
Bill Argeropoulos is an Avison Young Principal and the firm's Canadian Research Practice Leader. He is based in the company's global headquarters in Toronto.