null - Commercial Real Estate Blog | Avison Young
Avison Young's commercial real estate blog
Building more inclusive workplace cultures: 5 ways Avison Young is prioritizing D&I in 2021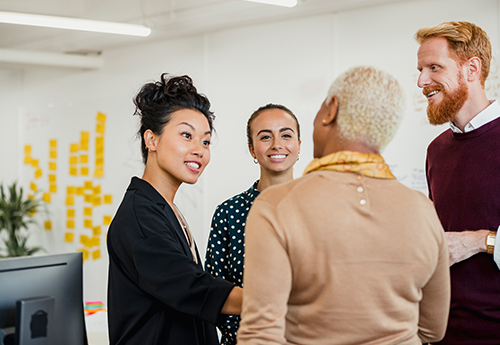 February 12, 2021
As our CEO Mark Rose shared in a recent discussion with Wendy Mann, CEO of CREW Network, the events of 2020 have brought forward the need for increasingly flexible, adaptable and resilient futures, powered by dynamic cultures and perspectives.
At Avison Young we recognize that it is only through true diversity of thought and opinion, with Diversity & Inclusion (D&I) efforts as a key critical driver, that we will be able to provide the environmental, social, and economic value our clients and stakeholders demand – and that we demand of ourselves.
Our vision for D&I is to create a respectful and supportive workplace that reflects the communities we serve, while developing a culture actively supporting and promoting D&I initiatives on a global basis. There is a lot in the works. Our D&I Advisory Council has put forward five priority focus areas for the start of 2021 – attraction and recruitment; development and advancement; employee engagement; supplier diversity; and communications:
Attract and recruit top, diverse talent for company-wide roles and update our on-boarding process.
We aim to expand our recruitment pools and require a diverse slate of candidates and interview panelists for each position offered at Avison Young.
On-boarding processes will also be reviewed from a lens of opportunity – uncovering what gaps exist in our current process and how we can fill them in meaningful ways to firmly establish the respective and supportive workplace culture our people need to do their best work.
Develop and advance established talent through impactful mentoring programs.
This year, we've launched a mentoring program designed to provide our underrepresented colleagues with the support to develop and advance their careers within our fast-growing team. In the initial launch of the program, about 25% of participants invited to join signed on. Today, nearly 300 participants and growing are starting to participate in mentoring sessions and are reporting average feedback scores of 3.9 out of 4.
Engage global talent networks through meaningful feedback opportunities.
To gauge the current state of employee engagement, attitudes around D&I, and understand our global demographics, our 2021 global surveys will enable all employees to share meaningful feedback on how we are excelling and where we can do better.
Implement a supplier diversity strategy for more diverse and inclusive vendor networks.
Diversity of our teams means all teams, extending into our vendor and supplier relationships. We are implementing a supplier diversity strategy to assess the current landscape of our vendors and aim for more diversity, establish direct and indirect spending metrics, and create a supplier code of conduct to ensure all operate to established standards and align with our company core values and as part of our Environmental, Social and Governance (ESG) and Wellness strategy.

Continue conversations around our D&I standards through company-wide training

s

and powerful Employee Resource Group-driven events, dialogue and involvement.
All staff will have access to unconscious bias training with a focus on encouraging our team members to join our Employee Resource Groups (ERGs) – Women's Network LGBTQ+ and Allies, and Black Professionals – to encourage meaningful dialogue, and create conversation around key issues and challenges.
Click to view our D&I roadmap for the first half of 2021.
We know we have work to do. Whether it's through increased diversity of our talent pool, top talent production through impactful mentorship, more open and encouraging conversations, or a more diverse supplier group that reflects the diversity of the communities we serve, we will get there one way: building off a strong foundation and driving forward, together.
Joan Skelton is Avison Young's Global Lead of Diversity and Inclusion, where she is responsible for promoting D&I as well as developing champions within the organization to enhance employee understanding regarding inclusion issues in today's contemporary workplace.
© 2023. Avison Young. Information contained in this report was obtained from sources deemed reliable and, while thought to be correct, have not been verified. Avison Young does not guarantee the accuracy or completeness of the information presented, nor assumes any responsibility or liability for any errors or omissions therein. All opinions expressed and data provided herein are subject to change without notice. This report cannot be reproduced, in part or in full, in any format, without the prior written consent of Avison Young.