Avison Young's commercial real estate blog
Big data: the next PropTech frontier, a new way of looking at CRE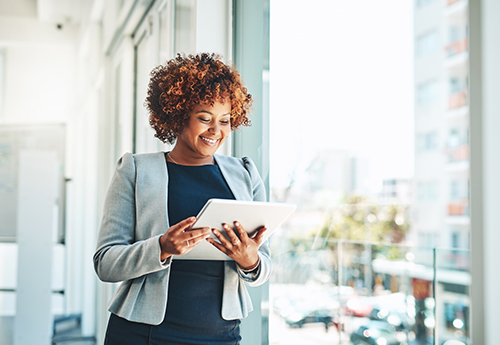 February 22, 2021
How much is PropTech entering and evolving CRE market landscapes? Take a look the recently launched interactive tool PropTech Collective built in collaboration with AVANT by Avision Young to get just a small glimmer into current impacts.

Built to help those in Canada's CRE markets explore the current state of PropTech country-wide, from location and company type, to dollars raised by company, this tool gives critical insight into one global location's changing face of how business is conducted, and the technology driving it forward. (Spoiler alert: the footprint is massive.)
But it shouldn't come as a total surprise that technology is driving big change.
Property technology is nothing new, but the ways in which it can be leveraged, leaning on critical data and insights to present owners, occupiers, and investors alike with more creative solutions, options, and intelligence could be considered innovative and powerful in its applications.
Fast-moving landscapes and shifting market conditions have always called for new ways of looking at CRE, and the timing has never been more right for remote-accessible tech-based solutions that can help consultants with increasingly custom and complex needs.
Recent global events have brought forward a need for as much information as possible to be able to predict and consult, even in the toughest of times and planning for unexpected futures. It's created a call for the right kind of technology to meet the moment.
Enter: Big Data-driven PropTech.
It's a new way of looking at CRE, through a lens of not only what is currently present in markets, but what the trends tell us is coming next and owners, occupiers and investors can leverage the insights to take advantage.


The power in data-first thinking
Data helps place an intense focus on the micromovements of a market. How markets connect, work with each other and work to enhance client-first go-to-market strategies, Avison Young Chief Innovation Officer John Sikaitis recently shared with The Propcast podcast.
It's true. With powerful tools and data, it's possible to show clients not only what's possible for them today, but where they could go in the next 2-5 years and beyond, and critically: why.
Custom tech products that deliver demographic and market-centric data evolve pursuit strategies and enhances recommendations to give teams their best competitive opportunities, with concrete numbers to back them up.
The numbers share the realities of our places and spaces, which allows consultants to be more realistic about their recommendations, and go beyond to find new, unique, and flexible offerings worth exploring. Data is the key to it all.

The relationship between data and technology
"Technology just takes time, money and a vision. The data is the hard part because it's constant and consistent. Your data can go awry within seconds or minutes. A constant focus on data is critical to any PropTech company being successful." – John Sikaitis, Chief Innovation Officer in PropTech in Canada's 2021 report
Like jelly without peanut butter, property technology just isn't the same without a powerful data strategy backing it.
Knowing what data your solution will collect and analyze and how it can be leveraged in the most meaningful way for team success is the competitive advantage all CRE firms should be chasing in the PropTech space.
Tech without a data strategy just isn't a good output. Tech needs data to provide the critical insights needed to drive real innovation vs simply executing the same old same old in an innovative way.
Data takes matters to a new level, for real-time figures that bring forward the best business results.

Leveraging big data to test, learn, and drive big business
How do you ensure cool PropTech and data-driven solutions drive the best results? Connect them back to the business, test, learn, and then test some more.
Avison Young's innovation strategy is completely interconnected with our business development and go-to-market client strategies. Instead of conceptualizing big ideas and spending years building them, we find ways to test out ideas early on with teams and clients.
If successful against the goals of our firm and the clients we serve, we scale the initiatives and integrate them in our processes, so clients receive the most comprehensive solutions every time.
If we can take a moment to dive into the numbers, explore what's really out there in our markets and align that thinking with powerful PropTech that can deliver, we begin to cross the next frontier for what's possible in CRE.
It's more human, more client-centric, insight-driven solutions that put our clients in the position to make the best choices for current and future success, meeting every possible need and changing tide with confidence.
Cynthia Wong is a Senior Analyst on our Innovation team, based in New York City.