Avison Young's commercial real estate blog
A telehealth explosion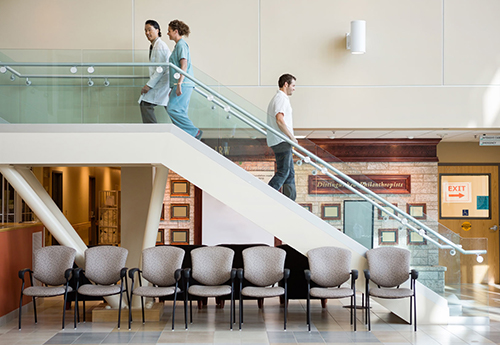 April 21, 2021
Virtual visits accelerated dramatically in 2020 and look to remain a permanent fixture in healthcare delivery.
The last year has been a time for accelerated adoption of what used to be considered cutting-edge, disruptive technologies. From having their groceries delivered to video conferencing from home, millions of people have learned to do things in a newer, more online way. The same is true in the healthcare sector, where providers have adjusted to remote care—or telehealth, as it is frequently called. According to McKinsey, nearly half of follow-up physician "visits" were accomplished via telehealth during the pandemic. New patient meetings and pre- and post-op consults increased by 10x or more.[1]
Telehealth already existed, but its broader exposure during the pandemic may give it more staying power. The physicians surveyed by McKinsey expect telehealth to account for 10-20% of visits in the future, compared to less than 5% prior to COVID-19, and industry consultancy Frost & Sullivan predicts that more than a third of patient interactions globally will be virtual in 2021, accounting for $50 billion in market value."[2] For many providers, telehealth is likely to become a permanent part of their patients' collective experience.
The future of telehealth
What will this look like for providers? It is clear that some forms of care are much more conducive to telehealth than others. Many examinations and procedures will always need to occur where provider and patient are physically together. But as noted above, certain types of visits lend themselves well to telehealth across many practice types. And in some specialties, nearly all interactions could be accomplished remotely. For example, PwC's Health Research Institute found that patients needing mental health services are "overwhelmingly willing to use telehealth."[3]
Factors beyond the mere logistics of telehealth will also shape its adoption. In the US healthcare system, most payments to providers made on behalf of patients involve third-party payors (either private insurance or government programs like Medicare and Medicaid). These payors have rules that allow for different reimbursements based on the location of care. For example, Medicare currently reimburses more for services performed at most hospital campuses or adjacent outpatient locations than at separate physician offices. While the CARES Act relaxed some of these rules during the pandemic, the debate over "site-neutral" payments continues. The outcome will have long-term implications for providers on the relative attractiveness of providing services at different locations, including telehealth.
Impact on medical office buildings
Telehealth clearly has implications for the spaces that physician practices occupy. As providers integrate telehealth into their practices, here are a few things for them to consider:
1. Patients everywhere
For some practice types, telehealth means they may no longer need to serve an exclusively local customer base. This could open up new sources of revenue while also allowing consumers convenient access to a higher level of care. Licensing and other regulations will mitigate this.
2. Reconfigure to respond
Increasing telehealth may eventually reduce the need for space in medical offices that is currently devoted to patient waiting and examination. Combined with the possibility of more remote work for administrative staff, a doctor's office could soon look very different, with more space tailored to patient comfort and technology, including studio-type space to facilitate telehealth visits.
3. Investment in collaboration
Delivering successful telehealth outcomes will require investment in spaces and tools to support virtual communication, data sharing, and remote health monitoring. But the patient-facing aspect of telehealth is only part of the story. These tools will also enable faster collaboration of geographically dispersed specialists as they consult on treatment options for patients
The permanent adoption of telehealth for an increasing percentage of healthcare visits means that providers have exciting new choices to make as they grow their practices and serve their communities. The landscape is fraught with new challenges, but with the right team of advisors, the prognosis is excellent.
For more insight into the healthcare sector, see Healthy Choices Abound.
Phil Mobley is our Director of U.S. Occupier Research, based in our Boston office.
[1] https://www.mckinsey.com/industries/healthcare-systems-and-services/our-insights/physicians-examine-options-in-a-post-covid-19-era#
[2] https://www.healthcareitnews.com/blog/frost-sullivans-top-10-predictions-healthcare-2021